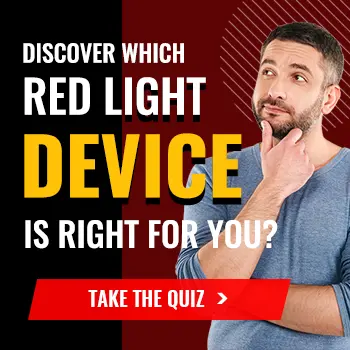 What is Lumigen Red Light Therapy?
Lumigen is a portable, professional grade skincare device which offers 5 possible treatment modes: red light therapy, blue light therapy, thermal therapy, cold therapy, and massage therapy.
The product offers a wide range of benefits for the skin, such as reducing and preventing acne, smoothing wrinkles and lines, decreasing redness and puffiness, and boosting skin radiance. In addition, it can amplify the effects of skin care products like serums.
Lumigen treatments only take 5 minutes a day. The product is dermatologist recommended and priced competitively for the market.
Lumigen Red Light Therapy: How Does It Rate?
Editor's Rating
Lumigen Red Light Therapy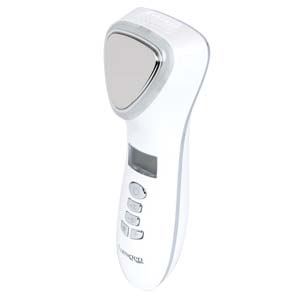 4.1/5
Quality

4.0/5
User Friendly

4.0/5
Value

4.6/5
Customer Satisfaction
Pros and Cons
Pros
This device can firm the skin and smooth wrinkles and lines.
The Lumigen device can reduce and prevent acne breakouts.
The product can amplify the effect of serums.
Lumigen skin treatment tool can fade skin blemishes.
The device can boost skin radiance and glow.
Cons
The results may vary for different individuals.
This is a popular product which may run low stock at times.
Lumigen red light therapy device is only available online.
Quick Facts and Specs
Rating: Safety and Quality
Brand
Lumigen
Product
Lumigen Red Light Therapy 5 in 1
Form
Portable Red Light Therapy Tool
Saftey
Not FDA Registered
Age
Adults
Skin Type
All Types
Benefit
Eliminates acne, reduces redness and puffiness, fades blemishes, promotes firmness, smooths wrinkles and lines, boosts radiance, amplifies serum benefits
Price
Regular: $199.95 + $8.52 Shipping
St. Patrick's Day Sale Price: $99.99
Shipping
Free shipping with the purchase of 2 or more devices
Return Policy
30-Day Money Back Guarantee
Purchase
Official website
About the Brand
The manufacturer of the Lumigen brand is a company called Serenity Concept LLC, which has their headquarters in Middletown, Delaware, USA. They likely produce red light therapy and other electronic devices, however, there is little information about them online.

How Does it Work?
As we explained in our review of the Solowave brand, LED light sends photons into the mitochondria of the cells to increase levels of ATP, which powers all of the body's cells.
The added cellular energy provides a wealth of benefits for the skin, depending on the wavelengths offered. Lumigen Red Light Therapy device has options for blue and red light, the blue working mostly on the surface and the red penetrating slightly underneath.
Blue light decreases redness and inflammation and destroys acne-causing bacteria to prevent breakouts same as trophy skin rejuvatonemd. Red LEDs stimulate the production of collagen, elastin, and hyaluronic acid for tighter, more elastin, plumper skin smoother wrinkles, and fine lines. It may also help decrease inflammation.
We reviewed Angela Caglia LED Mask in our best LED light therapy masks finalized by experts and heal acne, decrease inflammation, tighten the skin, and smooth lines and wrinkles.
A study published in the Journal of the American Academy of Dermatology concluded that red and blue light therapy combined were effective in the treatment of acne [1].
Other modes the device offers include thermal therapy, which helps decreases redness and inflammation and improves the absorption of ingredients in skincare products. Cold therapy sooths and calms the skin, decreases redness, and helps to smooth wrinkles. You can also check the Best Cold Laser Therapy Devices which we have covered and updated according to the choice and preferences of the users.
The massage therapy mode improves blood flow to the skin, which can decrease puffiness as well as dark circles under the eyes, It also increases collagen production for a tighter, more youthful complexion.
A study published in Complementary Therapies in Medicine by Akane Miyaji, Kaori Sugimori, and Naoyuki Hayashi concluded that the use of a massage facial roller improved skin circulation in the short term and enhanced vascular dilatation response over the long term [2].
We covered an article on portable red light therapy which has been listed by expert research and study by analyzing its results, performance, and customer reviews.
Expert Opinion on Lumigen Red Light Therapy
According to board-certified dermatologist Dr. Carmen Castilla:
Red light therapy is a treatment used in dermatology to improve collagen production and ultimately help with fine lines and wrinkles and pore size [3].
A study in Photomedicine and Laser Therapy by Alexander Wunsch and Karsten Matuschka showed that red and infrared light decreased signs of age like wrinkles and lines and improved skin texture [4].
Health Benefits
Smooths Wrinkles and Lines
As we described in our review of Bestqool 3, red light therapy boosts the production of collagen and elastin to tighten the complexion, improve elasticity, and smooth wrinkles and fine lines.
It also increases hydration levels via the release of extra hyaluronic acid, which gives the skin more volume for a smoother, wrinkle-free complexion.
Heals and Prevents Acne
Blue light is particularly effective at killing acne-causing bacteria on the skin and decreasing redness and inflammation, both alleviating and preventing breakouts. If you combine red and blue light, the benefits are potentially more powerful.
A study published in the Journal of Clinical and Aesthetic Dermatology by Michael H Gold, MD, et al found that self-applied blue light therapy on a regular basis helped to treat mild to moderate acne[5].
Red light therapy benefits in reducing acne breakouts by targeting bacteria at the root and redness and inflammation, as detailed in our article "dpl lla light therapy review." Furthermore, this FDA-approved treatment has no known side effects, making it a safe and effective solution for improving skin health.
Promotes Skin Radiance
The increase in cellular energy due to the rise in ATP increases levels of nitric oxide in the body. This improves circulation, and the added flow of nutrients and oxygen to the complexion promotes a radiant glow.
We reviewed an article called Beauty Ora, the red light laser therapy device best for anti-aging, and scarring and improves skin health and skin complexion.
How to Use?
For detailed instructions see the manual, but the device is very user-friendly. It comes with a USB cable, so charge fully prior to treatment. Press the power button to turn the product on and select one of the modes offered. Run the product over your face for 5 minutes per day, and then turn it off after use.
Side Effects and Risks
While the FDA has not evaluated the device, research shows the safety of the technology, and there are few associated risks or side effects. Do not use this product if you have open wounds, lesions, or tumors.
As we reviewed an article called TheraFace PRO which benefits skin rejuvenation, perfect for acne and acne breakouts, and maintains skin health.
FAQs
Q: Where Can You Buy It?
A: The best and primary place to buy Lumigen Red Light Therapy is on the official website, although there are a couple of other online retailers who offer it. At the moment they are having a 60% off St. Patrick's Day sale with drastically reduced prices:
Regular Prices
1 Device – $199.95 + $8.52 Shipping
2 Devices – $399.98
3 Devices – $599.97
St. Patrick's Day Deals
1 Device – $99.99
2 Devices – $179.90
3 Devices – $239.85
Q: What is the Return Policy?
A: The manufacturer offers a 30-dauy guarantee on this product. If you're not happy with the device, contact customer service for instructions and send the item back within 30 days of the billing date. You should get a full refund.
Q: Is Lumigen 5-in 1 Worth It?
A: With 5 skin treatments in one product, the Lumigen device offers great benefits to the complexion at reasonable prices – especially if you purchase during one of their amazing sales.
According to the Lumigen Red Light Therapy reviews most users said the product was effective and more than worth the cost.
Q: What Sets It Apart From the Competition?
A: There are few LED light devices on the market today which offer the option of 5 different skincare treatments in a single, light, portable product. Lumigen has great skin advantages in one small package, and the price is reasonable for the market.
What is the Customer Feedback?
The Lumigen reviews were quite positive overall, although naturally opinions varied. However, many customers raved about the great skin health benefits of the device, the range of treatment modes offered, and the reasonable cost. These are some of the top comments from customers:
Bye Bye Wrinkles!
My skin is looking smoother and younger The age spots aren't all the way gone yet, but they're significantly less noticeable and it's only been 2 weeks. – Marlene F, customer on official site
I Look Better Than I Have in Years
I really like Lumigen. I'm 58 years old so I'm using the red light to help firm and plump my skin. I love the way it feels. – Carrie T, customer on offical site
Couldn't Be More Impressed!
If you have never used light therapy then you might be skeptical and wonder if this even works, but I promise you IT DOES! I have been using red light therapy to cure my psoriasis and it is like magic. – Jess P, customer on offical site
Quick Comparison Table
Name
Lumigen Red Light Therapy
Solowave Advanced Skincare Wand
Therabody TheraFace PRO
LightStim for Wrinkles
Rating
Price
$99.99
$149
$399
$249
LEDs
5 Modes
5
One ring, 3 colors
868
Benefits
Anti-Aging, Acne, Radiance,
Decreases Inflammation
Anti-Aging, Rejuvenation, Decreases Inflammation
Aging, Acne, Jaw Pain
Anti-Aging, Acne, Decreases Inflammation
Treatment Time
5 minutes
5 minutes minimum
8 minutes
12-16 minutes
Safety
Not FDA Cleared but safely manufactured
FDA Cleared
FDA-Cleared
FDA-Cleared
The Evidence Score
Here is our evaluation, based on scientific research, of the potential effectiveness of Lumigen Red Light Therapy for its claimed benefits.
Smooths Wrinkles and Lines*

4.4/

5

Reduces and Prevents Acne*

4.3/

5

Boosts Skin Radiance*

4.0/

5

Fades Blemishes*

4.1/

5

Amplifies the Effect of Serum*

3.9/

5
Conclusion
Lumigen is a LED light therapy 5-in-1 device for skin care which offers red and blue light therapy, as well as thermal, cold, and massage treatment options. Like our Gemba red light therapy, Its also benefits include tightening the skin, smoothing wrinkles and fine lines, eliminating acne, and promoting skin health and radiance.
On the whole, most of the Lumigen Skin reviews had good things to say about this device, from the price to the portability to the rapid benefits to the complexion. Many users said their skin looked more youthful and the product helped to reduce breakouts and fade age spots.
Lumigen Red Light Therapy is a safely manufactured device with few associated risks or Lumigen side effects. Highly recommended by dermatologists, it offers rich skin health benefits in a small, portable product which you can take anywhere.
If you're looking for a top quality LED skincare device, this is an excellent choice. You may also want to have a look at our article on the Best Led Masks to compare different types of products.
We review an article called Spa Sciencesv Devices which focuses on tightening skin, smooths skin, decreases pigmentation, and improves skin tone.