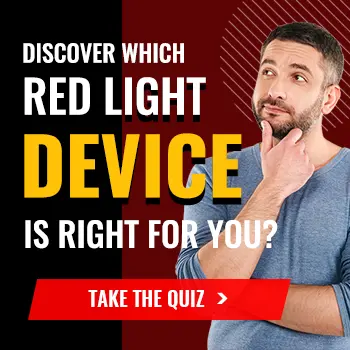 Overview
Skincare and facial treatments have become more than a trend but necessary for all genders and people of all ages. Skin, the largest and most hardworking organ, changes as we age. To ensure we give this organ the support it needs to continue performing its essential functions, we must adopt routines that can replenish and boost what is used up and is depleted as the days go by.
TheraFace PRO is one of the players and supporters in the ever-changing world of dermatology. Along with numerous skin care products and devices that are touted as being revolutionary, they have changed skincare routines. So, which products or devices are the best when they all claim to be the best in the market?
In this article, we will review the TheraFace PRO device, a tool meant to help relax and relieve tension on the face and help with other facial treatments.
Editor's Rating
TheraFace PRO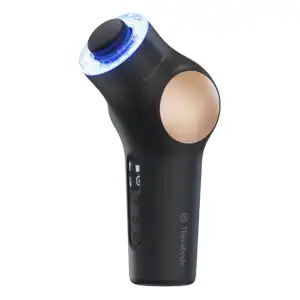 4.3/5
Ease of use

4.0/5
Versatility

4.5/5
Giftable

3.8/5
Cost
Pros
TheraFace Pro is cleared by the FDA
It performs several functions and treatments without the need for additional devices
It makes the skin look brighter, plumper, and tighter
It has different attachments that can be used on other parts of the body other than the face
It has a 1-year warranty
Cons
It is expensive
The device is not waterproof
Additional attachments (hot and cold) are sold separately from the device at an additional cost of $99
About TheraFace PRO
The TheraFace PRO is a facial device created and manufactured by Therabody, a company associated with percussive treatments. It comes with four attachments that connect to the device magnetically. They are:
You can also purchase the hot and cold ring separately at $99, which you can use to heat and cool your face in addition to the other facial treatments. With the different attachments, the device allows you to elevate your skincare routine without requiring several devices, as it has skin-toning microcurrent and rejuvenating LED light.
About the Brand
TheraFace PRO was created and manufactured by Therabody, a company founded by Dr. Jason Wersland. After being involved in a motorcycle accident, he searched for a pain-relieving solution after failing to get one of the options available.
From 2009 to 2020, from a makeshift device, through many trials and errors and countless prototypes, he was able to perfect his first device, the Theragun Percussive Therapy device, with their line of products growing and diversifying over the years.
Their goal is to provide practical, natural solutions to help you manage your daily well-being. Through education and innovation spanning more than ten years in the tech wellness field, they aim to make wellness easily accessible for all.
How it Works?
With the convenience TheraFace provides with its several attachments, we shall be looking at how each attachment works individually and the role it plays in improving your skin's appearance.
LED Light Attachment
The light therapy attachment is made up of red (antiaging), blue (acne treatment), and red + infrared lights (fine lines and wrinkle reduction). When your device is set on the red light settings, you can use it with the percussive attachment to increase blood flow and further help with wrinkle reduction.
When TheraFace is on the blue light setting, you should not use it together with the percussive attachment as this setting works by bringing acne-causing bacteria to the surface, and using it together with other settings might cause the bacteria to spread on different areas of the face.
Cleansing Attachment
The cleansing attachment is also percussive-based, providing a deeper cleansing action. It is a brush-like attachment and the only waterproof attachment of the device that makes your skin feel and look cleaner instead of using your hands or a wash towel.
Microcurrent Attachment
This attachment produces safe and noninvasive low-voltage currents that mimic the body's natural electrical current. Like microcurrent devices, these currents tighten and tone the facial muscles, giving your face a more lifted and sculpted appearance.
Percussive Therapy Attachment
The percussive attachment comprises the cone, micro-point, and a flat attachment. These attachments have three-speed settings, providing rapid movement and vibrations that help relax your facial muscles.
The flat head attachment can be used on the entire face, extending to the neck and chest area to relieve any tightness or tension. The micro-point attachment will help improve blood flow and circulation on the cheeks and forehead, and finally, the cone attachment, due to its shape, is ideal for specific areas of tension like the eyes.

How to use TheraFace PRO
TheraFace has 3 control buttons: one for switching the device on/off, another for controlling the LED light function, and the last for controlling the percussive speeds. When using the device on the LED light setting, you are advised to wear protective eye goggles or have your eyes shut as the lights become brighter when the device gets closer to your face.
When the device is on the micro-current setting, some people have reported feeling minimal shocks on the face, which is an issue that can be handled by switching to the lowest setting of the three that are available.
Before using the device on the microcurrent setting, you should cleanse your face and apply the gel that comes with the device, which makes the microcurrent attachment work properly. The device will automatically shut off after 8 minutes when using this setting.
On the microcurrent setting, you swipe the device on different areas of the face for five seconds in an upward motion. You repeat this process three times on the target areas; this should be done only once daily. Once done, clean off the gel and do your skincare routine.
If you have sensitive skin, you are advised to be careful about using excessive pressure when using the cleansing attachment. Too much pressure might irritate and make your skin feel raw. To ensure the attachment does not spread bacteria, clean and wipe it after use and replace it after 90 days.
You can not submerge the device in water, but the cleansing ring is waterproof; you can wash it. Make sure to let the device and attachment ring dry entirely after cleaning before you store them or use them for another treatment.
Benefits of TheraFace PRO
TheraFace PRO is a pricey but significant addition to your everyday skincare routine, as you can use it every day utilizing the different attachments it comes with. Each attachment performs a different function, so your face will benefit from the varied treatments.
Acne treatment
If your problem area is acne, then using the LED attachment and setting it on the blue light setting will help you deal with acne-causing bacteria and help prevent future breakouts. To help this attachment, you can deep cleanse your face with the cleansing ring, ensuring you unclog your pores and get rid of dirt, bacteria, and dead skin from your face, allowing deeper penetration of skincare products.
Aging
Another beneficial LED attachment function is the red light setting, which helps minimize aging signs and the appearance of fine lines, improving your skin's overall appearance.
Tension
The percussive and microcurrent attachments increase blood flow and help reduce tension on the face, relaxing the muscles and giving you a more toned and sculpted appearance.

Reviews from TheraFace PRO Users
We sampled a few reviews from Amazon to understand what users of TheraFace PRO felt and thought about the device.
A customer known as Rob. M said that despite the device being a great addition to a facial routine, one would be better off buying different devices that perform other functions.
K. Amin said,
After using the device I've noticed that my skin feels tighter and lines have considerably reduced. It makes me happy and I believe it works to some degree.
Natalia A. John said,
Although expensive it's worth it and getting to use it every day helps improve my skin.
Another customer, David, said,
It is amazing and relieves TMJ pain.
Frequently Asked Questions
What is the time frame to see results and notice visible changes after using the TheraFace PRO?
A: By using the TheraFace PRO device consistently, you should be able to notice your skin looking smoother, firmer, and healthier after eight weeks.
How many times should I use the TheraFace PRO?
A: You can use the device daily, choosing the same attachment or a different one, depending on your needs. For each attachment, the recommended treatment session is 8 minutes per day.
How long does the TheraFace PRO battery last once fully charged?
A: The battery life of the device is 2 hours.
How many times can I use the microcurrent attachment?
A: You should use the microcurrent attachment once a day.
Is TheraFace PRO waterproof?
A: TheraFace PRO is water resistant but not waterproof. Using it for long in the shower or under running water might not be safe or ideal. The cleansing ring is the only attachment that's completely waterproof and can be cleaned with water.
Conclusion
TheraFace PRO comes with a high price tag attached to it, as well as several different facial treatment attachments, making it a versatile device that can perform several functions. Let's assume a scenario where you only need one or two attachments to tackle a skincare issue; therefore, you don't need the others.
As we all know, skincare issues are different, and treatment options should ideally be personalized, as a one-all treatment approach is not applicable. Bearing this in mind, spending $399 on a device that you will use only one or two of its functions might not be such a great money idea. You can opt for a single device that might cost much less and is specifically meant for your treatment needs.
For those individuals who require all the attachments of the TheraFace PRO due to various facial issues, you can consider purchasing it or take a look at this review of 9 Best Facial Tools of 2023 for Glowing Skin we did analyzing different facial devices, which can help you decide the best skin care devices to add into your routine steadily as you get used to them.