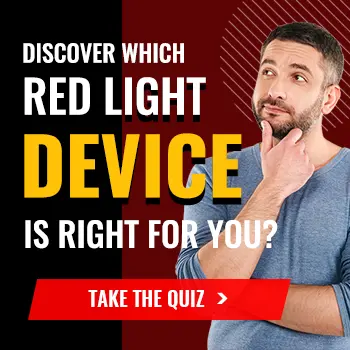 What is Solawave?
The Solawave brand delivers portable red and blue light therapy devices, as well as a serum and mask for improved skin health, anti-aging, and facial massage. All devices are FDA-cleared and safe, and there are no Solawave side effects.
Highly recommended by leading estheticians and dermatologists, this product line offers superior benefits in smoothing wrinkles and lines, fading hyperpigmentation, reducing acne and blemishes, and boosting the overall health and radiance of the complexion. We have highlighted this and other LED devices in our article on the medical-grade red light therapy devices on the market.
Editor's Rating
Solawave

4.9/5
Quality

4.8/5
User Friendly

4.5/5
Value

4.8/5
Customer Satisfaction
Solawave Wand Pros and Cons
Pros
Solawave Red Light Wand can heal acne and other skin conditions.
The products boost collagen and elastin to smooth wrinkles and lines.
Solawave can improve circulation and increase your skin's radiance.
This brand can fade hyperpigmentation and age spots.
It can boost the effects of topical skin care products.
Cons
The products are popular and may sometimes run low stock.
The results may vary for different individuals.
How Does It Work?
The Solawave devices send microcurrents and heat to the skin, and deliver wavelengths of both red (660nm) and blue (415nm) laser light which penetrate the skin, targeting the mitochondria in the cells. This stimulates the release of ATP, which powers all of the body's cells.
A study in the American Journal of Surgery concluded that intracellular ATP delivery enhanced skin wound healing [1].
This stimulates the production of collagen and elastin, which tightens the skin, improves elasticity, and smooths wrinkles and lines. It may also boost hydration to eliminate dryness.
A study in the Journal of the American Academy of Dermatology concluded that red light therapy heightened levels of collagen, elastin, and hyaluronic acid in the skin [2].
Light therapy helps repair damage to the skin cells, healing wounds and blemishes and decreasing inflammation. It heals acne and prevents breakouts, and it also stimulates blood flow for improved skin health and radiance.
The mask and serum offer rich hydrating benefits to the skin, plumping, getting rid of dryness, and smoothing fine lines and wrinkles. They offer a reduction in redness and inflammation, and have rich antioxidant benefits.
The antioxidants destroy free radicals which harm and age the skin, lowering levels of oxidative stress. This can repair the skin barrier, protect from UV rays and pollutants, and boost skin immunity.
We reviewed best led light therapy mask which helps in improving a healthy complexion and promises to reduce lines and wrinkles as well as hydrate, brighten, and rejuvenate.
Expert Opinion: Is Solawave Safe?
Shamara Bondaroff, esthetician and founder of SB Skin Featured in Vogue, Elle, & Into the Gloss, is a big fan of the great benefits of Solawave:
I've been specializing in microcurrent for 9 years and Solawave is a great microcurrent tool you can use in the comfort of your own home – with the added benefit of red light therapy working together at the same time. I always have clients asking how they can treat fine lines and puffiness in between appointments – this is it!
Research that supports Bondaroff's experience includes a study in Photomedicine and Laser Surgery which shows the effectiveness of red light therapy in boosting collagen and reducing signs of age like wrinkles [3].
Health Benefits of Solawave
Solawave devices and skin care products offer a range of properties benefits for the complexion, and come highly recommended by skin care experts including estheticians and dermatologists. Some of the best benefits include:
Decreases Acne and Breakouts
Blue light therapy is best for acne, and red light also offers benefits. They reduce inflammation and destroy the harmful bacteria that can lead to breakouts. It promotes healing, and may also reduce acne scars.
Heals Wounds
Red light therapy has a powerful impact on healing wounds, blemishes, and even scarring on the body, decreasing pain and inflammation, and repairing damage to the skin barrier.
Smooths Fine Lines and Wrinkles
Red light therapy and microcurrents can stimulate the production of collagen and elastin, tightening the skin and improving elasticity (like our review of dpl IIa professional acne treatment light therapy). This results in smoother skin with less prominent fine lines and wrinkles.
The technology also boosts levels of hyaluronic acid, hydrating and plumping the skin to further smooth signs of age.
Boosts Skin Radiance
Laser therapy and microcurrents improve circulation in the skin, and the enhanced blood flow gives the complexion a radiant glow as well as boosting overall health.
Fades Hyperpigmentation and Age Spots
The devices can block the production of the pigment melanin, which helps fade dark spots on the skin and areas of hyperpigmentation.
Solawave Wand Review – Tested by Cianelle
Our Reviewer Cianelle tested the Solawave Red Light Therapy Wand to know more about the results and review of the product and whether it lives up to its promise. Here's what she found…
"The Solawave skincare wand has definitely changed my skincare game. Ever since turning 26, I started to get concerned about wrinkles and all of the signs of aging that show on the skin. I've always been a skincare junkie and I've been an advocate for having a good skincare routine, but I know something was missing. I then discovered red light therapy and one of the things I found was the Solawave wand.

It's been an amazing experience using the wand. I've noticed a healthier glow and improvement in its elasticity as well. I've only been using it for a month and a half, but I can already tell the difference. I love how it's compact and easy to use, perfect to take on travels, unlike the big red light masks we've seen all around social media. It's also perfect to use with any moisturizer that you have, not needing a specific serum to go along with it though they do have an activating serum that can be bought if you're someone who likes the complete set. I highly recommend this for those who are starting their skincare routine or those who are already halfway through their game – it's perfect for everyone, though you must be at least 18." ~ Cianelle
Solawave Before and After
After getting Solawave wand reviews, people have reported remarkable experiences and noticeable improvements in their skin health. Many users have shared their delight in achieving a more youthful and radiant complexion. The red light therapy delivered by the Solawave wand has been praised for its ability to stimulate collagen production, reduce the appearance of fine lines and wrinkles, and promote a smoother texture overall.
Highlighted Products
Uses: Removes fine lines, blemishes, dark circles, and wrinkles, fades age spots and hyperpigmentation, de-puffs and energizes skin
Best For: Anti-Aging
Price: $89.00
Quick Facts and Specs
Rating: Safety and Quality
Brand
Solawave
Product
Advanced Skincare Wand with Red Light Therapy
Form
Wand
Saftey
FDA Cleared
Age
Adults
Skin Type
All Types
Benefit
Reasoably-prices
Smooths wrinkles and lines
Fades dark spots and hyperpigmentation
Promotes radiance
Price
$89.00
Shipping
Free Shipping in U.S
Return Policy
30 Day Returns, 1 Year Warranty
Purchase
Official website
Uses: Clears acne, prevents future breakouts, reduces inflammation and redness, kills bacteria
Best For: Acne and breakouts
Price: $99
Quick Facts and Specs
Rating: Safety and Quality
Brand
Solawave
Product
Solawave Bye Acne: 3 Minute Light Therapy Spot Treatment
Form
Handheld device
Saftey
FDA-cleared
Age
Adults
Skin Type
All types
Benefit
Clears and prevents acne
Eliminates bacteria
Reasonable price
Light and portable
Price
$99
Shipping
Free Shipping in U.S
Return Policy
30 Day Returns, 1 Year Warranty
Purchase
Official website
Uses: Anti-aging, hydrating, boosting the effects of laser therapy
Best For: Smoothing lines and wrinkles, hydrating and eliminating dryness, reducing inflammation, softening, promoting radiance
Price: $32
Key Ingredients: Aloe Vera Leaf Juice Sunflower Seed Oil, Glycerin, Allantoin, German Chamomile Flower Water, Blue Tansy Flower Oil, Sodium Hyaluronate
Quick Facts and Specs
Rating: Safety and Quality
Brand
Solawave
Product
Renew Complex Serum – Activating Serum
Form
Serum
Saftey
Organic, Free of Additives, No Side Effects
Age
Adults
Skin Type
All Types
Benefit
Deeply hydrates and eliminates dryness
Smooths wrinkles and lines
Pure organic ingredients
Enhances the benefits of red light therapy
Price
$32.00
Shipping
Free Shipping in U.S
Return Policy
30 Day Returns, 1 Year Warranty
Purchase
Official website
This rich hydrating sheet mask greatly increases your skin's moisture content for an instant appearance that is radiant and plump. The mask's deep cleansing formulation nourishes your skin by providing it with a unique combination of niacinamide, provitamin B5, hyaluronic acid, and avocado peptides.
Uses: Skin Hydration
Best For: Hydrating, eliminating dryness, plumping the skin, smoothing wrinkles and fine lines, soothing
Price: $9
Key Ingredients: Hyaluronic Acid, Avocado Fruit Extract, Gardenia Fruit, Folic Acid, Glycerin, Panthenol, Arginine, Soybean Ferment Extract
Quick Facts and Specs
Rating: Safety and Quality
Brand
Solawave
Product
Hydrating Sheet Mask
Form
Mask
Saftey
Safe, organic ingredients with no harmful additives
Age
Adults
Skin Type
All Types
Benefit
Provides rich hydration
Very low cost
Smooths wrinkles and lines
Sooths the skin
Price
$9
Shipping
Free Shipping in U.S
Return Policy
30 Day Returns
Purchase
Official website
Uses: Reducing and preventing acne, boosting the effects of serums and other skin care, promoting radiance, facial massage
Best For: Preventing Acne Breakouts
Price: $119
Quick Facts and Specs
Rating: Safety and Quality
Brand
Solawave
Product
Anti-Breakout Wand with Blue Light Therapy & Warming Massage
Form
Wand
Saftey
FDA Cleared
Age
Adults
Skin Type
All Types
Benefit
Reasonably priced
Heals and prevents acne
Enhances the effects of the light therapy
Promotes a radiant glow
Price
$119
Shipping
Free Shipping in U.S
Return Policy
30 Day Returns, 1 Year Warranty
Purchase
Official website
Quick Comparison Table
How to Use It?
All of the Solawave devices and products come with detailed instructions for their use. Follow the instructions carefully for optimal results.
Side Effects and Risks
Research indicates that red and blue light therapy are safe, and given that these devices are FDA cleared, there are no side effects or risk associate with using them. In addition, the serum ad mask contain pure organic ingredients which should not lead to a skin reaction.
What is the Customer Feedback?
On the whole, the Solawave reviews were overwhelmingly positive, and the majority of customers found these products to be more than worth it.
Many users noted the amazing Solawave before and after with regular use, including anti-aging benefits and relief of acne and skin dryness. Here are a selection of comments to give you a good idea of the Solawave results.
Love It
Bought the wand a few weeks ago, and I am amazed by the reduction in the wrinkles and fine lines on my face! My skin glows with good health. Highly recommend this product and brand! – Liz C.
Amazing Results
Bye Acne has gotten rid of all of my pimples and blackheads, and so far they haven't returned! So thrilled with this product, the results, and the great price. My skin looks so much healthier and CLEAR! Thanks so much! – Annie P.
Best Purchase Ever!
I was quite desperate to get rid of the wrinkles and crow's feet on my face, and the wand plus serum really does the job! This is so worth the time and the reasonable cost. It has doe wonders for my skin, making it more youthful and smooth!! – Lara T.
FAQs
Q: Where Can You Buy Solawave?
A: You can buy the Solawave products from a wide range of online retailers and in stores, like Amazon and Saks Fifth Avenue.
The best place to purchase this brand is on the manufacturer's official website, as you can take advantages of the best prices and deals. The prices of the top products are as follows:
Advanced Skincare Wand with Red Light Therapy – $149
Bye Acne: 3 Minute Light Therapy Spot Treatment – $99
Renew Complex Serum – Activating Serum – $32
Hydrating Sheet Mask – $9
Anti-Breakout Wand with Blue Light Therapy & Warming Massage – $119
Q: What is the Return Policy?
A: All devices have a one-year warranty. In addition, the company has a 30-day return policy. If you're not happy with the order, let the company know within 30 days of the order and follow their return instructions.
You must send the products back within 14 days of initiating the request. You'll get a full, hassle free refund. The company pays the return shipping for U.S orders.
Q: Does Solawave Work?
A: There is a wealth of research supporting the benefits of red and blue light therapy in enhancing the health of the skin, reducing aging, acne, and blemishes, improving circulation, and promoting skin health and radiance, as we explained in our product review of the ORA LED Light Energy Mask.
Solawave is among the very top brands when it comes to light therapy devices and related products for the skin. It comes highly recommended by estheticians and dermatologists, and the Solawave reviews rave about its great benefits.
Q: Is Solawave Worth It?
A: Yes, Solawave red light wand helps to promote cellular activity in the body by using low-level red light, which may have several potential advantages.
Q: What Sets It Apart From the Competition?
A: Solawave stands apart as a superior brand which focuses the use of light therapy exclusively on skin, with the inclusion of serums and masks which enhance its benefits with rich organic ingredients.
The prices of the products are very reasonable, and the devices are all safe and FDA-cleared. The Solawave reviews are superior to those of many related brands.
Conclusion
Solawave is a brand that offers red and blue light therapy and is also recognized in the best microcurrent devices and an organic serum and mask to boost skin health and eliminate acne, hyperpigmentation, and signs of aging like wrinkles and lines. Recommended by top estheticians and dermatologists, this is a leading brand in light therapy skin care.
Reading through the Sola wave wand reviews, it's very clear that the vast majority of customers found the product to be highly beneficial in boosting the health and youthfulness of the complexion and eliminating acne and other skin issues. Most users said these products were more than worth it.
Solawave devices are all FDA-cleared and safe for use, and the serum and mask use pure organic ingrediets without associated side effects. If you want to improve your skin health and restore your complexion to a younger appearance. Solawave blue light wand is a great brand to choose. Also, Consider the Best Facial Tools for the skincare routine, from anti-aging to acne, for overall skin health and rejuvenation.