Overview
Cold laser therapy is scientifically proven to offer notable health benefits like easing pain in different areas of the body, reducing inflammation, healing wounds, and promoting cell regeneration.
In addition, the best home cold laser therapy devices help in the management of various skin conditions including acne, wrinkles, and fine lines.
A Chiropractic Specialist Steven Shoshany D.C, based in New York says that he uses cold laser therapy on his patients and the treatment has successfully helped in treating and managing pain associated with conditions such as arthritis and carpal tunnel. It has also helped in treating wounds, healing muscle sprains, and soft tissue strains.
Cold laser therapy treatment devices have also been found to lead to other amazing body health benefits such as management of various skin conditions and blemishes like acne, wrinkles, and fine lines. It has also shown the ability to improve blood flow/circulation in the body, reduce recovery time, and improve the body's overall performance.
In the past, laser devices could only be operated by professionals but today we have a wide range of devices designed for use at home. These use-at-home devices have beaten the limitation of laser therapy treatment access. Today, many people can access these easy-to-use laser therapy devices to help speed the body's recovery process in the comfort of their homes without the need for professional supervision.
What are Cold Laser Therapy Devices?
Cold laser therapy devices are specifically designed to ease body discomforts caused by pain and inflammation.
Additionally, this category of therapy devices can improve blood circulation, promote cell regeneration, speed up recovery, treat injuries, enhance the wound healing process, and improve the body's overall performance.
Pain, inflamed muscles, or injuries can greatly affect the body's performance. Where other pain management methods failed, cold laser therapy treatment has always come in handy to enhance healing. This method of treatment has helped many athletes reduce recovery time and improve their performance, says Dr. Benjamin Domb, an Orthopedic Surgeon Specializing in Sports Medicine and Hip Arthroscopy and also the Founder and Medical Director at American Hip Institute.
Overview of Best Cold Laser Therapy Devices
How we picked

Trusted Manufacturers
Buying from a trusted manufacturer guarantees you a quality device as high chances of getting value for your money are high. The top picks above are from trusted manufacturers and you can be assured of quality and effective devices plus a money-back guarantee in case of a faulty device.

Ease of Use
While all users aim at getting a device that is effective, innovative, and with medical grade, it is also important to consider the easy-to-use factor. Our top picks above have a variety of factors including ease of use. You will, therefore, find that most of them are easy to operate. However, if you are not sure how to use the device properly, you should first consult with your physician for advice or directions.

Expert Recommended
Our team factored in expert recommendations when picking our above cold laser therapy devices. The team involved an expert who helped in determining the key elements to consider when selecting a cold laser therapy device.
Laser Class
Cold laser therapy devices differ in classes based on strength. Our top picks above selected by our team of experts are mostly household use options. These are devices designed for your use at home without the need for medical supervision.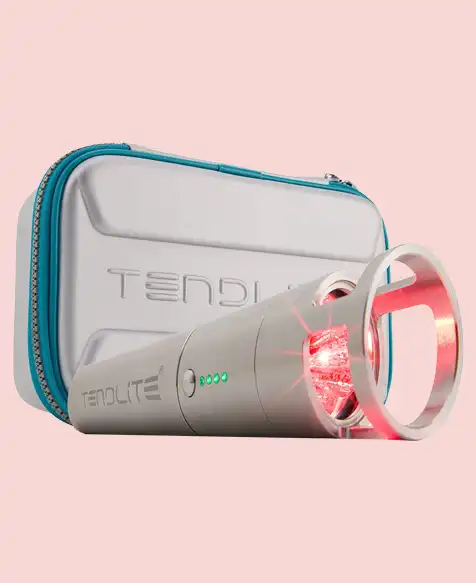 Best For: Joint and Muscle Health.
Features: 7.13 x 1.25 x 1.25 inches; 11 Ounces, Red LED Light 660 nm, Infrared LED Light 850 nm.
Price: $159.99
TENDLITE™ PRO is a new and improved version of the TENDLITE™ Red Light Therapy Device, which is a medical-grade device that uses low-level laser therapy (LLLT) to provide fast and effective pain relief for various joint and muscle conditions. TENDLITE™ PRO is larger and more powerful than the original TENDLITE™, as it has three high-power LEDs that emit both 660nm and 850nm wavelengths, which can penetrate deeper into the tissues and stimulate healing and regeneration. TENDLITE™ PRO is easy to use, as it only requires a few minutes of application per day to the affected area.
Pros & Cons
Pros
Powerful 1000mW laser allows for effective treatment of larger and more difficult cases.
Includes 5 interchangeable laser probe tips for treating different-sized areas.
The intuitive touchscreen interface makes it easy for vets and staff to use.
Pre-programmed protocols for common conditions save time.
Can treat up to 10-15 animals per hour, allowing for good throughput.
Cons
Higher initial investment cost compared to some entry-level laser devices (around $10,000 MSRP new).
Larger/heavier than some other options – may not be as portable for home visits.
Requires ongoing operating costs for probe replacement tips over time.
Learning curve to understand all settings and protocols fully.
More to Know
Target Areas: All over the body | Technology: 7.13 x 1.25 x 1.25 inches; 11 Ounces, 9 Watts. | Benefits: Powerful 1000mW laser treats larger/more severe cases, Pre-set protocols save time while adjustable. | Session Duration: 20-30 minutes, three times a day.
User N.Ho. explains:
I am suffering from rheumatoid arthritis, symptoms mostly on my hands and my feet, great pain and stiffness. I have been under the care of a famously able and expensive specialist for the past 6 months, I am feeling better but NOT enough to be not depressed. Then I remembered this alternative treatment, which I am familiar with, my physiotherapist Read more about the review stating It worked for me. who used it on me, and he charges SGD150 per session. I bought this from Amazon for less than SGD300. I told myself if it worked, brilliant! If it didn't, I am not going to beat myself over it. Today is the 5th day I have been using it, I think I have a minimum of 70% less pain. Placebo you said? Maybe not, because I can hold a fist now which I couldn't 5 days ago. So … if you were hurting enough, give it a shot.
Best For: Laser Pointer-Level Power
Features: Wavelength 905nm, alongside 60 mW (875 nm) infrared LED and 7.5 mW (660 nm) red LED.
Price: $2,495
This unique package pairs a TerraQuant TQ Solo portable cold laser that stands out for its precision, dynamically tailoring treatment plans based on skin color, patient size, and therapy objectives. It guides users through the process with detailed, high-resolution graphics, akin to professional guidance.
The TerraQuant TQ Solo boasts three distinct wavelengths. Power and dosage are pivotal for results, distinguishing this package from those with laser pointer-level power. For added versatility, you can use the optional light pipe adapter for acupoint and trigger point therapy or employ the optional stand for hands-free treatments. This system is exceptionally adaptable and user-friendly.
Pros & Cons
Pros
Non-invasive pain relief..
Versatile applications.
Minimal side effects.
Cons
High upfront cost.
Limited effectiveness for some conditions.
Requires skilled operators.
More to Know
Target Areas: Specific Area | Technology: 15W, 140 x 50 x 50 mm, 300 g | Benefits: Wide treatment areas, Customizable settings, Quiet operation, Affordable solution, Rechargeable battery with 8 hours of continuous use. | Session Duration: 15 minutes.
User Tom Slade explains:
I have had a number of orthopedic procedures. This device was used recently when I was in PT. Having used it now for a week or so, I am happy to report that it works for pain and inflammation from orthopedic operations.
Best For: Pain relief, Wound Healing, Muscle Relaxing
Features: Wavelength 650nm, 808nm.
Price: $69.99
The SINORIKO is a handheld cold laser therapy device used for pain relief and injury recovery. It uses low-level laser light therapy (LLLT) to stimulate cells in the body and reduce inflammation. The device has 8 laser diodes that emit wavelengths of 635nm and 808nm light, which research has shown to help accelerate tissue repair and reduce swelling and pain. It's compact and lightweight for easy portability. Users simply glide the laser head over the affected area for a few minutes per session. It's cordless for convenience and has an LCD screen to display treatment time. The SINORIKO is safe, drug-free, and non-invasive, making it suitable for muscle soreness, arthritis, and other physical ailments.
Pros & Cons
Pros
Much more budget-friendly than many other laser options.
Portable enough for home or mobile use.
You can adjust the intensity for different cases.
Easy for anyone to operate.
Provides cord-free use.
Cons
This may not work as well for larger or more severe issues.
Short battery life allows only 10-15 minutes per charge.
Lower price may impact durability or longevity.
More to Know
Target Areas: All Body | Technology: 808nm, 2200mAH, DC 5V, 100-240V | Benefits: Compact and lightweight for travel, Cord-free rechargeable battery for flexibility, Well-suited for targeting small pets, Low-cost introduction to laser therapy. | Session Duration: 15 minutes.
User Laser explains:
I occasionally experience tennis elbow, and I received laser treatment from my local chiropractor to resolve the matter. This laser gave me the same results, and it was very reasonably priced. I highly recommend it.
Best For: Humans and Animals
Features: 650nm+808nm wavelengths, 110v – 220v power.
Price: $79.99
Magnetoe is a wearable device that uses magnetic fields to stimulate nerves and muscles without needles or drugs. By placing magnetic pads on areas of pain or weakness, it non-invasively generates pulses that pass through the skin to targeted areas deep in the body. This promotes natural healing by encouraging circulation and reducing inflammation. The portable device offers relief for issues like back pain, arthritis, and muscle soreness. It received FDA clearance and works on the principle of pulsed electromagnetic field therapy to alleviate symptoms and accelerate recovery in a safe, drug-free manner.
Pros & Cons
Pros
A non-invasive procedure that does not require needles or drugs.
Can provide pain relief and help accelerate healing for various muscle and joint issues like arthritis, back pain, etc.
The portable design makes it convenient to use at home.
May help reduce inflammation and promote circulation.
Cons
Multiple treatments over time are usually needed to see full benefits.
The upfront cost of purchasing the device.
Requires patient compliance to do daily treatments.
Results may vary depending on the individual and the severity of their condition.
More to Know
Target Areas: All Body | Technology: 650nm+808nm wavelengths, 110v – 220v power. | Benefits: Painless Treatment, Reduced Inflammation, Faster Wound Healing, Skin Rejuvenation, Pain Relief. | Session Duration: 10-15 minutes.
User plmbzmom explains:
If used as directed this is another addition to your health care that you will not regret. Injuries that need a deeper sense of care will benefit completely from the care routine using this.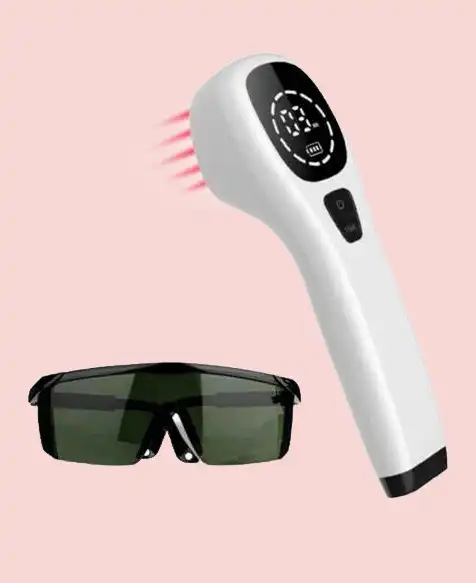 Best For: Pets
Features: Wavelength 650nm/808nm, Rechargeable 2600mAh lithium battery.
Price: $119.99
The KTS Cold Laser Therapy Device offers an effective solution for relieving muscular pains. This handheld device provides a non-invasive and painless treatment that promotes improved blood circulation and stimulates cell regeneration, all without the need for sedatives, shaving, or piercing. It's versatile, addressing a range of issues from aching backs, necks, lower backs, and shoulders to joint problems and arthritis. Utilizing integrated red light therapy that combines infrared light with acupuncture treatment, this device offers efficient pain relief. Its portability and digital display, indicating battery capacity and time, make it a convenient choice for treating both chronic and acute pain.
Pros & Cons
Pros
A non-invasive procedure that does not require needles or drugs.
Can provide pain relief and help accelerate healing for various muscle and joint issues.
Drug-free approach avoids potential side effects of medications.
Has different attachment heads to target specific body parts.
Can be used by patients independently without needing a therapist.
Cons
May need more than one treatment.
Some may find this costly.
Results may vary.
May not be covered by insurance so patients pay out of pocket.
More to Know
Target Areas: Anywhere on body | Technology: 3.94 x 1.18 x 0.79 inches; 1.85 Pounds. | Benefits: Pain Relief, Improved Blood Circulation, Non-Invasive Treatment, Faster Wound Healing. | Session Duration: 10-30 minutes.
User Stephanie J Samuels explains:
I bought this for my arthritis senior dog with arthritis, and it seems to work well on her leg joints. She tolerates the treatments and they make her feel a lot better.
Best For: Humans and Pets
Features: User friendly design.
Price: $329.00
The Yofalo Cold Laser Therapy Device is a handheld device that can be used to relieve acute and chronic pain. It is a non-invasive and painless treatment that can boost blood circulation and trigger cell regeneration without sedatives, shaving, or piercing. The device comes with a perfect combination of 3pcs 808nm and 12pcs 650nm laser diodes that emit red light, which helps improve blood circulation, and reduce skin inflammation, and skin redness. The device also has a pulse setting that can be adjusted to different speeds. The Yofalo Cold Laser Therapy Device is portable and comes with useful controls.
Pros & Cons
Pros
Small, portable, and Handheld.
Targeted approach.
It can work for various body parts.
Cons
May not be suitable for all.
Some may find it costly.
More to Know
Target Areas: Whole Body | Technology: 3pcs 808nm and home 12pcs 650nm laser diodes. | Benefits: Relieve joint and muscle tension, Help yourself get better skin, and Help recover from injury. | Session Duration: 15 minutes.
User Kristy Lewis explains:
Amazing!!!! I have used much more expensive lasers in my practice and had such good results with them that I was skeptical that a less expensive laser could work as well. I have to say it works as well and possibly better! If you're on the fence about these, take a chance on them, you won't regret it!
Best For: Humans and Pets
Features: Portable, Rechargeable, Economic, Home Therapy.
Price: $129.00
The Pinfriy Cold Laser Therapy Device is a handheld device that uses low-level laser therapy (LLLT) to relieve pain and inflammation. LLLT is a non-invasive treatment that uses red and near-infrared light to stimulate cellular healing.
The Pinfriy device has 16 laser diodes, 11 of which emit 650nm red light and 5 of which emit 880nm near-infrared light. Red light is good for healing superficial wounds and reducing inflammation, while near-infrared light penetrates deeper into the tissues to promote healing and cell regeneration.
The Pinfriy device is easy to use. Simply place it over the affected area and hold it in place for 5-30 minutes, depending on the severity of the condition. The device has a timer that will automatically shut it off after the selected time has elapsed.
Pros & Cons
Pros
Non-invasive and pain-free.
Effective for a wide range of conditions.
Safe to use on adults, children, and pets.
Portable and lightweight.
Relatively affordable.
Cons
May require multiple treatments to see results.
Not covered by most insurance plans.
Some research suggests that LLLT is not effective for all conditions.
More to Know
Target Areas: All Over the Body | Technology: Wavelength 650nm, 808nm, 10.24 x 7.05 x 3.23 inches; 1.54 Pounds. | Benefits: Upgrade Magnetic Cover, Maximum Number of Diodes, Affordable. | Session Duration: 5-30 minutes.
User E. Horner explains:
I started seeing a local doctor who treats with a medical grade level Lazer. I found relief of symptoms on day 1. I suffer from morning stiffness that would keep most people in bed, I run this over my hands in the morning and at night. I swear it is improving my mood as well. Money well spent!
How Do Cold Laser Therapy Devices Work?
The best-rated cold laser therapy devices work by emitting low-level red light and near-infrared light wavelengths. When applied directly to the skin, it gets absorbed by the skin cells resulting in a reaction that leads to the regeneration of damaged cells. Our content for Laser Hair Growth Products highlights a closely similar technology thought at a differing temperature.
Cold laser therapy makes use of low levels of photons or energy that penetrate deep into the painful area or damaged/swollen tissue. Once the light is able to reach the affected area, chemical changes occur, leading to the recovery of damaged cells and regrowth.
A study published by researchers Jan M. Bjordal et al in the Australian Journal of Physiotherapy notes that there is evidence that if the suggested low-level cold laser therapy dose range is administered, it can significantly reduce pain and improve the body's overall health status, especially in people with chronic joint disorders.
The light from the device usually increases blood flow, speeds up cellular processes, and creates a photobiomodulation effect which improves body healing.
An analysis shared in the International Journal of Molecular Science by researchers Micaela Berni et al shows that low-level-laser therapy treatment can accelerate fracture healing, and promote angiogenesis and stem cell osteogenic differentiation.
According to a study published in the Journal of Athletic Training by researchers Kelly A. Lerkin et al, there is evidence that class 4 cold laser therapy devices can enhance proper blood circulation in the soft tissues. Modulation of blood flow in the body has been found to promote healing through its ability to control post-injury ischemia.
Key Factors to Consider When Selecting Cold Laser Therapy Devices
Useful Features:
Every user wants a device that will give him or her maximum benefits. Our team ensured that all our top picks above have good battery life sufficient mAH, good LCD screen, and well-adjustable power grades. The devices are also not heavy and have a good grip and, therefore, easy to handle. The devices' packages also come with safety goggles to protect your eyes.
Protocols:
Protocols or user manuals are important because they give clear directions on how a given product is used or how a particular device should be operated. All our top picks above come with well well-explated manual user. To ensure user safety and device efficiency, you are encouraged to read through the user guide carefully before trying any of the devices.
Wavelength:
Cold laser therapy devices come with different wavelengths. Our top picks above are designed with a minimum wavelength that penetrates deep into the skin to relieve deep pain, inflammation, muscle sprains and strains, etc.
Class Level:
There are different class levels of laser therapy devices. Over-the-counter cold laser therapy devices are mostly class 1M lasers and are designed for household use. Class level 3 and 4 lasers are designed for professional use and so, only a professional is allowed to operate it.
Bonus Features:
While cold laser therapy devices are designed to perform specific treatment roles, others have extra features that offer extra benefits. Our top picks above are devices designed to offer an array of health benefits to ensure the body's overall well-being.
What Specific Benefits Do Cold Laser Therapy Devices Offer?
Frequently Asked Questions
Do Cold Laser Therapy Devices Work?
How Frequent Should You Use a Cold Laser Therapy Device?
A: For optimal results, daily treatment with cold laser therapy for 2 weeks or daily treatment of 3-4 days per week is recommended. The radiation should be able to cover most affected pathological tissue in the synovia/tendons.
Do Cold Laser Therapy Devices Work for Pain?
A: Various sources have pointed out that cold laser therapy can help reduce sudden or acute pain and also manage chronic or long-lasting pain. It can also help treat inflammation and accelerate the wound-healing process.
Is it Safe to Use a Cold Laser Therapy Device at Home?
A: Some cold laser therapy devices are designed to be used conveniently in the comfort of your home. They will help you treat various types of pain including chronic pain like TMJ and arthritis or acute pain such as strains, and sprains, among other injuries. They may not be a one-and-one solution but they can be a convenient and effective way of speeding the recovery process at home. However, as you plan to buy at home use cold laser device, there are some things you need to take into consideration first. For instance, some devices may not have the output they claim to have while others are non-laser LEDs (light-emitting diodes).
Do cold Laser Therapy Devices Cause Side Effects?
A: To begin with, a cold laser therapy device is a noninvasive, drug-free alternative for treating pain. According to a publication in Seminars Cutaneous Medicine Surgery, cold laser therapy can help treat a wide range of ailments, injuries, and pain syndrome and heal wounds without causing many side effects. However, a publication in Podiatry Associates Inc. notes that apart from cold laser therapy's wide range of health benefits, the treatment may cause mild effects including muscle aches, vomiting, nausea, headache, itching, and or confusion. Also according to the United Kingdom's National Service (NHS), the use of cold laser therapy devices may lead to pain, skin discoloration, and or swelling.
Conclusion
There are quite a number of modern painless and non-invasive medical tools designed for the treatment of various medical conditions. Cold laser therapy devices for home use are among them which are widely utilized today to treat a variety of ailments without having to worry about the pain and expenses that come with surgery. They are painless and non-invasive devices that can help you manage pain, treat injuries, reduce muscle inflammation, and improve performance, among other health benefits.
Cold laser therapy has proven to be one of the convenient ways of treating pain (both acute and chronic). So, if you are an arthritis or TMJ patient, and you are experiencing acute pain like strains, sprains, or other injuries, you can trust cold laser therapy to ease the pain. They are mostly designed for use at home and can effectively help speed the recovery process in the comfort of your home.
If you have been contemplating buying a cold laser therapy device for use at home and you have not been able to do so because you are not sure what to buy, we have just made it easier for you. With our top picks above, it is time to start your journey of living a painless life. Our experts have taken their time to pick not just quality but easy-to-use devices to make your life hassle-free.
Any of our top picks above will effectively work for you because they have all the features and protocols you need to get you started your healing journey. All you need is to choose that which matches your health needs and from your preferred brand.
**This is a subjective assessment based on the strength of the available information and our estimation of efficacy.
*Result may vary. The information contained in this website is provided for general informational purposes only. No medical claims are implied in this content, and the information herein is not intended be used for self diagnosis or self treatment of any condition.
Disclosure of Material connection: Some of the links in the post above are "associate sales links." This means if you click on the link and purchase an item, we will receive commission. Regardless, we only recommend products or services which we use personally and/or believe will add value to our readers. We are disclosing this in accordance with the Federal Trade Commission's 16 CFR, Part 255: "Guides Concerning the Use of Endorsements and Testimonials."