Introduction: Color LED Light Therapy
LED therapy employs light emitting diodes which appear in several LED light therapy colors and wavelengths, offering a range of benefits for health and wellbeing. Each color emits a narrow beam of light linked to specific wavelengths which penetrate the skin at different depths.
The LED light therapy colors delve into the body and stimulate the mitochondria in the cells for additional production of ATP. As ATP is the powerhouse for all of the cells in the body, it helps promote repair, healing, skin rejuvenation, pain reduction, improvements in mood, brain health, and immune functioning depending on the depth of penetration.
Dr. Michael Hamblin, PhD, associate professor at Harvard Medical School explains the great benefits of LED light therapy:
Low level laser therapy/PBM (Photobiomodulation) is more than an alternative kind of medical treatment. it is a whole new method to control cellular processes and modulate living organisms by precise alterations in the chemistry of biomolecules.

PBP enables the contemporary clinician or therapist who holds a modern and multidisciplinary outlook to fight against diseases and other disorders in both humans and other animals.

Moreover, is it a possible way to stimulate or inhibit many different biological processes that occur in most (if not all) different living creatures…the photobiomodulation phenomenon is as old as life itself [1]!
The Colors and Their Wavelengths
Let's consider the primary light therapy colors in terms of their wavelengths. Along with the typical 7 color led light therapy chart we have added infrared light. The higher the wavelength the deeper the penetration, with infrared being the most powerful.
We also covered the red led light benefits on how each color of light benefits differently red light improves elasticity and maintains complexion whereas, blue light protects skin from impurities and bacteria and many more are covered below.
Light Therapy Color Chart
| Color | Wavelengths |
| --- | --- |
| Infrared | 750-1000nm |
| Red | 625-740nm |
| Orange | 690-625nm |
| Yellow | 565-595nm |
| Green | 500-565nm |
| Blue | 440-485nm |
| Cyan | 485-500nm |
| Purple | 380-440nm |
What Are The LED Light Color Benefits And Properties?
Red Light
Red is the most commonly used wavelength, and it offers several LED light therapy color benefits. Red wavelengths are ideal for the skin, as they boost collagen and elastin production to tighten the complexion, improve elasticity, and smooth wrinkles, lines, stretch marks, and blemishes.
Dermatologist Elma Baron, MD, explains: "There have been some preliminary studies that show that this type of light has some effects on cells known as fibroblasts.
These are the cells that produce collagen, so we know that red light has some beneficial effects in terms of promoting the growth of and maintaining healthy collagen in your skin [2]."
One of the best LED facial light colors, red light also enhances the release of hyaluronic acid, which deeply hydrates the complexion, gets rid of dryness, and plumps the complexion to further smooth wrinkles and lines.
In addition, red light could help decrease inflammation and heal wounds. A study published in the International Journal of Photoenergy by Myung-Sun Kim, et al concluded that treatment with a 600m red light was effective in healing and repairing wound damage [3].
Red color LEDs also improve circulation, and the improved blood flow brings oxygen and nutrients to the muscles to promote growth. Research studies have proven that regular use of red light therapy for testosterone may improve fertility in men and also increase exercise performance and energy levels.
Red light therapy for weight loss speed up the metabolism, promoting fat burning. Red light therapy promotes the release of melatonin from the pineal gland of the brain for improved sleep.
Blue Light
Blue LED light is ideal for preventing and treating acne, as it has a low wavelength which works primarily on the skin's surface. It kills the harmful bacteria which leads to breakouts, decreases inflammation, and may also treat skin conditions like eczema and psoriasis.
A study by Michael H Gold, et al published in The Journal of Clinical and Aesthetic Dermatology concluded that regular treatment with blue light therapy may have a positive effect on healing mild to moderate acne [4].
One of the best light therapy colors for skin, blue light may also heal sun damage and could even contribute to preventing the development of cancerous lesions.
A study on mice published in Scientific Reports by R. A. Akasov and N. V. Sholina, et al concluded that treatment with blue LED light for 50 days decreased melanoma tumor growth by 85–90% [5].
RELATED: Red vs Blue Light Therapy: Learn The Science and Differences
Green Light
Green light stimulates and heals the tissues in the body for a range of benefits. It enhances energy levels, and it also regulates the circadian rhythm for improved sleep. Green LEDs decrease inflammation and may reduce chronic pain and heal wounds.
A study in Wound Repair and Regeneration by Tomohiro Fushimi, et al found that green LED light was particularly effective at accelerating wound healing [6].
Green is one of the most common LED face mask light therapy colors, meaning it offers rich benefits for the skin. It decreases swelling, and it also boosts collagen production to tighten the complexion and smooth wrinkles and lines.
Yellow Light
Another helpful hue in the color light therapy chart is yellow, which has a number of benefits for the skin and general health. This color stimulates the nervous system, which can enhance muscle and tissue tone.
In addition, yellow light stimulates the production of red blood cells for healing and rejuvenating the skin. This color also promotes softer skin, decreases inflammation, reduces redness, and helps heal skin conditions like rosacea.
A 4-week study published by K.-R. Moon, et al concluded that treatment with 592 nm yellow light emitting diodes was effective at treating photoaged skin [7].
Cyan Light
Cyan is also one of the common LED light therapy mask colors, as it has skin soothing benefits and is highly effective at calming an irritated complexion. It lessens inflammation by decreasing the size of the capillaries, and may also help to prevent acne.
As one of the most effective facial light therapy colors, cyan also boosts the production of collagen and elastin to tighten the complexion and smooth wrinkles and fine lines. As we documented in our article, solawave reviews before and after examine that it may vary from person to person to treat anti-aging signs, acne breakouts.
Orange Light
Orange wavelengths are the closest to red light, and this color also offers great benefits for the skin. It decreases swelling and redness and stimulates collagen production to tighten and smooth wrinkles and lines.
It improves circulation, bringing healthy oxygen and nutrients to the skin to promote health and radiance. The enhanced blood flow also helps boost muscle mass and strength. There's some evidence that orange light may improve energy levels and enhance mood.
A study in the Journal of Physical Therapy Science by Nesrein A. Abd Elrashid, et al concluded that regular treatment with orange light for a month helped to healed post burn scars in children [8].
Purple Light
Purple light works mostly on the skin's surface, and it can kill acne promoting bacteria and decrease inflammation, promote cell regeneration and renewal, stimulate collagen release for tighter skin, and smooth wrinkles and fine lines.
Infrared Light
Infrared light penetrates deeply into the body for numerous health benefits, including healing of injures and some chronic conditions.
It also promotes the release of key brain neurotransmitters like serotonin, dopamine, and acetylcholine for improved mood and enhancement of cognitive functions like memory, mental focus, and learning, benefits also covered in an article of the best sun lamps.
Infrared light blocks key receptors to decrease pain and inflammation in the body, for example, the muscles and joints.
A 6 week study published in Pain Research and Management by George D Gale, et al concluded that regular treatment with infrared light was effective at reducing long-term back pain [9].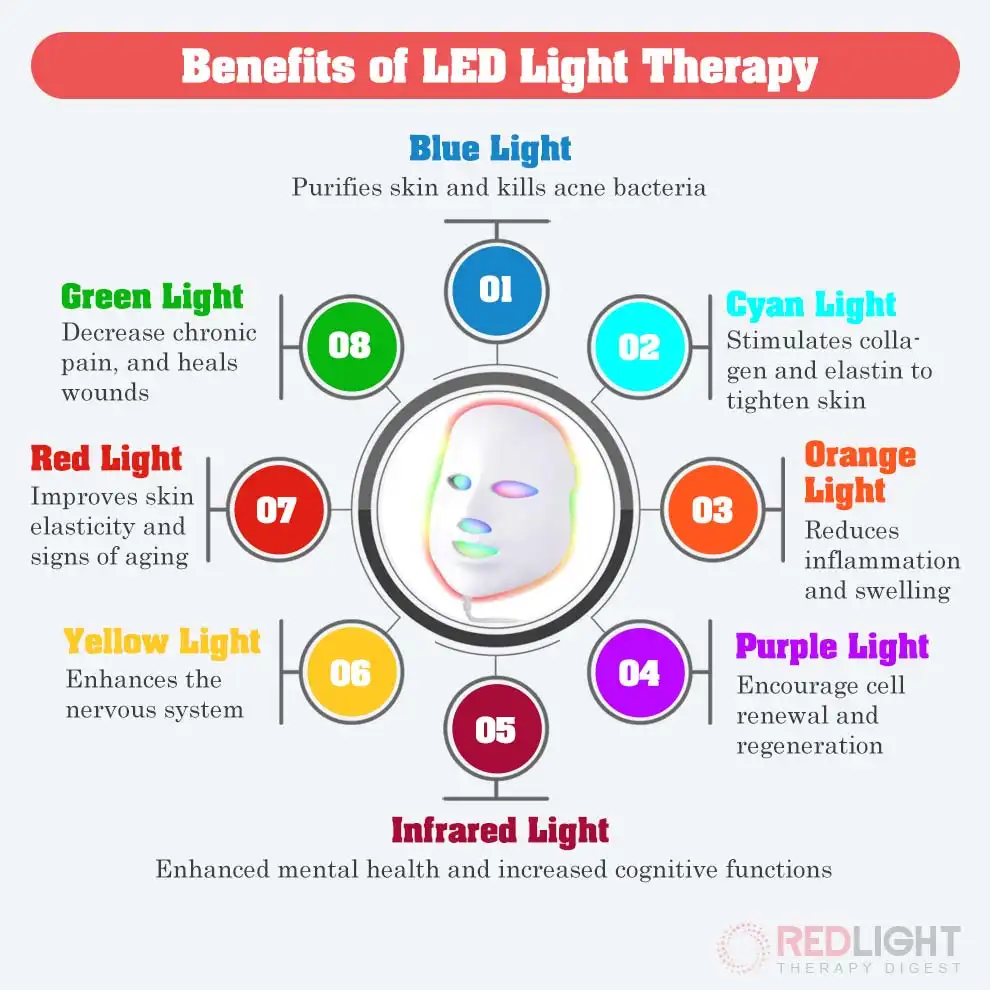 FAQs
Q: What Color Is Best For LED Light Therapy?
A: The best color wavelength to use depends on the particular issue you need to heal. For example, red light is best for skin anti-aging, rejuvenation, and weight loss, blue light works well for reducing acne and inflammation, and yellow stimulates the nervous system.
Infrared delves far into the body for deep healing, pain reduction, mood and brain enhancement, and repairing bones. Other colors in the spectrum offer a range of benefits. Before you begin treatment, research the best color for your particular issue, or consult with a physician.
Q: What Color Light Is Best For Wrinkles?
A: Red light therapy is most effective for reducing signs of age like wrinkles and fine lines, although other colors like orange, yellow, and cyan also have this effect. It boosts the production of the proteins collagen and elastin, which tightens loose skin and improves elasticity.
In addition, red light increases the production of hyaluronic acid, which boosts hydration in the skin and plumps. The added volume helps to smooth wrinkles and fine lines.
Q: What Color Light Therapy Shrinks Pores?
A: If you're trying to shrink your pores, reducing the chance of clogging and developing acne breakouts, blue light is your best bet. Blue wavelengths also reduce inflammation on the skin and kill harmful bacteria for a healthy, blemish-free complexion.
Q: What is The Healthiest LED Color?
A: As long as you follow the instructions as stated and choose an FDA approved model, LED light therapy is a safe technology with no serious side effects or risks. All of the colors are healthy and beneficial for a range of issues.
Q: What Color Light Is Best For Sleeping?
A: Of all of the light therapy colors, red light is the best wavelength for improving sleep speed and quality. This color increases the release of melatonin from the pineal gland of the brain, which is the hormone that induces sleep. Green light is also an effective sleep-inducing color.
Conclusion
Each of the LED therapy light colors offers different health benefits, depending on the associated wavelengths. Infrared offers the most powerful penetration for rich healing benefits, while other colors like blue, cyan, and purple work more at the surface level, and red, orange, and yellow fall somewhere in between. As we explained in our omnilux led mask reviews article, it explains side effects, benefits, and risks.
You should tailor your LED light therapy treatment to your specific issues, based on the LED light therapy color benefits. This article has provided you with the information you need to make the best selection, and if you have purchased a home device you may also consult with the experts at the company, or your physician.
When you buy the best LED light therapy device, ensure that the product you choose is FDA cleared and thus manufactured under strict safety conditions. For the optimal experience, follow the user's guide carefully as to treatment times, number of sessions, and safety.
We reviewed novaa light pro which acts as a mood booster and helps in reducing the stress level which helps enhance the cognitive function like memory and learning.