What Is Red Light Therapy?
Red Light therapy treatments are available on most spa menus at dermatologists' offices. In case you have not seen them at spas, then you have heard of celebrities like Kelly Rowland, Chrissy Teigen, and Emma Stone who have shared their experiences with Red Light facial therapy. So, what exactly is Red Light Therapy?
"In Red Light Therapy, the skin is exposed to the light of safe wavelengths to help address various skin concerns, such as stretch marks, signs of aging, hyperpigmentation, acne, and scars", says Dr. Dendy Engelman, FACMS, MD, FAAD, a board-certified cosmetic dermatologist in New York City, United States.
"Low wavelength red light produces a biochemical effect in cells to make more energy," she says, "which in turn helps cells work more efficiently to rejuvenate and repair the damage." Red Light Therapy uses light-emitting diodes and not heat, it is painless, non-invasive, and stimulates healing in body cells.
History of Red Light Therapy
"Photobiomodulation or PBM, low-level laser treatment, cold laser treatment, and photostimulation are other terms used to refer to light therapy," says Praveen R. Arany PhD, DDS, an assistant professor, Oral Biology, School of Dental medicine, University of Buffalo, United States.
For more than 50 years, people have been using light therapy for facial treatments. Professor and Hungarian physician Endre Mester discovered Red Light Therapy in the 1960s when doing scientific experiments to find out how cancer cells would react to radiation exposure. According to research published by Michael R. Hamblin, RDN, PhD Massachusetts General Hospital, Wellman Center for Photomedicine, Department of Dermatology Harvard Medical School, MA, USA, Endre Mester discovered light therapy in 1967 while using a laser to cure tumors in rats.
For many years, people considered light therapy to be a sham. However, with emerging research, light therapy has begun to gain popularity. As of now, light therapy is being portrayed as non-mainstream science in the United States. "However, there are growing clinics and academic centers that are embracing the light therapy technology and making it available to patients," Says Dr. Arany.
Right now there exist centers that are committed to educating scientists and healthcare providers about the legitimacy of light therapy as a clinical treatment method like one at Shepherd University. Professional organizations like PBM Foundation and North American Association for Photobiomodulation Therapy (NAALT) are also doing the same.
Why Red Light Therapy?
Well, unlike the UV rays from the sun which are usually dangerous, the wavelengths in this device are not designed to damage or burn the skin. The wavelengths are moderated to penetrate through the tissue faster and are also easily absorbed by light-capturing body cells without causing harm. The below definitions of Red Light Therapy by different experts should help you understand this procedure and its safety better.
According to nurse practitioner Cynthia Cobb, DNP, APRN WHNP-BC, FAANP, red light therapy is a therapeutic technique involving the use of low-level red light wavelengths to treat various skin issues like wrinkles, persistent wounds, and scars among other skin concerns.
It is a skin healing process involving skin exposure to near-infrared and red light between 660 nm and 890 nm wavelengths with either red LED lights or low-level lasers. It can absorb up to 10 millimeters of these laser lights. Red light therapy penetrates up to 5mm into the skin without causing thermal damage, making it a non-invasive treatment, says aesthetic and wellness expert Dr. Jessie Cheung with offices based in Illinois and New York City.
A board-certified cosmetic dermatologist Dr. Dendy Engelman, MD, FACMS, FAAD based at Shafer Clinic in New York City says that low wavelength red light generates a biochemical effect in body cells enabling them to work more efficiently to repair and rejuvenate the skin.
How Does Red Light Therapy Work?
Light Therapy works by using light of different wavelengths to address various skin concerns. These wavelengths are between 400 nanometers (nm) for blue light up to 1200 nm which is near-infrared light. According to the Center for Science Education, Red light is visible light and has a wavelength of between 620nm to 750nm
Red, blue, and green light are effective light therapies in PBM treatment. Light therapies of up to 1200 nm, which is near-infrared light, are still used in some saunas. Although it may appear red, infrared light is not visible light. It may cause some physiological changes when it heats up the body.
Ideally, the device designed to work through a phenomenon known as photo-biomodulation. It is a process involving the activation of different components of the cells or responding to different wavelengths, says a board-certified dermatologist Erum llyas, MD, MBE, FAAD.

While the real mechanisms of photobiomodulation have not been exhaustively researched and understood, there is clinical evidence of its effects. A series of studies have been conducted on this and results show that light does act on the cells' mitochondria. This in turn leads to increasing the production of various factors, known to increase proteins that enable cells to communicate, adds Ilyas.
When the red lights are able to communicate, the skin is able to function much better. There is usually stimulation of collagen production including other factors that helps the skin to remodel, adds Ilays.
An article reviewed by board-certified otolaryngology, facial plastic surgery, and reconstructive surgery William Truswell, MD supports that red light therapy activates mitochondria by employing low-power red light that helps in generating energy. Most of the energy the mitochondria produce is usually reserved in a molecule known as adenosine triphosphate (ATP), a component that helps the body store and uses energy. Truswell notes further that lifestyle and aging factors have been found to affect mitochondria, leading to low production of ATP and red light therapy is used to reverse the decline.
You can understand better how this therapy works by looking at other low-level light therapy functions. Red light therapy can be compared to other traditional devices for skin care such as Nushape, intense pulsed light and lasers.
The list of celebrities who swear by red light therapy is increasing day by day. Joan Smalls and Bella Hadid visit celeb aesthetician Joanna Czech, who is well-known for using her light treatments on her clients.
Lasers are known to cause controlled damage in the skin, an action that triggers an inflammation-related reaction, leading to skin benefits such as reduced wrinkles and readiness as well as improved hyper-pigmentation, says New York Lifestyle Editor Danielle Blundell.
Red light therapy has gained popularity over the years because it is well-known are easily accessible. Dr. Arany says, "Red Light Therapy devices are widely available and easy to manufacture. According to the American Society of Laser Medicine and Surgery, when light particles or photons are placed near the skin, they activate chromophores that stimulate changes in skin cells.

Uses and Benefits Red Light Therapy
Red light therapy is becoming a popular skin treatment option for treating various skin conditions. It is probably because of its profound effect on blood flow and collagen production in the skin tissue. Celebrity aesthetician Joshua Ross comments that red light therapy is designed to help the skin function and perform much better for optimal health. Some of red light therapy benefits are explained below:
Skin aging:
Red light therapy can be used to boost the skin's appearance by reversing the damaging effects UV rays. The treatment is known to stimulate rapid cell production, responsible for secreting collagen proteins. This in turn helps to lift and tighten loose skin, hence fading away wrinkles.
A study in Photomedicine and Laser Surgery shows that skin exposure to red light therapy can help rejuvenate aging skin, and improve its feeling, and complexion. We have received some users images showing red light therapy before and after images that you can see here.
Acne
Red light therapy has also been considered an alternative treatment for acne vulgaris. According to a study in Seminars in Cutaneous Medicine and Surgery, skin exposure to red light therapy is a good alternative treatment for acne. The red light therapy acts on the skin to slow overactive glands that produce sebum responsible for pore clogging, leading to an acne outbreak.
Before After

Before After

Before After
Scars
Collagen production may be a crucial component for skin aging but not for scars because scars have been found to grow with the increase of collagen production in the body. Much collagen in the body has been associated with the thickening of scars. So, by reducing collagen production, you help prevent the scar tissues from thickening.
Red light therapy treats scars by regulating collagen production in the body, which in turn prevents scar tissue from thickening.
A study in Medical Literature shows that red light therapy has potential mechanisms of down-regulating collagen production in the body.
Tone Texture and Hyper-pigmentation:
Various studies have demonstrated the ability of red light therapy to treat aging skin by improving its tone, texture, and hyperpigmentation. It has also been found to improve skin quality, and texture, and reduce skin inflammation and redness, and those affected by sunlight damage.
According to Photomedicine and Laser Surgery, red light therapy can encourage the effective functioning of cellular in the skin, which has been associated with the improvement of skin texture, tone, and hyperpigmentation.
Psoriasis
A research study in Laser Medical Science revealed that using red therapy to treat the skin can help improve plaque psoriasis appearance without causing major side effects.
Red Light Therapy for the Body
Besides the aesthetic and skin health benefits, red light therapy has also been found to have a health impact on the body though most of the claimed benefits lack scientific backing. Only a few have shown some assurance as discussed below:
Overall Performance: Red light therapy may have plenty of benefits but one thing it does not do is reduce body fat. At home, red light therapy devices may not penetrate the skin deep enough to create an impact says Ilays.
Tighter Skin: As noted earlier in this review, red light therapy is designed to boost collagen production, a component in the body responsible for skin elasticity and firmness. So, red light therapy works to tighten the aging skin by reducing its laxity, says Ilays.
Help Deal with the Effect of Chemotherapy: A research study by NASA notes that red light therapy has shown the increased potential of reducing chemo-related side effects such as painful sores, dryness, and burning sessions.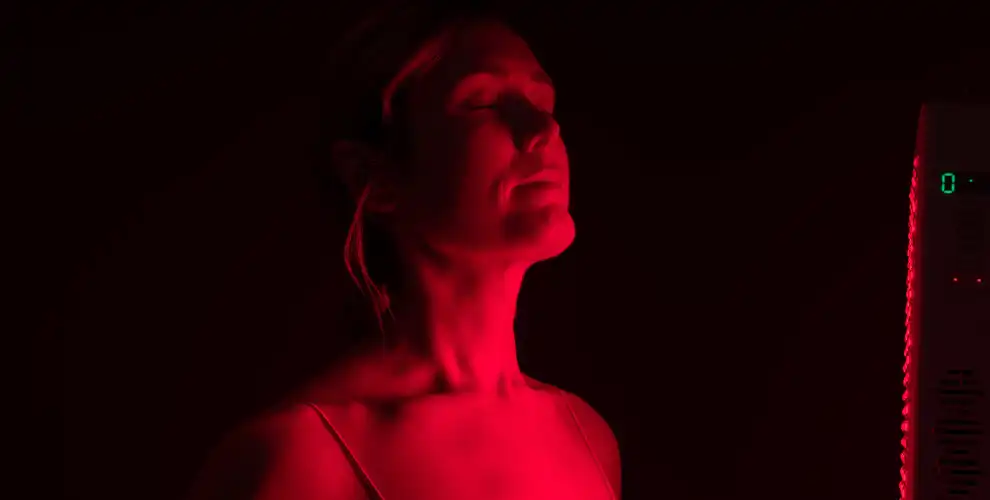 Types of Red-Light Therapy Devices
There are two types of red light therapy treatment devices. We have in-office and at-home red light therapy devices. There is a big difference between the two devices as far as their treatment is concerned. Their range of wavelength and how deep they can penetrate the skin differ.
For instance, unlike in-home devices, medical-grade devices have been designed to penetrate the skin about 6 mm in depth while at-home devices lie in the nanometer range.
In-office treatments
The reason why some people may choose in-office treatments is that it uses a combination approach. A red light therapy in-office treatment can be coupled with other forms of modalities such as photosensitizers or micro-needling to improve efficiency. This combination approach is said to increase light absorption leading to optimal benefits.
This kind of approach to skin treatment is usually carried out depending on the patient's health goals and the present skin condition and is performed in the office by a qualified esthetician.
There are pre and pro-LED facial care you should take note of as far as the use of topical products is concerned. Esthetician Aneta Zuraw and a co-founder of Atelier Beaute advise that one should avoid sun exposure and to refrain from using harsh exfoliant products prior to undergoing light therapy skin treatment.
At-home devices
Medical-grade LED therapy is quite pricy probably because the procedure involves the skills of an esthetician and also because it is designed to penetrate deeper into the skin to offer optimal benefits. However, if you are working on a tight budget, you can opt for red light therapy at home devices. Their prices are quite affordable compared to in-office devices. We have curated a list of best led devices for home in our review.
Dr. Green agrees that at-home red light therapy is convenient and safe, and any skin type can benefit from the treatment—but using a device on a regular basis is key.
The devices are meant to be operated from home so that you can have access to red light therapy treatment from the comfort of your home. By using in-home devices, you can access light via well-fitted masks, which you can put on for a considerable good amount of time for more potential benefits.
There are also other in-home devices that rely on wands or lights which require the user to measure the distance from the natural light and the allocated time.
Light Therapy Colors and Their Benefits
Infrared Light Therapy:
Infrared light therapy is a form of light therapy that involves exposure to infrared light, which has longer wavelengths than visible light and is not visible to the naked eye. Infrared light therapy is used for various purposes, including pain management, wound healing, and skin rejuvenation.
Infrared light therapy key features
Uplifting: The impact of Infrared light on the body is really uplifting it has been shown to help improve cognitive function, boost energy, and provides Stronger bones and muscles.
Pain Diminishing: Infrared light helps to lower the levels of inflammation, pain and stiffness. It can also help improve a variety of chronic pain symptoms and conditions.
Repairing: Infrared light boosts energy production in human cells, and speed up muscle repair and growth.
Studies have shown that exposure to infrared light can penetrate deep into tissues and increase blood flow, reducing pain, acne and promoting healing. Infrared light therapy has also been shown to stimulate collagen production and improve skin texture, making it useful for anti-aging and skin rejuvenation purposes.
Infrared light therapy can be administered using various devices, including infrared heat therapy lamps, pads, and handheld devices. It is generally considered safe and non-invasive, but it is important to seek medical advice before undergoing this treatment, especially if you have any underlying health conditions.
According to the research, Infrared therapy is also suggested for pain management, jaundice, eczema, wrinkles, scars, improved blood circulation, and to help wound and burns heal faster.
Red LED light therapy:
Red light therapy (RLT) is a non-invasive skin treatment that uses low-wavelength red light to improve skin's appearance, such as reducing scars, wrinkles, acne and redness. Red Light Benefits the skin by promoting the production of collagen, which helps keep the skin firm and youthful-looking. This in turn helps to treat acne, reduce fine lines and wrinkles, improve skin texture, combat signs of aging, and reverse some sun damage.
"Red light can be used to improve skeletal muscle performance, reduce pain, and improve recovery from injury," says Praveen Arany, PhD, DDS.
Jared Jagdeo, MD New York says that Red light therapy (RLT) is a type of photomedicine, which is "the use of light to treat skin and other health conditions."
Red light therapy key features
Reviving: Red light therapy stimulates ATP production and increases muscle energy, performance and time to exhaustion.
Energizing: Red light rays improve blood circulation, oxygenation, energy production and provide endless feelings of well-being.
Healing:It is a natural and safe way to boost energy, speed up healing, lower inflammation, increase circulation and improve skin health, among many other benefits.
Red LED light therapy works by emitting red light, which is absorbed by the skin and cells. The light energy is then converted into cellular energy, which promotes the production of collagen and other cellular molecules that play a role in skin health. This increased cellular activity can help to improve skin texture, reduce inflammation, and decrease the appearance of fine lines and wrinkles. Additionally, red light therapy for rosacea has been shown to have a soothing effect on the skin, making it ideal for treating acne conditions.
Blue Light therapy:
Blue light therapy treatment is most often used as part of a treatment called photodynamic therapy. "Photodynamic therapy can be really helpful for treating people who have a lot of sun damage or pre-cancers. Besides reducing the chances of developing skin cancer, it improves the appearance of the skin," says Dermatologist Paul X. Benedetto, MD.
Blue Light Therapy key features
Bacteria Destroying: Blue Light Therapy is a noninvasive treatment that uses blue light to kill bacteria. It is most commonly used to treat sun damage and to treat acne.
Brain elevating: Blue light rays improves blood circulation, and energy production in the brain, boosting brain cell function and regenerating brain tissue.
Calming: It has been shown to be good for learning, memory, reaction times and for mood boosting.
Blue light therapy involves exposure to blue light, usually delivered using specialized devices such as light boxes, lamps, or handheld devices. This type of therapy has been found to be effective in treating certain conditions such as Seasonal Affective Disorder (SAD), depression, and sleep disorders. It works by simulating daylight and helps regulate the body's circadian rhythm, which can improve mood and sleep patterns. It is generally considered safe, but it is always important to consult a doctor before starting any new treatment.
Clinical studies have demonstrated its effectiveness in reducing the severity of acne and improving overall skin clarity. says Blue-light therapy for actinic keratosis can help treat and reduce the number of precancers (precancerous lesions), potentially reducing the number of full-fledged skin cancers, and helping in photo-rejuvenation.
Amber Light therapy:
Amber light therapy involves exposure to amber light, typically in the range of 590-620nm. Clinical studies have shown that Amber light is effective in the treatment of skin issues, rejuvenate the skin and fight against wrinkles and fine lines. Exposure to amber light in the evening can improve sleep quality as amber light promotes the secretion of melatonin. It may also be related to an improved overall mood.
Amber light therapy key features
Mood Boosting: When it comes to sun lamps for depression for mood-boosting, then amber light therapy treatment is top-rated as it has the mood-enhancing ability.
Energizing: Amber light promotes the feeling of courage, higher self-esteem, and provides more energy.
Soothing: Amber light helps one to feel calmer and promotes the secretion of melatonin. Melatonin is a hormone that your brain produces it regulates night and day cycles or sleep-wake cycles.
Benefits of using the most relaxing light colors for sleep:
Natural melatonin secretion
Feeling calm and in tune with your internal biological clock
Sleep inertia prevention
Feeling more alert and concentrated when you wake up
Better and more restful sleep
Muscle relaxation
As with all medical treatments, it is best to consult a healthcare professional before undergoing infrared light therapy to ensure it is safe and appropriate for you. They can provide personalized recommendations based on your health history and current conditions.
Side Effects
Red Light Therapy is regarded as a safe and non-invasive skin treatment method. There are virtually no side effects that have been associated with this type of skin treatment because it exposes the skin to a low level of light, making it a harmless treatment process.
However, an article reviewed by nurse practitioner Cynthia Cobb notes that too much skin exposure to red light therapy may lead to cell and tissue damage. If you are using in-home devices, it is important that you go slowly with the device. You can do the treatment one or twice a week as you monitor any possible side effects on your skin. Should you notice any reaction, you should discontinue using it and check with your dermatologists.
Frequently Asked Questions & Answers about Red Light Therapy
Q: What Does Red Light Therapy Do?
Q: How Many times a week should you use a red light therapy device?
A: Red light therapy treatment usage frequency depends on the user's desired skin health goals and also the type of device one is using. The good thing is that each type of red therapy device comes with usage instructions that you need to follow to the letter for optimal results. However, most red light therapy usage recommendations say that you do the treatment three times a week. But other skin concerns like acne may require you to treat your skin more than the recommended times a week for best results.
Q: How many red-light sessions should you do?
A: There are no specific number of sessions recommended because people's skin health goals are different. The device you choose to use may also determine the number of sessions you will do. When it comes to the in-office red light therapy treatment, you may be required to go through a number of sessions before achieving optimal results. The assistant beauty editor at Minds Body Green Hanna Frye says that you are most likely to undergo the treatment 1-3 times a week for several weeks or even up to a month to be able to achieve noticeable results.
Q: How Quickly Does It Work?
A: Red light therapy is designed in a way that it starts working immediately. If you use it consistently and as recommended, you should be able to see results in a few weeks. However, as mentioned earlier, the results may differ from one user to the other as each one has different goals. It is also worth noting that the type of red-light therapy device you choose to use may also dictate how fast you will start experiencing results. The most important thing is to experience a little bit of patience with the device if you are looking forward to more serious skin health benefits.
Q: Is This Just Any Other Esthetic Treatment?
A: Esthetic treatments are nowadays common and there are plenty of them in the market but not all of them are safe. Others come with post-treatment complications as well as side effects e.g. chemical peels. Luckily, there are those that have proven to be safe and effective and can kick-start the process of skin healing without pausing serious health risks.
Red Light Therapy is one of the few esthetic treatments we have in the market that have proven to work effectively without causing harm to your health. It is a popular device with several other names. You will also find it being referred to as cold laser therapy, low-level light therapy (LLLT), red LED light therapy, or photobiomodulation.
Whichever name you choose to call it, this device is a high-tech brand found in beauty stores that you should consider adding to your skincare health routine, as it happens to be more than just a glitzy device. It is available in different forms such as handheld wands, desk lamps, face masks, and full-body beds. For suitability purposes, you will find it in different sizes and shapes.
Q: What are the benefits of red light therapy?
A: Red light therapy shows promising effects on the skin. It helps improve skin health by stimulating collagen production, increasing blood circulation in tissues and cells, improving skin texture, protecting skin against damage, reducing the appearance of wrinkles and fine lines, and increasing fibroblast production.
According to the Seminars in Cutaneous Medicine and Surgery journal, red light therapy helps heal, relieve pain and inflammation from the skin and treat acne vulgaris.
Q: Do We Have Enough Scientific Evidence That Red Light Therapy has Benefited?
A: More research needs to be conducted on the benefits of light therapy since some studies conflict with each other. Scientists need to find the correct dosage and the time of administration of red light therapy for each skin condition. Nonetheless, a study in the Photomedicine and Laser Surgery journal claims that red light therapy helps improve skin complexion, reduces fine lines and wrinkles, rejuvenates skin, and improves skin texture.
A publication in the National Library of Medicine reveals that absorption of near-infrared light or red light into the skin stimulates mitochondrion production, enhances growth factor synthesis, increases cell signaling, and reduces oxidative stress.
Q: What Actually Happens During The Red Light Therapy Session?
A: Like other skin treatment methods, red light therapy requires consistency and commitment for you to achieve the best results. "Sessions may take up to 20-30 minutes and you may need weekly sessions for about one month," says Dr. Engleman.
If you are lying, in a pod or full-body bed, that utilizes both red and near-infrared light, the near-infrared light may give you some warmth. A healthcare professional may use a handheld device and press it against the targeted area on the skin. Red light therapy is a non-invasive and painless procedure for most people.
Q: What Are the Main Different Types of Red Light Therapy?
A: Red Light therapy includes LED red light devices used as LED panels, handheld devices, or full-body beds depending on the skin condition that you are treating. Some of these devices may use both near-infrared and red lights. However, there is no big difference between these red light therapy devices.
Other Possible Benefits of Red-Light Therapy
While there is research that supports the benefits of red-light therapy, a few studies do not support the claims made on the treatment of certain skin conditions. As at current, experts have supported the uses of red-light therapy in the areas and application mentioned below;
Improves Skin Appearance
The authors of a review published in the Yonsei Medical Journal noted that patients who have used infrared radiation treatments have shown improvements in skin roughness and texture, skin tone, and reduction in hyperpigmentation. The research further reveals that light therapy helped boost collagen production to help reduce the appearance of wrinkles.
According to research published by Graeme Ewan Glass, low-level red light therapy is effective in supporting skin rejuvenation, treating acne vulgaris, enhancing mitochondrial production, and attenuating oxidative stress.
We have explained in our review here how the regular use of the best led light therapy, masks, wands, and other devices can help reduce wrinkles, scars, redness, and acne.
Assists Sports Injury Rehabilitation
Being put aside because of an injury can be tough and exhausting both physically and mentally. However, red light therapy can help bring your groove back. Red light therapy is useful in reducing pain, improving skeletal muscle performance, and improving recovery from an injury," says Dr. Arany. In a review published in the Life journal, the authors' Laura Marinela and Gerhard Litscher reveal that PBM supports performance and recovery in sports and physical training. More research is needed to support these claims.
Supports Wound Healing
"Red light therapy has anti-inflammatory effects that may enhance the healing abilities of the body, be it an open sore on the foot or an ulcer in your mouth, " explains Arany. He also published an article in the Advances in Skincare and Wound Care in April 2019, which examines the therapeutic benefits of red light therapy and its effectiveness in wound healing. "Research in my lab shows that PBM can activate a potent growth factor that promotes tissue healing and regeneration," Arany explains.
Lessens Pain
Pain can be hard to treat sometimes, good that this light therapy is a reliable treatment tool that helps lessen pain. "Red light works by treating the neurons that cause one to feel pain", says Arany. According to the Journal of Pain, a review published in 2022, phototherapy is gaining popularity in the industry as it helps in the treatment of different kinds of pain.
As we have stated in our review of Platinum LED Biomax Lights, Red light therapy devices facilitate variety of health and wellness purposes, including reducing pain and inflammation, promoting healing and recovery, and improving blood flow.

Side Effects
Red light therapy has proven to be very secure, and it generally has no noticeable side effects. Its potential as a non-invasive and effective therapy approach with a range of great benefits for different health issues has been established in numerous investigations and clinical trials.
Researchers support that red light therapy may help reduce the effects of cancer treatment, such as pain, when used before radiation treatment or chemotherapy. According to the Journal of Photonics, published in December 2021, research was done on mice where light therapy reduced skin damage after exposure to radiation.
Red Light Therapy Risks
According to the PBM Foundation, Red Light Therapy has received clearance from the U.S. Food and Drug Administration. Jagdeo explains that although red light therapy is considered safe, there may be room for error if you are using a device at home. Users tend to overuse the devices at home. The good thing is some at-home devices have an automatic timer to help the user stay on the recommended period.
Who May Want to Try Red Light Therapy
Red Light Therapy has been designed as a supportive skin treatment method. You may use it in combination with other treatments offered by your dermatologists to address your skin concerns. Red light therapy may be effective for people with acne, wrinkles and fine lines, hyperpigmentation, and scars, notes Jagdeo.
Who Should Avoid Red Light Therapy
Arany says that pregnant women should completely avoid red light therapy. Individuals with specific medical conditions should consult a specialist before using red light therapy.
Getting Started With Red Light Therapy
Under the guidance of a healthcare specialist, here is what you need to understand about red light therapy.
Red light therapy is not a one-time session. You will go through a series of sessions over a period. For certain skin concerns, you may go through light therapy three times a week and each session lasts 10 minutes, says Jagdeo. Some patients may experience results faster than others, he explains.
When using laser hair removal devices or at-home devices for skin, consult your skincare professional before you begin using it.
What to Expect Before, During, and After Red Light Therapy
You may feel at ease; – Jagdeo says that most people have reported that they feel relaxed after trying red light therapy. Use the sessions wisely to help relax and calm your body and mind.
You may need more than one treatment; – Before starting the treatment, talk to your doctor who will help you establish how many sessions you will need and how long they will last, says Arany. Session time will vary depending on the skin concern being addressed. In certain scenarios, even a single treatment has been shown to be effective, while the most intense PBM treatment is three times per week for four weeks, to see a prominent effect," says Arany.
Watch your eyes; – You may talk to your practitioner who will determine if you need eye protection during the treatment sessions.
Doesn't hurt for most users; – Red light therapy is a painless and non-invasive skin procedure. When using a handheld device, you press it on the skin. If you are lying on a full-body bed, you may experience the warmth of the light bulbs. In either case, there are no side effects.
Conclusion
Dr. Jessie Cheung, a board-certified dermatologist in Illinois, United States supports that red light may penetrate 5 millimeters into the skin without causing any harm and in fact act a treatment. Red light is effective and non-invasive.
Red light works through dosages and protocols, and that is why it is necessary to involve a knowledgeable healthcare professional in your matter. Get this treatment from a hospital or clinical setting if your medical condition is delicate. Nevertheless, people who are generally health should be able to use at home or at office red-light therapy devices with ease.
A good skin treatment device should be able to help you experience skin function benefits from the word go. Red light therapy appears not only efficient but also the safest skin treatment method on the market today. A good number of skin experts have recommended the method supporting that it works efficiently to give the desired results faster and with minimal or no serious side effects.
The good thing is that it comes in all sizes and shapes to fit the needs of every user. In addition to that, the designer has ensured that the devices are there for both in-office and in-home treatment. It means that you have the opportunity of treating your skin concerns using red light therapy from the comfort of your home. Also, if you feel that you need an expert to take you through the treatment process, you can opt for in-office devices.
Red light therapy is also designed to treat a variety of skin concerns, meaning that by opting for this method of skin treatment, you will experience not just skin-related benefits but other body benefits too as described above.
If you are willing to invest to give your skin the total transformation it deserves plus other body health benefits, it is time to consider adding red light therapy to your budget.