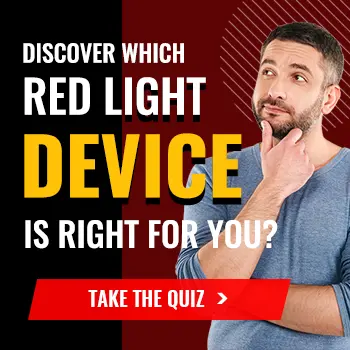 What is Novaalab?
Anyone in the market for safe, quality, effective red light therapy products should get tremendous benefit from the Novaalab line.
All devices are FDA approved, and offer benefits like deep healing, decreasing joint and muscle pain, improving mood and energy levels, and reversing skin aging. This is an expert-recommended brand which also offers reasonable prices for the market.
Red light therapy promotes a healthier lifestyle. It concentrates on improving one's health, skincare, and overall well-being. Our article covers the best medical-grade red light therapy devices available, ensuring optimal results for those who seek to benefit from this innovative treatment.
Expert Opinion on Novaalab
The Red light therapy is also know as photobiomodulation says Praveen Arany, PhD, DDS, an associate professor at the University of Buffalo.
Pheonix, Arizona-based dentist J.P.Sakoda MD explained, "I recommend Novaalab Oral Care Pro to all of my patients for its gum health benefits and ability to destroy harmful mouth bacteria."
She pointed to research published in Germs, which highlighted the effectiveness of laser light in treating periodontal disease [4].
Red light therapy (RLT) is widely medically accepted, and "it is used to treat skin and other health conditions" says Jared Jagdeo, MD, the founding director of the Center for Photomedicine at SUNY Downstate Health Sciences University in Brooklyn, New York.
How Does it Work?
The Novaalab devices offer 2 distinct wavelengths of both red and infrared light, 650m (red) and 850 nm (infrared). The red light has moderate penetration, making it ideal for skin care and anti-aging, as well as healing wounds and aches and pains.
The infrared laser penetrates more deeply, and engages in more deep healing and repair, ease of joint pain and inflammation, muscle repair, as well as brain health and mood enhancement.
An article in the Journal of Photochemistry and Photobiology discussed the biological effects and medical applications of infrared light [1].
The laser sends photons which penetrate the cells, activating mitochondria. This stimulates the release of ATP (adenosine triphosphate), which is the energy powerhouse for all of the body's cells.
The result is the range of health benefits we will discuss in detail in this article. An article in the Journal of Functional Foods reviewed the health and ergogenic potential of ATP [2].
The supplements have Nicotinamide mononucleotide (NMN) which also boosts ATP levels. An article in Integrative Medicine: A Clinician's Journal examined the science of NMN [3].
In addition, they have a wealth of antioxidants which eliminate roaming free radicals. This lowers oxidative stress, which boosts overall health and immune strength. We reviewed about brain health in our article on the PlatinumLED.
Quick Facts & Features
Health Benefits of Novaalab
The Novaalab red and infrared light therapy products offer numerous advantages to physical and mental health, and are highly recommended by experts as a regular treatment method.
Here are some of the top health benefits of Novaalab:
Reduces Pain and Inflammation
For pain reduction and deep healing, the higher, 850nm infrared wavelength is best. The laser blocks the transmission of pain receptors, for relief from muscle, joint, or other discomfort. It also improves bodily circulation which helps to decrease inflammation.
Increases Energy Levels
An increase in ATP levels provides every cell in the body with energy, repairing damage and improving their overall functioning. This leads to a decrease in fatigue and a boost in energy and vitality.
Boosts Mood and Brain Power
Novaalab devices and supplements promote the release of key brain neurotransmitters like dopamine and serotonin, which improve mood and decrease stress levels. They also enhance general cognitive functions like memory and learning. It also works as happy lamp and to reduce stress and anxiety.
Heals and Repairs Muscle Damage
Higher ATP levels promotes deep healing and repair of cell damage and muscle tissue. This significantly speeds up muscle recovery after a workout and lessens associated pain and inflammation. It may also contribute to added muscle growth and strength.
Enriches Skin and Reduces Aging
This tightens the skin, improves elasticity, hydrates, and smooths signs of age like fine lines and wrinkles. Laser therapy also decreases inflammation, repairs damage to the skin barrier, and heals wounds and abrasions.
We also covered Solawave review, the red light therapy which helps in diminishing wrinkles and fine lines, prevents acne breakouts and acne, also smoothes and tightens the skin.
Novaalab Products
Novaalab Light Pro
According to Dr Brandt, Founder of NovaaLab says, "This Red Light Therapy Device is the most advanced diy Light Therapy at home. It is the best red light therapy for arthritis!"
What Users Say: Came as described and works very well. My wife and I both use it and it helps with knee pain. We e-mailed a question and a very knowledgeable and polite man called back and spoke with us for more than 20 minutes on the phone. He gave us a tip to recharge the battery earlier rather than later for the best battery life so we are going to recharge every Friday since we both use it 2-3 times per day and 3 minutes per session. We do not use up all the juice before recharge. He also reiterated a caution from the manual and that was to make sure and click the button off AFTER the timer turns the bulb off. That avoids wasting the battery by not leaving the timer active and using power even though the light is off. The travel case holds everything in place including the protective glasses and spare battery and charger. We are happy. – Rusty G. (Verified Purchase)
Uses: Healing Wounds, Lessening Pain and Swelling, Deep Healing, Cell Regeneration
Best For: Decreasing Pain and Inflammation
Price: $129.90
---
Novaalab Oral Care Pro
The Novaa Oral Care Pro delivers the exact light wavelengths which penetrate deep into the gums tissues, sending healing energy to injured cells.
What Users Say: After reading Novaalab oral care pro reviews, I began using my Novaa Oral Care Pro device. A week and a half later I returned to my periodontist and she was amazed at how quickly I was healing and how great my gums looked. Just saw her again today and she was thrilled I brought the device in to show her. She told me she research it and it is a highly effective device. I am so grateful!! I've ordered three more for my husband and adult sons. – Lisa W. (Verified Purchase)
Uses: Eliminates Bad Breath, Enhances Teeth and Gum Health, Treats Gum Disease, Kills Mouth Bacteria, Helps Surgery Recovery
Best For: Improving Oral Health
Price: $119.90
---
Novaalab Extra Strength Laser
The first low-level laser therapy (LLLT) for home for maximum pain-relief. Transmits 16 powerful lasers at the optimal wavelength for effective healing (650 + 808nm) Easy to use by everyone, only 5 minutes per day.
What Users Say: "Though I own other Novaa LED devices I find that this laser is much more efficient and faster. When NovaaLab asked for volunteers to test their new laser, I immediately said yes. After testing it for one week straight, I was so happy to find almost the same relief than at my chiropractor's office which cost $150/session! – Amy, 47, NovaaLab customer since 2018
Uses: Deep Healing, Decreasing Pain and Inflammation
Best For: Maximum Pain Relief
Price: $269
---
Novaa Light Pad
The Novaa Light Pad, a cutting-edge LED light panel designed to elevate your creative experience. With its ultra-slim and lightweight design, this versatile tool provides uniform and adjustable lighting, making it perfect for a wide range of activities.
What Users Say: "I was diagnosed with peripheral neuropathy of supposedly unknown and have searched for years for help as my feet became slowly more numb! After doing extensive research on red light therapy I tried the Novaa Pad and for me, it has been close to a miracle!
Within 3 days I experienced much greater stability plus an overall greater healthy feeling possibly due to increased nitric oxide, and it is still doing very well over 30 days later! The Novaa Deep Healing Pad helps me walk much better with less pain and much greater stability! One of the best purchases for my health I have ever made and better than I ever expected! The science is solid and so are the results! – Keith (Verified Purchase)
Uses: Heals and Repairs Muscle Damage, Reduces Pain and Inflammation, Increases Energy Levels, Boosts Mood and Brain Power, Enriches Skin, and Reduces Aging.
Best For: Best for Joint Pain and Arthritis
Price: $299.90
---
Novaa Max Solo
The Novaa Max Solo offers the convenience of a smartphone and the versatility of a tablet in one compact device. Experience seamless productivity and immersive entertainment on the go with its powerful features and sleek design.
What Users Say: "This red light therapy machine is a game-changer for me to improve my overall health and wellness. The 100w power of this machine makes it extremely effective for achieving the desired results. Whether you're using it for recovery, improving sleep, skin health, or pain relief, you can feel confident that this machine will get the job done.
One of the things I love about this device is that it can be used for both the face and body. This makes it a great investment for anyone looking to improve their overall health and appearance. Another great feature of this machine is how easy it is to use. Simply turn it on, adjust the settings to your liking, and let the red light therapy do its magic. It's also lightweight and portable, making it easy to move around as needed.
I've noticed a significant improvement in my skin since using this machine. My face looks brighter and more even, and I've noticed a reduction in fine lines. It's definitely worth the investment! – Rebecca (Verified Purchase)
Uses: Mood and energy boost, Wound healing and tissue repair, Skin disorder relief.
Best For: Skin Disorders and Relief
Price: $299.90
---
Novaalab Review – Reviewed by Sandy
Our reviewer, Sandy, conducted a thorough test of the Novaalab Red Light Therapy to assess its results and determine if the product lives up to its promises. Here's a summary of her findings and review.
Hey, just had to share my experience with the Novaalab red light heat therapy belt—it's been a total lifesaver! Dealing with a herniated disc in my lower spine was unbearable at times, but after using this for a month, my pain has dropped by 30 to 40 percent. Super easy to use—just wrap, Velcro, and turn it on.

I use it every night for 20 minutes on my back and then on my legs post-knee surgery and ACL repair. This red light therapy is legit, reducing inflammation, tackling arthritis, and speeding up post-surgery recovery. It's like having my therapy session at home. Highly recommend checking out Novaalab, this belt has been a game-changer for me.
How to Use It?
The Novaalab brand consists of several red light therapy devices as well as supplements. Each has their own set of directions/manual you must follow carefully for set up and regular use of the products.
Side Effects and Risks
Red light therapy is a safe technology when used as directed, with few associated side effects except perhaps a skin reaction on the scalp for very sensitive users.
However, it's important to look for a brand like Novaalab which has products that are FDA approved for efficacy and safety.
Another concern users should have about red light therapy panels is the levels of electromagnetic fields (EMFs) they emit, as this entails possible exposure to radiation. The Novaalab panels emit ZERO EMFs, and are 100% safe.
What is the Customer Feedback?
While there were a range of opinions as always, the vast majority of the Novaa lab reviews raved about the benefits they got and said these were the best red light therapy devices they had tried.
Users mentioned relief from a number of physical and psychological issues including back pain, joint discomfort, and depression. Here are a few comments describing the customer experience with Novaalab.
Love It
I ordered the Novaa Light Pad and I love it. I have been using it for 5 days and it has already helped my lower back pain. I would recommend this product to anyone who has pain. – Kim
Wonderful Addition To My Days!
Oh my! This light therapy is such a wonderful addition to my days! My knees are plagued with osteoarthritis and the Novaa Deep Healing Pad is amazing!

Yes, I purchased two… I'm happy to report that the swelling in my knees is significantly reduced and the pain nearly eliminated! I can move much more freely without causing pain or additional swelling! Thank you Novaalab!!!! – Stephanie D.
Best. Decision. Ever.
I heard about Red Light Therapy from a neighbor and was excited to try it because my husband has chronic pain syndrome: neck, knee, back, feet, unfortunately his pain is ALWAYS present somewhere.

After looking online and reading the Novaalab red light therapy reviews from its official website I decided to purchase their Deep Healing Pad, Best. Decision. Ever. It took some encouragement from me to get him to try it but once he finally did he noticed a tremendous difference in his pain, and he realized RLT was actually helping.

Thankfully, whenever or wherever he's hurting, he knows he can use the pad and find relief…He's most definitely a believer and so am I. We're both very grateful to have found RLT and the products from Novaalab are impeccable! – Michelle R.
Quick Comparison Table
Conclusion
Novaalab is a leading brand of red light therapy devices which offer numerous wellness benefits, in particular deep healing, decreasing pain and inflammation, enriching skin health, and improving mood and energy levels. The brand comes highly recommended by physical therapists, massagists, and medical experts.
The customer experience to this brand has been overwhelmingly positive, based on the Novaalab reviews. Many users rely on the products for relief from pain, healing and muscle recovery, as well as other health benefits. Some customers said they now regard it as essential to their self-care.
Novaalab is an FDA-approved line of red light therapy devices with zero EMF emissions. They are safe, and there have been no reported side effects from users. If you're in the market for a top of the line red light therapy device, Novaalab is an excellent choice.
We also covered the best red light therapy pads that are picked by experts and customers' choice and mainly focus on pain, inflammation, and muscle performance.
NovaaLab Is The Most Advanced Technology Available In A Red Light Therapy Treatment System, Order Now From Official Website