Overview
Red light therapy pads provide rejuvenation and healing benefits, including improved blood circulation, pain relief, reduced inflammation, muscle relaxation, and relief from stiffness.
According to Dr. Mike Belkowski, a physical therapist, red light therapy devices focus on improving oxygen and blood circulation in the body and reducing inflammation in the problem areas. He further discusses how red-light therapy stimulates the mitochondria for optimum health benefits.
In a study published in the Pain Research and Treatment Journal, researchers Ahmed Fadhel and Auday Al-Anee concluded that red light treatment methods, including red light, are useful in improving symptoms of pain, inflammation, and tender muscles.
Red light therapy devices typically emit wavelengths ranging from 630nm to 700nm, and some may include near-infrared light (800-900nm) for enhanced benefits. According to Joanna Fearnly, LPN and Karen Wolters, RN, treatment pads that combine red light and near-infrared light therapy may affect the depth of penetration.
According to research done by Marcelo Oliveira and Douglas Johnson, published in the European Journal of Physical and Rehabilitation Medicine, the use of light therapy has become a popular method for pain management and has become a great alternative to medicine.
If you want a medical-grade and high-quality red-light therapy device, that will emit the correct wavelengths of light and is durable, then you will need diligent research. In this article, we will provide you with detailed information on red light therapy devices including red light therapy pads. Our experts in this field have done their research and reviewed some of the best red light therapy pads.
Overview of Best Red Light Therapy Pads
How we picked

Science and Evidence
We carefully select our products based on scientific research and evidence. All of our red-light treatment pads are backed by clinical trials and scientific research to ensure they are safe and effective for use on the body. Research ensures that you know the health benefits of the products and allows you to maximize the use of the products.

Trusted Manufacturers
There are many red light therapy devices from different brands on the market today. We go for products manufactured by reputable, trusted, and well-regarded companies, that have a reputation for manufacturing high-quality and FDA-approved red light therapy pads. Using red light therapy tools from a trusted manufacturer makes the client feel safe and more confident in the product.
Cost Benefit
We ensure the red light therapy pads we select suit each budget type by choosing a wide variety of products at varied prices. We are certain that the products we have selected for you will offer the best value for your money, regardless of your budget.

Expert Recommended
Our team of professionals and experts in the field of red light therapy have approved of the products we have selected for you. They have done thorough research on every tool to ensure that the customer is happy with their selection and they enjoys the benefits of the red light therapy tools.
Best For: Back, Muscle, and Joint Pain
Features: Clinically Proven, Promotes energy to the cells, Strength of the lights: 141 mW / cm at 1 Inch ; > 200 mW / cm at 0 Inch, LightWeight with adjustable velcro strap, Reduce your pain within 1 month.
Price: $399.90
Novaa Light Pad uses light waves similar to those studied by NASA to go deep into your skin. These waves send healing power to cells that are hurt. When cells get more energy, they can work better. They can make themselves young again and fix problems. The Novaa Light Pad can make your deep cells start healing. It goes to your tissues, muscles, tendons, and even your bones. It also improves your blood flow.
Pros & Cons
Pros
It eases arthritis, inflammation, and ongoing pain.
It helps with nerve pain and long-lasting pain issues.
It recovers quicker after surgery or joint replacement.
60-day money-back guarantee.
Cons
Individual results may vary.
More to Know
Target Areas: Back, Muscle and Joint | Technology: 240 x Infrared 850 nm lights + 120 x 660 nm lights for a total of 360 light chips | Benefits: Heals Old Pains and Injuries | Session Duration: 20 minutes.
User Elise P. explains:
I have been using the pad for about one month. I purchased it because I thought it could help me with my very tight upper body muscles that spasm and cause great discomfort due to fibromyalgia and candidiasis. After I started using it I learned that red light kills yeast. So, I have been going through the nastiness of yeast die-off.
But now, about 1 month later, I think I can start to feel the adhesions and constrictions loosening up.
I am optimistic that this therapy will help. When I first received it I was having a problem with the switch. I got in touch with the company and they were very helpful in telling me how to operate it correctly.
Best For: Back and Joint Pain
Features: 2023 version: 15 LED chips, Reduced pills and painkillers, Easy with patented remote, FDA Class 2 for safety & results.
Price: $299.00
The Novaa Deep Healing Pad is FDA-approved as a medical device. Many of our customers have been able to cut down on their pills and pain relievers by using them. It's user-friendly for everyone, lightweight, and comes with an adjustable velcro strap for comfortable placement wherever you need it.
Pros & Cons
Pros
Free US shipping ($19.90 value)
Includes 1 US power plug.
60-day satisfaction guarantee or full refund.
Free Hearty Client Support.
Cons
Individual results may vary.
More to Know
Target Areas: Muscle, Joint, and Back | Technology: 15 LED chips | Benefits: It helps to heal injured cells | Session Duration: 20 minutes
User Sherwin S. explains:
I am a 74-year-old white male with diagnosed peripheral neuropathy of supposedly unknown and have searched for years for help as my feet became slowly more numb! After doing extensive research on red light therapy I tried the Novaa Pad and for me, it has been close to a miracle! Within 3 days I experienced much greater stability plus an overall greater healthy feeling possibly due to increased nitric oxide, and it is still doing very well over 30 days later! The Novaa Deep Healing Pad helps me walk much better with less pain and much greater stability! One of the best purchases for my health I have ever made and better than I ever expected! The science is solid and so are the results!!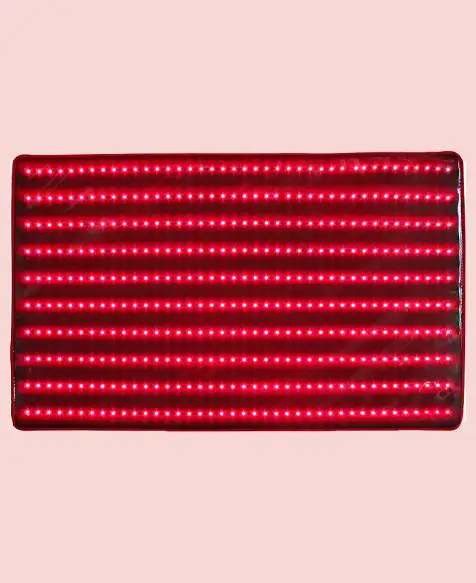 Best For: Pain Relief
Features: Hands-free design for comfort, Features 400 LEDs with triple chips, Uses the most power, Red and NIR light included, Optional add-ons available, Comes with a 1-year warranty.
Price: $379.00
Bestqool therapy devices use red and near-infrared light to fight aging, lessen wrinkles, and ease pain. Our mission is straightforward: we aim to enhance people's health, balance, happiness, and strength through light and innovation. For the best outcomes, position the light on the specific area of your body or skin that you want to treat.
Pros & Cons
Pros
Boost metabolism and increase cellular energy.
Ease joint pain and arthritis, Soothe sore muscles.
30-Day Money-Back Guarantee.
Cons
Individual results may vary.
More to Know
Target Areas: Muscles, Joints | Technology: Triple chip LEDs | Benefits: It is known to reduce muscle tension | Session Duration: 30 minutes
User Tanya Snyder. explains:
I've purchased two mats and I love them!
They are easy to use, nice quality and price point, and are convenient to use. I enjoy my mats and they are truly relaxing. Also, I had to contact customer service directly and they are phenomenal! I'm as impressed with the quality of customer service as I am with my mats.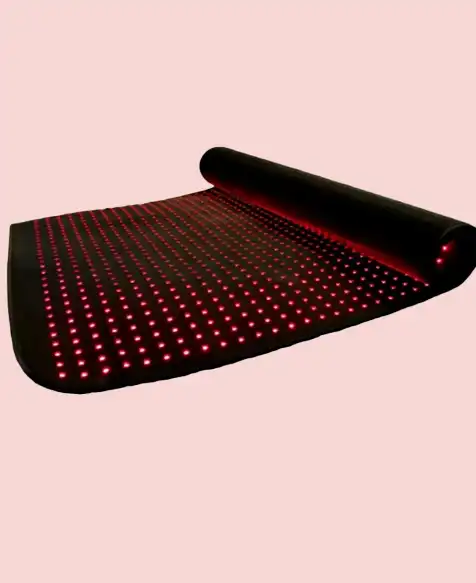 Best For: Reducing Inflammation
Features: Adaptable for various needs, Portable and easy to carry, Affordable pricing, Powerful performance, Automated operation for convenience.
Price: $9,995.00
The Prism Light Pad is a versatile whole-body red light pad. It has over 2,200 LEDs emitting red and near-infrared light. With quick 30-minute sessions, it provides 50 milliwatts per centimeter square of mitochondrial wellness for your whole body. The red light therapy pads are unique because you can lay on them, and if you get two, you'll get 360 degrees of red light therapy. They're easy to use with a single-button operation.
Pros & Cons
Pros
Reduces inflammation, Ships within 5-10 days in the continental US.
Contact us for international shipping and import duty costs.
Comes with a 1-year limited warranty, return-to-factory.
More to Know
Target Areas: Full Body | Technology: 2,200 660nm red & 850nm near-infrared LEDs | Benefits: It increases collagen production | Session Duration: 30 minutes.
Best For: Improving Overall Wellness
Features: Deep Penetration, Pulse Function, Adjustable Heat, Skin Healing, Suitable for Horses.
Price: $899.00
The Infrared Red Light Therapy Pad, our largest model, offers a full-body experience with dimensions of L 1800 x W 600mm (70.86 x 23.62in). It comes equipped with 1440 LEDs that emit both 660nm red light and 850nm near-infrared light. You can lie down on it to relax and rejuvenate, and you can place it on the floor, bed, or couch for your comfort.
Pros & Cons
Pros
90-Day Refund Policy.
Promotes weight loss and reduces pain.
1-Year Warranty Period.
Cons
Individual results may vary.
More to Know
Target Areas: Full Body | Technology: 1440pcs light-emitting diodes (LEDs) | Benefits: It repairs sensitive skin | Session Duration: 20 minutes.
User [email protected] (verified owner) explains:
I bought the infrared therapy mat about 3 months ago. I and my wife have been using it to soothe our back pain. I can't emphasize more about the effectiveness of this mat. It's very useful and value for money.
How Do Red-Light Therapy Pads Work?
Pain is inevitable and many people around the world suffer different kinds of body pains and may not know how to go about it. Most people resort to using medicine to treat the pain, but the pain still persists. Research studies support that laser therapy and LED treatment methods are safe and effective ways of treating and managing different kinds of pain without any side effects.
As we highlighted in our content Prism Light Pad Review, the kind of therapy offered by pads is regarded as a pain relief method, that uses light-emitting diodes on the pain area to stimulate healing and pain relief. Other forms of laser therapy like surgery may cause damage to body tissues. However, red light therapy pads are different because they are painless and non-invasive. They use low laser light levels to penetrate the skin and stimulate the natural healing of tissues.
LED red light therapy pads use light-emitting diodes to transfer light energy onto the skin. The body cells absorb the light and convert it to energy to support cell division and protein synthesis. This works to improve blood circulation in the body to relieve body pains and inflammation.
According to the American Society for Laser Medicine and Surgery, Photobiomodulation may be used in the treatment of acute and chronic body pains, pain management in athletic people, and reduction of inflammation.
Dr. Michael came up with Biolight, which uses red light technology for joint health, hair health, skin health, anxiety and depression, heart health, sleep, and athletic performance.
In the past, people could only access red light therapy devices by visiting the spa or dermatologist's office. With advances in technology, there are a wide variety of devices and products on the market that allow you to enjoy the benefits of red-light therapy in the comfort of your home. These red-light therapy devices are not limited to red-light therapy panels, which need you to lie down for treatment sessions.
Karen Wolters, Registered Nurse and founder of Health Light supports that red light therapy has become a popular form of treatment and new devices are being manufactured every day. These devices include light treatment masks, pads, wands, gloves, and bulbs created by different manufacturers.
What Makes Red-Light Therapy Pads Unique
The best red light therapy pads incorporate wavelengths of infrared light, red light, or even blue light to target different problematic areas on the skin. Since red light cannot penetrate through clothing, most manufacturers recommend using red light therapy pads on bare skin, so that light can deeply penetrate the skin for maximum pain relief benefits. Treatment sessions with red light therapy pads are often between 20-30 minutes maximum, every day. Unlike panels, treatment pads are unique because they are lightweight and they do address specific pain areas on the body; be it back, knees, arms, neck, or shoulders.
You may wear red light therapy treatment pads under your clothing and go about your daily business while the device does its magic on the skin. Red light therapy experts claim that treatment pads do not damage the eye and you do not need eye protection when wearing them.
Most people invest in red light treatment pads because they are easily portable, light-weight, target specific areas, flexible, and may be used simultaneously on different body parts.
What Specific Benefits Do Red-Light Therapy Pads Offer?
How to Use Red-Light Therapy Pads?
The directions for using red light therapy pads are available in the product manual that comes with the product. Ensure you follow the manufacturer's or doctor's instructions before using the product for safety purposes.

Usage Frequency
Most manufacturers recommend treatment sessions of between 20-30 minutes every day for a few weeks. Treatment with red light therapy eye pads may take a shorter time because the skin around the eye area is delicate. Using red light therapy pads for weight loss may require you to continually use the pads for months to allow you to achieve the desired results.
Frequently Asked Questions
Do Red-Light Therapy Pads Work for Pain?
How Do You Choose the Best Red-Light Therapy Pads?
A: There are many red light therapy pads available on the market today from different manufacturers and it may be difficult for one to select the best. This article provides you with all the information you will need to know about red light therapy pads. Before choosing a therapy pad, you should consider the company's reputation, clinical research, value for money, its benefits, and return policy. We have selected some of the best red light therapy pads for you to choose from.
Do Red-Light Therapy Pads Work?
A: Yes, red light therapy pads do work to offer numerous health benefits for the body and skin. These pads often help relieve joint pains and inflammation, improve blood circulation, relieve muscle stiffness, promote muscle relaxation, and improve overall health. Red light therapy pads for the face may work to reduce the appearance of wrinkles and fine lines, improve skin firmness and elasticity, reduce acne, and improve skin appearance.
Conclusion
Clinical trials and scientific research support that red and near-infrared light therapies have numerous health benefits. They work to improve blood circulation, relieve pain and inflammation, promote muscle relaxation, and promote overall well-being.
Some red-light therapy pads use blue light to help eliminate acne and skin blemishes. There are numerous light therapy pads on the market available for at-home use, making it convenient for most people. This article has presented you with a variety of choices from different brands to make your selection easier.
**This is a subjective assessment based on the strength of the available information and our estimation of efficacy.
*Result may vary. The information contained in this website is provided for general informational purposes only. No medical claims are implied in this content, and the information herein is not intended be used for self diagnosis or self treatment of any condition.
Disclosure of Material connection: Some of the links in the post above are "associate sales links." This means if you click on the link and purchase an item, we will receive commission. Regardless, we only recommend products or services which we use personally and/or believe will add value to our readers. We are disclosing this in accordance with the Federal Trade Commission's 16 CFR, Part 255: "Guides Concerning the Use of Endorsements and Testimonials."