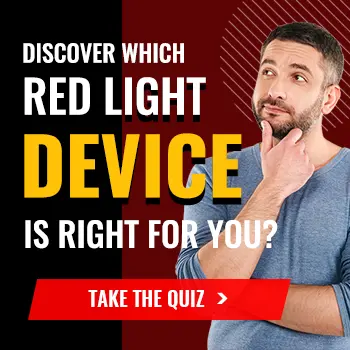 What is Prism Light Pad?
The Prism Light Pad is a full body light therapy mat which has over 2200 LEDs and both 660nm red and 850nm near-infrared wavelengths. Suitable for spas and clinics and for red light therapy at home, Prism Light Pad is comfortable and highly portable.
It offers 360 degrees of treatment if you buy 2 pads, and the red light therapy benefits include decreasing pain and inflammation, improving workout performance, speeding up recovery, decreasing stress, improving mood, promoting more youthful skin, and more.
In this review, we'll provide you with all of the key details about Prism Light Pad, including its benefits, features, pricing, and the research supporting its efficacy. We'll also tell you what our team of experts has to say about the device, to help you decide whether Prism Light Pad is for you. Read on!
How Does It Rate?
Editor's Rating
Prism Light Pad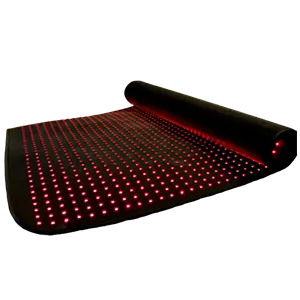 4.7/5
Quality

4.4/5
User Friendly

4.5/5
Value

4.8/5
Customer Satisfaction
Pros
The red light therapy mat offers 360 degrees full body treatment.
The Prism Light Pad can heal damaged tissue and wounds.
This product can improve workout performance and speed up recovery.
It can enhance positive mood and decrease stress.
Prism Light Pad can rejuvenate the skin and decrease signs of age.
Cons
The results may vary for individual users.
There's no return policy listed on the official website.
For an individual it's somewhat of an investment.
Expert Opinion
Facial aesthetics doctor Dr Maryam Zamani explains the benefits of red light therapy for the skin:
Red light stimulates the production of collagen and elastin to refine and strengthen the skin. It boosts luminosity through improved circulation, calms redness, evens skin tone, and plumps up the complexion [4].
A study published by the Journal of the American Academy of Dermatology confirmed the efficacy of low level red and infrared light in increasing the synthesis of collagen, elastin, and hyaluronic acid in the skin [5].
Quick Facts & Features
| | |
| --- | --- |
| Safe & Quality | |
| Brand | Prism Light Pod |
| Product | Prism Light Pad |
| Form | LED light therapy pad |
| Saftey | FDA Registered |
| Age | Adults, kids and pets only with medical approval |
| Skin Type | All types |
| Benefit | Skin rejuvenation and anti-aging, decreases pain, repairs muscles, decreases inflammation, speeds up exercise recovery, promotes relaxation, improves mood, boosts brain health, and more |
| Price | $9,995 |
| Shipping | Regular paid shipping |
| Return Policy | None listed on official site; 1 year limited warranty |
| Purchase | Official website |
How Does it Work and What Are the Health Benefits?
The Prism Light Pad is a LED light mat which has 2200 + red and near infrared LEDs for full body treatment. The LEDs send photons of light into the cell mitochondria, which increases the synthesis of ATP (adenosine triphosphate).
As we mentioned in our review of Platinum LED Lights, the additional ATP provides energy to all of the cells in the body, for a wide range of health and healing benefits.
A study published in the Journal of Strength and Conditioning Research by Marcelo C Freitas, et al on men during resistance exercise concluded that one dosage of ATP significantly enhanced performance [1].
This red light therapy mat offers wavelengths of 660nm red and 850nm near-infrared, and their benefits differ slightly based on rate of penetration.
Red light penetrates just under the surface of the skin, making it ideal for healing wounds and offering anti-aging skin benefits in particular. It boosts collagen and elastin to tighten the skin and smooth wrinkles and lines, hydrates, and may heal some skin conditions.
Infrared light penetrates more deeply, improving exercise performance, enhancing circulation for bigger, stronger muscles, healing injuries and wounds, and decreasing pain and inflammation.
A pilot study on university athletes published in Laser Surgery by John Foley, et al concluded that treatment with a 830n LED light significantly sped up injury recovery [2].
Other benefits of near infrared light and near plus red light include boosting levels of key brain neurotransmitters for improved mood, decreased stress, and enhanced cognitive functioning.
LED light may also boost the health of various organs, like the heart, and could improve the symptoms of chronic conditions like multiple sclerosis.
A study on mice published in Cardiovascular Medicine by Wenwen Zhang, et al found that LED light improved cardiac function in mice with heart failure [3].
The Evidence Score
Here is our evaluation, based on scientific research, of the potential effectiveness of Prism Light Pad for its claimed benefits.
Offers Anti-Aging Skin Benefits *

4.4/

5

Promotes Healing of Wounds and Tissue*

4.6/

5

Decreases Pain and Inflammation *

4.7/

5

Improves Mood and Promotes Relaxation*

4.3/

5

Improves Exercise Performance and Recovery*

4.6/

5
How to Use It?
Place the mat on the floor and lie on it, and place another over your body for full 360 degree body treatment. Push the start button, which begins your 30 minute session.
At the end of the session, if you have only one pad, switch to the other side and carry out another 30 minute session. For additional information about usage see the instructions that come with the product.
Side Effects and Risks
The company manufactures the Prism Light Pad in an FDA registered facility according to rigid safety practices. In addition, research shows the safety of red and infrared light therapy at the wavelengths offered, and cites no significant potential side effects.
Quick Comparison Table
| Name | Prism Light Pad | Mito Red Light Therapy Full Body Mat | New Juvawave Oversized XL Full Total Body Red Light Therapy Mat | Theia Full Total Body Red Light Therapy Mat |
| --- | --- | --- | --- | --- |
| Rating | | | | |
| Price | $9,995 | $999 | $1950 | $2290 |
| LEDs | 2200 + | 1280 | 2160 | 2320 |
| Benefits | Pain, muscle recovery, mood, healing, brain health, relaxation | Pain, muscle recovery, mood, healing, brain health, relaxation | Weight loss and pain relief + | Pain, muscle recovery, mood, healing, brain health, relaxation |
| Treatment Time | 30 minutes | 30 minutes | 10-20 minutes | 20 minutes |
| Safety | FDA Registered | FDA Cleared | CE, ROHS, FCC, FDA Certifications | FDA Cleared |
What is the Customer Feedback?
In the opinion of our team of experts, Prism Light Pad is a high quality red light therapy mat with high power and irradiance, excellent portability, and a wide range of health benefits. While at the higher end of the price spectrum, it's worth it for those that have the budget and is an excellent choice for a spa or clinic.
The red light therapy reviews for Prism Light Pad are on the official website exclusively, and they consist of some very positive video testimonials from users describing benefits like better athletic performance and recovery, relief of pain, fast healing injuries, improving multiple sclerosis symptoms, and many others.
Thomas Denny, professional UFC fighter uses Prism Light for healing his injuries:
I've actually had 8 major surgeries, I just recently had a lateral meniscus tear, had some arthritis…and a couple of bone spurs and I've been using red light therapy to take care of the healing.

The doctor told me I was going to be out 6 to 8 weeks. I'm about 3 and a half weeks into my recovery and I'm already back at it. I'm 100%.
Frequently Asked Questions
Q: Where Can You Buy It?
A: You can buy the Prism Light Pad on the manufacturer's official website for $9,995, likely plus shipping as there is no mention of a discount. You can purchase it from a few other retailers, but the price may vary.
Q: What is the Return Policy?
A: There is no return policy on the Prism Light Pad website, implying that they don't have one, but you can call or email the company and inquire for further details.
They do offer a one-year limited warranty on the device. If you buy from another retailer, they should have their own policy which you should read carefully before buying.
Q: Is It Worth It?
A: Yes, if the Prism Light Pad suits your budget it is more than worth the advantages, and for a spa or clinic it is the ideal LED light therapy device. It's incredibly comfortable, offers both red and infrared wavelengths for a range of health and recovery benefits, and can deliver 360 degrees full body treatment with 2 pads.
Q: What Sets It Apart From the Competition?
A: When it comes to red light therapy mats, Prism Light Pad is affordable for the market and extremely comfortable. It offers superior power and irradiance, making it one of the most effective LED light pads on the market.
Conclusion
Prism Light Pad is a leading full body red and near infrared light therapy mat which offers over 2200 LEDs, high power and irradiance, and may provide 360 degree coverage if you buy two. Used by many athletes, it has benefits like healing pain and injury, reducing inflammation, improving performance, and speeding up recovery.
In addition, it can offer skin rejuvenation and anti-aging, lowered stress levels, a boost in mood and brain health, and more. While there are no independent reviews, testimonials on the official website attest to great benefits.
The Prism Light Pad costs more than some of the other brands, and may be particularly suitable for spas, clinics, and athletic organizations. However, for home users who want to invest in Prism Light Pad, in our opinion it's worth the cost.
If you want to have a look at other types of red light therapy devices to compare, read our review on the Best Red Light Therapy Mats 2023.