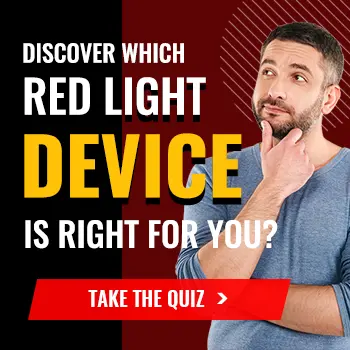 What is FlexBeam?
Recharge Health is a revolutionary red light therapy brand that designs recovery support products using a new non-pharmaceutical approach. The line, which features FlexBeam as their first and only product currently in the market highlights that their device offers a non-invasive solution that has already become of great help to people looking for red light therapy.
In precise, they are a Norwegian brand, co-founded by Dr. Zulia Frost, Head of Clinical, that targets that global market and deploys an international team to help achieve. Driven by an ambition to fully utilize innovation to offer friendly wearable health technology, Recharge Health's mission statement is that they want to recharge people's wellness and health.
The device's targeted red and near-infrared light works by penetrating deep into the skin and energizing the mitochondria cells in the body to offer health benefits. The process helps to produce crucial substances like Adenosine Triphosphate (ATP), Reactive Oxygen Species (ROS), and Nitric Acid (NO), crucial in the body's recovery and healing process.
This non-invasive and non-toxic device is not just made for you, but an investment for your entire family including your pets. It is a safe device developed for at-home use to enable you and your loved ones to experience optimal physiological responses from the comfort of your home.
An assistant professor at the University of Central Florida Medical School and an emergency and sports medicine physician Ara Suppiah, M.D. told US Weekly as reported in Light Venture Tree that increased energy in the muscle cells enables them to contract harder and repair themselves after training. In that line, and as we had also stated in our content on Platinum LED Therapy Lights review, red light therapy has been found to increase cell energy which in turn helps joints, muscles, and organs to repair themselves and function optimally.
FlexBeam How Does It Rate?
Editor's Rating
FlexBeam

4/5
Quality

4.3/5
User Friendly

4/5
Value

4.7/5
Customer Satisfaction
Pros and Cons
Pros
Backed by scientific research
Clinically proven
Backed by a 100% money-back guarantee
Non-invasive and non-toxic device
2 years manufacturing warranty
Manufactured in Germany
Cons
Results likely to vary
Requires proper care and maintenance to remain functional
Expensive
Quick Facts & Specs
| | |
| --- | --- |
| Safe & Quality | |
| Brand | Recharge Health |
| Product | FlexBeam |
| Form | Therapy Bed |
| Saftey | Non-invasive, non-toxic, scientifically backed, and clinically proven |
| Age | All ages |
| Skin Type | All skin types |
| Benefit | Enhances body repair and recovery and relieves pain |
| Price | US$462.84–US$694.84 |
| Shipping | Next business day from the purchase date |
| Return Policy | 30 days money-back guarantee |
| Purchase | Official Website |
How Does FlexBeam Red Light Therapy Work?
Recharge Health has designed its lead product, the FlexBeam using a revolutionary recovery technology model that utilizes specially targeted red light therapy.
Their treatment approach, based on the company has the ability to stimulate mitochondria, the organelles found inside the body cells, responsible for energy production in the form of a molecule known as adenosine triphosphate (ATP).
Red light therapy is all about exposing your skin to low-level red light wavelengths. The results from the exposure usually depend on the exposure time and the wavelength emitted by the device. When combined with near-infrared, it causes the effect more powerful, hence aiding the natural healing process of the body and better performance of a cellular composition.
Research published in Photomedicine and Laser Surgery by Joseph Tafur et al shows that low-intensity monochromatic light can cause a variety of effects on irradiated cells and the effects appear to be clinically relevant. Practitioners today use red light therapy to treat chronically inflamed tissues and poorly healing wounds.
We also stated the lightstim for pain reviews which helps in reducing muscle pain as well as promotes its growth with no side effects and risk.
Expert Opinion on FlexBeam
Let's know about Recharge health Flexbeam reviews by experts:
A researcher Cleber Ferraresil explains that:
"Skin exposure to near-infrared red light can help stimulate regenerate and heal damaged tissue. When applied after exercise it can improve athletes' performance and decrease oxidative stress and decrease inflammation in muscle biopsies."
An article published in the International Journal of Medical Sciences by Qin Zhu et al shows that Near Infrared Red Light has shown the ability to increase cytochrome c oxidase and elucidation therapeutic biochemical processes. Red light therapy can help increase superoxide dismutase and cytochrome oxidase activities, which plays a potent role in inducing antioxidant and metabolic beneficial effects.
Flexbeam Review – Tested by Tony Stapleton
Our Reviewer Tony Stapleton tested the Recharge Health Flexbeam to know more about the results and review of the product and whether it lives up to its promise. Here's what he found…
Hi, my name's Tony Stapleton and I'm a health and wellness coach.

I've been using "The Flexbeam" by Recharge Health for over a year and This wearable red light therapy device has been a game-changer for me and those I've shared it with.

I love using "The Flexbeam" personally to support exercise recovery, helping me bounce back after intense workouts. Additionally, it's become my go-to tool for boosting energy levels and overall well-being.

As a health and wellness coach, I advocate for holistic approaches to health and healing, and "The Flexbeam" has become an indispensable tool in my toolkit. Its ease of use, portability, and profound benefits have made it an integral part of my daily routine.
Health Benefits of FlexBeam
Relieves pain
Athletes who experience pain as a result of injuries sustained during training has found red light treatment to be effective in relieving pain and sore muscles, as we referred to in our platinum led therapy lights article which has reviewed similar products for relieving pain.
Research published in Laser Therapy Journal by John Foley et al revealed that exposure of the body to red light treatment can help relieve pain and inflammation and also aid in muscle tissue repair.
We covered Mitoredlight, which benefits skin rejuvenating and signs of aging, reduces pain and inflammation, and also improves exercise performance.
Muscle tissue repair
Many researchers have demonstrated the benefits of red light therapy treatment on body repair and wound healing.
A research article published in Anais Braseleiros de Dermatologia by Maria Emilia de Abreu Chaves et al supports that a well-defined wavelength and dose of red light devices can promote biological effects such as an increase in collagen production, a decrease of inflammatory cells, granulation tissue formation, and increased fibroblast proliferation.
As we documented in our Novaa light pad reviews article, red light therapy similarly works in reducing pain and inflammation.
Speeds up recovery
Red light therapy is great for recovery because it helps stimulate cell regeneration and increase blood circulation, crucial for a more efficient and complete respiration cycle, making the muscle to experience less fatigue. Red light therapy improves sports performance because of its ability to reduce fatigue and muscle soreness.
An article published in Cured Light Therapy revealed that during the 2016 Rio Olympics, the U.S. track and team Coach Alberto Salazar ensured they carried along with them red light therapy devices to help in healing and recovery in case of injuries and also allow the team to train harder simply because he believed in the power of red light treatment.
According to Alberto, performance and recovery go hand in hand and red light therapy treatment creates a balance between recovery and performance. As we discussed in our review of another skincare red light technology called Nushape reviews, we have come across that the technology is effective in reducing stubborn fat and muscle gain.
The Evidence Score
Here is our evaluation, based on scientific research, of the potential effectiveness of FlexBeam for its claimed benefits.
Pain Relief*

4.3/

5

Recovery and performance*

4.1/

5

Body Repair *

4.5/

5

Natural Healing*

4.9/

5

Good night sleep *

4.0/

5
Highlighted Products
FlexBeam
The FlexBeam is a red light treatment device designed to treat the root cause of pain by penetrating deeper into the skin to help the body fight pain from within and recover. It works by increasing blood circulation and releasing endorphins in the affected area so that you can experience natural relief from pain and feel good.
Combined with its anti-inflammatory defenses and increased nitric oxide levels, the device will help you manage pain effectively without harsh chemicals. It's like a warm and comforting hug on your achy muscles as you experience deeper repair, more relief, and better recovery.
It is a non-invasive and non-toxic device averagely priced for the market and an easy-to-use at-home device.
FlexBeam features researched technology developed to help reduce inflammation, relieve pain, and speed up the recovery time from injury. It utilizes the advantage of the advanced red light therapy treatment where it targets specific areas of the body to ensure more effective and deeper physiological healing.
1.The Accessories
Free Pain Relief Guide Book: A comprehensive guidebook of 52 pages comprising well-defined protocols regarding the use of the device and other wealth of information to help you achieve optimal results.
30 Minutes Group Session prepared for you by Dr. Zulia Frost
Free lifetime access to support videos among other things.
FlexBeam's Quick Facts & Features
| | |
| --- | --- |
| Rating: Safety and Quality | |
| Brand | Recharge Health |
| Product | FlexBeam |
| Form | Device |
| Saftey | Non-invasive, non-toxic, scientifically backed, and clinically proven |
| Age | All ages |
| Skin Type | All skin types |
| Benefit | Enhances body repair and recovery and relieves pain |
| Price | US$462.84–US$694.84 |
| Shipping | Next business day from the purchase date |
| Return Policy | 30 days money-back guarantee |
| Purchase | Official Website |
How to Use?
Currently, FlexBeam is their only product, and notably, it is a device with simple usage steps. The product comes with usage instructions that you should consider reading first before using the device. It is a simple device with simple usage instructions. You will definitely find it to be a hassle-free at-home-use device.
Side Effects and Risks
According to the manufacturer, FlexBeam is a non-invasive, non-toxic, and clinically proven device, making it a risk-free device that can speed up the body's healing process without causing adverse side effects.
We covered the red rush 360 reviews which claim to reduce pain and inflammation, promote signs of aging as well as rejuvenate skin, and also support the immune system.
FAQs
Q: Does FlexBeam really work?
A: Yes, flexbeam works. It uses special lights to help with pain and healing. The lights go into your skin and might help your body heal faster. But it might not work for everyone or for all kinds of pain.
Q: Where Can I Buy The FlexBeam?
A: You can buy Flexbeam online from Flexbeam's official website or other authorized retailers.
Q: How does FlexBeam work?
A: FlexBeam works by using a combination of red and infrared lights. When these lights are directed onto your skin, they penetrate into your body's tissues. This can improve blood flow and circulation, which may help reduce pain, inflammation, and promote healing. FlexBeam light energy might also have positive effects on the cells in your body, assisting in their natural repair processes.
Q: Where is FlexBeam manufactured?
A: FlexBeam is specifically manufactured in California, United States.
Q: Is FlexBEAM FDA approved?
A: Not yet. FlexBeam is now classified as a wellness device by the FDA in accordance with the document "General Wellness: Policy for Low Risk Devices – Guidance for Industry and Food and Drug Administration Staff."
Q: What is the Return Policy?
A: Recharge Health offers a 100%, 30 days money-back guarantee. If you wish to return the product, you can do so within 30 days from the delivery date in exchange for a purchase price refund. However, the return policy does not cover shipping and handling fee.
Q: Is It Worth It?
A: Flexbeam is worth buying because it is designed not just to benefit you but your entire family as well. It is also a non-invasive device backed by scientific research and clinically proven to be safe and effective for your body's healing process.
Q: What Sets It Apart From the Competition?
A: Unlike other red light therapy treatment devices that work to suppress symptoms, FlexBeam is designed to target where it hurts, enabling it to fight the pain deeper for effective healing.
What is the Customer Feedback?
The Flexbeam reviews were mostly very positive, A number of users mentioned pain reduction and ease of joint and muscle symptoms.
This is a selection of some of the top reviews for the Flexbeam, to give you an impression of the general feedback:
Excellent Results!
"I underwent knee surgery a year ago and the healing has been quite slow because 6 months down the line, I could still experience pain. I read about FlexBeam and how it helps people recover faster from pain and decided to try it. The healing has been excellent. The pain on my knee has significantly subsided."– Julian
Relieves Pain Faster!
"I have been using FlexBeam to relieve pain in my lower back and the experience has been great. It really relieves pain faster."– Bobby
It Works Great!
"I am a sports person and I get injuries often during training. I have always used this device for healing and recovery and it has never disappointed." The healing is faster and I am always full of energy."– Taylor
I highly recommend it!
"It is a great pain Reliever. I highly recommend it."– Gene
Quick Summary for FlexBeam
| Name | FlexBeam |
| --- | --- |
| Rating | |
| Price | US$462.84–US$694.84 |
| Mechanism | Red light treatment |
| Benefits | Enhances body repair and recovery and relieves pain |
| Treatment Time | 10-20 minutes |
| Safety | Non-invasive, non-toxic, backed by scientific research, and clinically proven. |
Conclusion
Almost everyone is leading a fast-paced life though the reality is that our bodies find it hard to keep up with the pace. That is why people are looking for the best led red light therapy for home use products that can help build up strength and endurance and speed up muscle recovery.
The Recharge Health's FlexBeam is an effective and easy-to-use device that promises to help in building
strength and endurance, speeding up muscle recovery, and managing pain and soreness from the comfort of your home.
It is a great device if you want to free yourself from muscle pain and aches faster and more effectively same covered in a Dpl flex system reviews. And remember, it is a value-for-money device as it will not only benefit you alone but also your loved ones including your pets.