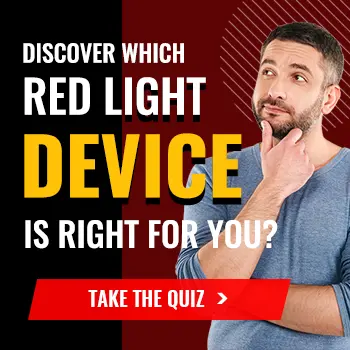 What is LightStim LED Bed?
The LightStim LED Bed is a large, wide, full red light therapy panel with 18,240 LEDS and offering light red, dark red, infrared and deep infrared light.
The panel promises a wide range of health benefits for the body and mind. Used by a number of pro athletes, it mayo speed up muscle recovery and decrease pain and inflammation. It also improves energy levels, mood, brain health, and rejuvenates the skin, among other benefits.
The LightStim LED Bed may look similar to the tanning bed, but this red light bed is contoured to fit your body to ensure maximum light absorption.
Editor's Rating
LightStim LED Bed

4/5
Quality

3.9/5
User Friendly

3/5
Value

4.2/5
Customer Satisfaction
Pros and Cons
Pros
LightStim LED Bed can improve workout and muscle recovery.
The panel can decrease pain and inflammation.
The LightStim LED Bed promotes skin rejuvenation.
This full body panel can improve mood and decrease stress.
LightStim LED Bed can enhance cognitive functioning.
Cons
They don't list the price on the offical site – you have to request it.
There's no return policy for the LightStim LED Bed.
The results may vary for individual users.
How Does It Work?
As we explained in our review of the best LED masks, the LED laser light send photons deep into the mitochondria of the cells to activate higher levels of ATP. This powers all of the cells in the body for a wide range of health benefits.
The depth of the penetration depends on the wavelength, with higher levels delving deeper for richer healing and pain reduction.
Red light ranges from 610-760nm, depending on whether its light or dark red, and it's best for surface levels issues like wound healing and skin rejuvenation.
A study by Sabrina Rohringer and Wolfgang Holnthoner, et al published in Scientific Reports concluded that LED light promoted tissue regeneration and wound healing in rats [1].
The infrared and deep infrared light run from 760nm to about 1300nm for muscle repair, improved brain health and mood, and pain and inflammation reduction.
An article by Frank Thomas Woodbury, M.D. published in JAMA Network discussed the use of infrared therapy [2].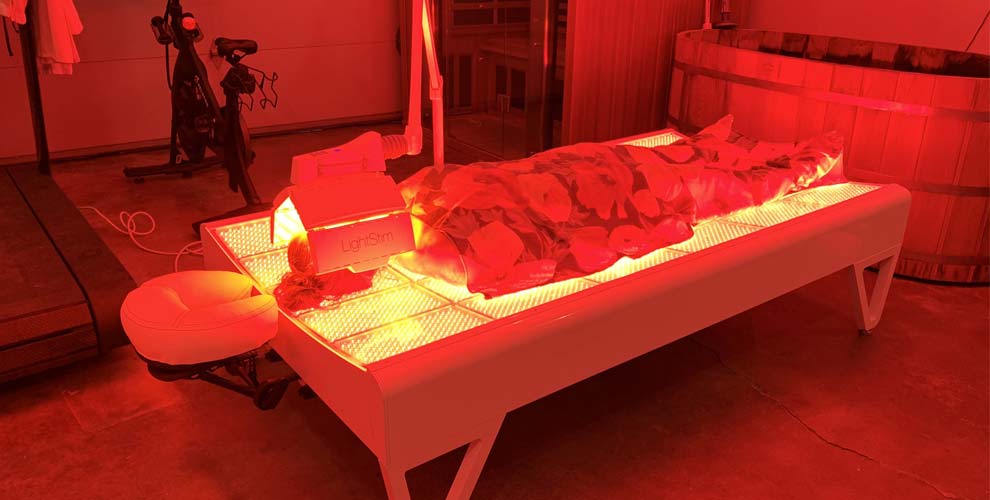 Expert Opinion on LightStim LED Bed
Board certified Beverly Hills plastic surgeon Dr. Paul Nassif M.D, F.A.C.S uses the LightStim LED Bed in his practice. He explained:
Lightstim is FDA cleared for treating muscle and joint pain, arthritic pain and stiffness, increasing blood flow, circulation to the area. Which by the way, brings in oxygen and all of the nutrients to help heal you faster.

The LED Bed is used in my practice in many ways. One, pre ore and post op, healing, chronic inflammatory arthritis pain, high blood pressure, increasing stamina, wound healing. Pro athletes use it all the time.[3]
A pilot study by John Foley and David B Vasily, et al published in Laser Therapy concluded that treatment over 15 months significantly reduced pain and inflammation and promoted healing in injured university athletes [4].
Quick Facts and Specs
Rating: Safety and Quality
Brand
LightStim
Product
LightStim LED Bed
Form
Red Light Therapy Full Body Panel
Saftey
FDA-Cleared
Age
Adults, and children or animals only with medical approval first
Skin Type
All Types
Benefit
Decreases Pain and Inflammation, Improves Exercise Recovery, Repairs Damage, Elevates Mood and Brain Health, Skin Anti-Aging
Price
Price by Request on Website
$65,000 Neiman Marcus
Shipping
Free Shipping
Return Policy
None For This Product
Purchase
Official website
Health Benefits of LightStim LED Bed
These are just of few of the many LightStim LED Bed benefits the panel has to offer:
Speeds Up Muscle Repair and Recovery
The increase in levels of APT powers all of the cells, promoting healing of muscles, a decrease in inflammation, and faster recovery from exercise. It also improves circulation which brings oxygen and nutrients to the muscles for more rapid repair, growth, and strength (also similar refered in our review of Theralight).
A review by Cleber Ferraresi, Ying-Ying Huang, and Michael R. Hamblin in the Journal of Biophotonics found evidence that photobiomodulation heals muscle tissue and improves sports performance [5].
Decreases Pain and Inflammation
As we discussed in our review of the Joovv 3.0. in particular infrared light therapy delves deep into the body, healing and repairing tissue and decreasing swelling and inflammation. It may help block key receptors for a decrease in levels of pain.
A study by George D Gale, MBBS FRCA FRCPC DAAPM, Peter J Rothbart, MD FRCPC, and Ye Li published in Pain Research and Management concluded that infrared therapy was effective in decreasing chronic back pain [6].
We covered lifepro red light therapy reviews, which help in reducing pain and inflammation with a low risk of side effects as it is FDA approved.
Improves Mood and Brain Health
LED light therapy increases levels of key brain neurotransmitters like dopamine, serotonin, and acetylcholine which improves mood, decreases stress, and sharpens cognitive functions like learning, focus, and memory. As we also documented one article called platinum therapy lights, which ordinally boosts mood while reducing anxiety and stress.
A study published in Behavioral and Brain Functions by Fredric Schiffer and Andrea L Johnston, et al found that a single infrared light therapy treatment to the forehead improved the symptoms of depression in 2-4 weeks [7].
We reviewed the best therapy lamp which supports seasonal affective disorder and promotes mood, sleep quality, relaxation, and calmness with no harmful side effects or risks.
The Evidence Score
Here is our evaluation, based on scientific research, of the potential effectiveness of LightStim LED Bed for its claimed benefits.
Decreases Pain and Inflammation*

4.2/

5

Improves Exercise Recovery*

4.0/

5

Boosts Mood and Decreases Stress*

4.1/

5

Enhances Cognitive Functioning *

3.8/

5

Rejuvenates the Skin*

4.0/

5
How to Use?
For detailed instructions, see the user's guide that comes with your product. However, the panel is very easy to use. It's a bed that lies flat on the floor, and it has a control panel which allows you to set your mode, timer, and temperature. Treatment time can vary from 5-30 minutes, and you should use the bed 3-5 times a week on average.
Side Effects and Risks
The LightStim LED Red Light Therapy Bed is a FDA cleared device which is manufactured and tested according to the strictest safety standards. The device has low EMF levels, and there are no risks or side effects associated with its use.
Moreover, the question has raised whether is red light therapy safe, but it is important to note that it is safe and doesn't have side effects or risks. It's also painless, which makes it a convenient and comfortable option for many people.
FAQs
Q: Where Can You Buy It?
A: You can find LightStim LED Bed for sale on the manufacturer's official website, but you have to request the LightStim LED Bed price from the manufacturer. They offer free shipping on purchases. It's also for sale from Neiman Marcus for $65,000.
Q: What is the Return Policy?
A: While for most products the manufacturer offers a 30-day return policy, the LightStim LED Bed is final sale. You can't get your money back for this product.
Q: Is It Worth It?
A: If you're looking for a superior full body LED panel, LightStim LED Bed is a great choice. Whether it's worth the price tag will depend on the individual.
However, many of the users who did purchase the panel had good things to say about its benefits in the LightStim LED Bed reviews.
Q: What Sets It Apart From the Competition?
A: This LED therapy bed really stands out in the market when it comes to full body panels. It's a powerful device with 18240 LED lights in light red, dark red, infrared and deep infrared and is very unique compared to other full LED beds.
What is the Customer Feedback?
Customers of the LightStim LED Bed were obviously looking for a premium full body panel and were willing to pay the price.
Among those who purchased the panel, most were very happy with the rich benefits it provided. Many were athletes or workout enthusiasts looking for deep pain reduction and muscle recovery, and they got it for the most part.
This is a selection of a few of the customer comments, to give you an idea of what people are saying about LightStim LED Bed.
LightStim LED Bed Improves My Workout Recovery
Great panel for bodybuilders like me who need rich recovery and healing from torn muscles. LightStim LED Bed keeps my muscles in great shape and it improves my concentration. Workout endurance also much better. – Jessie Y.
Little Costly But Really Reduces the Pain
Was a bit reluctant to spend the money at first, but my back pain was so severe that I was willing to try anything. Absolutely worth it! After several weeks of use my pain went way down and my life is much easier. Thanks! – Alan B.
Standard Among Athletes
As an athlete I can tell you for sure that LightStim LED Bed is the standard in the sports world when I comes to improving endurance and promoting faster muscle recovery. We all use it and rely on it. – David
Quick Comparison Table
| Name | LightStim LED Bed | Prism Light Pod | Mito Red Light Bed | Joovv Elite 3.0 Kit |
| --- | --- | --- | --- | --- |
| Rating | | | | |
| Price | $65,000 | $72,000 | $64,9995 | $10,4999 |
| LEDs | 18,240 | | 41,600 | 900 |
| Benefits | Pain, Skin Health, Mood, Brain Health, Muscle Recovery | Pain, Skin Health, Mood, Brain Health, Muscle Recovery | Pain, Skin Health, Mood, Brain Health, Muscle Recovery | Pain, Skin Health, Mood, Brain Health, Muscle Recovery |
| Treatment Time | 5-30 minutes | 14,000 | 10 minutes | 15-20 minutes |
| Safety | FDA-Cleared | FDA-Cleared | FDA-Cleared | FDA-Cleared |
Conclusion
LightStim LED Bed is a large red light therapy panel powered by 18,240 red, dark red, infrared and deep infrared LEDs. While on the high end of the price spectrum, it may offer amazing benefits when it comes to pain reduction, muscle recovery, improved endurance, and other aspects of health and wellbeing.
Many of the LightStim LED Bed reviews were from satisfied customers who said they rely on the great healing and uplifting benefits of the panel. Some were athletes who mentioned great improvements in endurance and recovery.
The LightStim LED Red Light Therapy Bed is a fully FDA cleared panel, and the manufacturing and testing follows rigid safety standards. While you may want to get a doctor's approval before using it there are no reported risks or side effects.
In our article, we recommend a wide range of the best LED light therapy devices of all shapes and sizes.