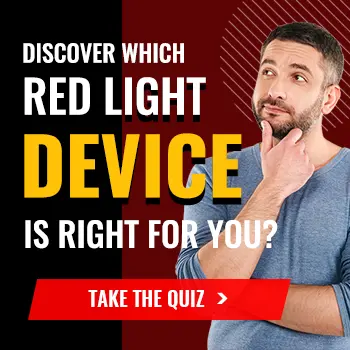 What is Joovv Solo 3.0?
The Joovv Solo 3.0 is a half-body red and infrared light therapy panel designed for moderate treatment area on the body. It promises to decrease pain and swelling in muscles and joints, boost cellular energy, improve brain health, enhance circulation, heal damage, and a range of other benefits.
While somewhat costly for a half-sized panel, this is a quality, safe device which a number of users have found beneficial.
Editor's Rating
Joovv Solo 3.0

4.8/5
Quality

4.6/5
User Friendly

4.6/5
Value

4.9/5
Customer Satisfaction
Pros and Cons
Pros
Joovv Solo 3.0 could decrease joint pain and inflammation.
This device may boost cellular energy in the body.
The product could improve circulation.
It might relax and heal sore muscles.
Joovv Solo 3.0 may support brain health and mental acuity.
Cons
There are other products which offer more than 2 wavelengths.
Joovv Solo 3.0 is not a full body panel.
There are cheaper models of the same size and power output.
How Does it Work?
This panel includes two wavelengths of red and near-infrared light which penetrate the body at different depths, sending photons into the mitochondria of the cells. This stimulates the release of additional ATP (adenosine triphosphate).
An article by Jianhan Zhang, Xu Han, and Yihan Lin published in PLOS Biology examined the regulation and function of ATP at the level of the cell [1].
ATP energizes all of the cells in the body, for multiple health benefits. The red light penetrates more on a surface level, helping to heal wounds and rejuvenate the skin. Infrared light delves more deeply for healing, pain reduction, and other benefits like improved brain health.
A controlled trial by George D Gale published in Pain Research and Management concluded that infrared red therapy was both safe and effective at healing back pain [2].
Compare to Joovv Solo 2.0 What's new in Joovv Solo 3.0
The panel design has got completely new look
The 3.0 panel supports Bluetooth with an app now. That app supports various functions
The control panel is updated
LEDs are higher powered
Joovv 3.0 now has a recovery+ mode
It has now the ambient mode
Expert Opinion on Joovv Solo 3.0
Dr. Sarah Ballantyne endorses the use of Joovv panels for reduction in pain and inflammation, and other benefits.
"I have fibromyalgia which is a suspected autoimmune disease characterized by usually severe joint or muscle pain…I get joint pain. I've had my Joovv for 8-9 months now, and I have not had fibromyalgia pain in 6 months." [3]
Health Benefits of Joovv Solo 3.0
Decreases Pain and Inflammation
Red and in particular infrared light therapy delve deep into the body, stimulating the release of ATP from the cells and helping to decrease pain and swelling.
The devices work best in red light therapy for pain by increasing blood circulation and reducing inflammation, which helps in reducing pain and discomfort. It is effective for arthritis, fibromyalgia, back pain, and neuropathy.
A 2007 thesis submitted by Elisabeth A. Martin to Cedarville University concluded that light therapy is effective at decreasing pain in acute lower extremity sprains and strains [4].
Improves Circulation
Light therapy stimulates the blood vessels for increased dilation and improved blood flow all over the body. A study by Agnes Keszler, PhD, et al in Free Radical Biological Medicine showed that red light stimulates vasodilation in diabetes [5].
Brain Health
Light therapy has numerous benefits for the brain, including improving cerebral blood flow and stimulating the release of key neurotransmitters like serotonin and dopamine. These best light therapy lights could boost mood and also improve cognitive functioning.
A review article by Michael R. Hamblin published in BBA Clinical explored the benefits of light therapy in treating brain disorders. We also covered the best brain health product called Biomax 600 by Platinum LED Therapy Lights [6].
The Evidence Score
Here is our evaluation, based on scientific research, of the potential effectiveness of Joovv Solo 3.0 for its claimed benefits.
Reduces Pain and Inflammation*

4.8/

5

Increases Energy Levels*

4.9/

5

Boosts Mood and Brain Power*

4.7/

5

Enriches Skin and Reduces Aging*

4.7/

5

Heals and Repairs Muscle Damage*

4.3/

5
Joovv: How to Use?
You can mount your Joovv Solo 3.0 panel using the Door Mount System, Boot Floor System, Or Nano Wall System. The device has an easy to use control panel which allows you to set your timing and select your wavelength. You can also use Joovv app to access some of the functions.
There are more detailed instructions with the device which you should follow carefully in terms of number of session per week and timing, distance from the panel, and other pertinent information. Read the guidelines carefully before using the device.
Side Effects and Risks
Joovv Solo 3.0 is a class II medical device which is FDA cleared, so the manufacturing is safe and the product goes through significant testing.
Research has found that red and infrared light therapy are safe when used as directed, and there are no serious risks or side effects associated with the technology.
We reviewed the best FDA-approved LED light therapy. These light therapies focus on reducing the signs of aging and hyperpigmentation, preventing acne and acne breakouts, improving skin elasticity, and promoting collagen production.
Compare to Joovv Solo 2.0 What's new in Joovv Solo 3.0
The panel design has got completely new look
The 3.0 panel supports Bluetooth with an app now. That app supports various functions
The control panel is updated
LEDs are higher powered
Joovv 3.0 now has a recovery+ mode
It has now the ambient mode
FAQs
Q: Where Can You Buy It?
A: The Joovv Solo 3.0 is for sale exclusively on the manufacturer's official website; there are no other retailers which offer it. The price of the device is $1599.
Q: What is the Return Policy?
A: There's a 60-day money back guarantee on this product, for items in new condition. If you're not happy with your device, fill out the form on the Joovv website.
Then send the product back in its original packaging within 60 days of the day you received it. Your refund will exclude shipping and a 15% restocking fee.
Q: Is Joovv Worth It?
A: The Joovv Solo 3.0 is a quality, FDA cleared panel which should offer benefits to many users. For a half sized panel it's somewhat costly for the market, and there are larger products with more than 2 wavelengths for a similar price or less. Based on the Joovv Solo 3.0 review posts, some users found it to be worth it, while others less so.
Q: What Sets It Apart From the Competition?
A: Despite the cost this is a high quality panel which offers strict safety standards, a fact not true of every model out there. However, outside of this there is nothing terribly unique about the panel itself in the market.
What is the Customer Feedback?
The Joovv reviews for this panel varied from very positive reports of great health and healing benefits to disappointment with the results. Some said it was worth the money, while others found the product expensive for the market.
This is some of the feedback from users, to give you a good idea of what people are saying about Joovv Solo 3.0.
Like It, But Kind of Costly
I use my Joovv 3.0 mostly after working out, and it does help speed up my recovery and soothe any pain I have. Although I really appreciate this, I can't help but feel like I could have bought a cheaper panel to get the same benefits. – Roger T.
Love My Joovv 3.0
I am crazy about my Joovv 3.0 panel! I have suffered from joint pain in my hands and wrists for years, and this panel gives me such relief. It was worth the cost, and has improved my life immensely.
Didn't Do Enough For My Pain
I injured my shoulder a few months ago and have suffered from terrible pain since. While the Joovv Solo 3.0 does have some benefits, I expected much more pain relief. Somewhat disappointed, perhaps over time my results will improve. – Jack V.
Conclusion
The Joovv Solo 3.0 is a mid-sized panel which delivers 2 wavelengths of red and infrared therapy, for promised health benefits like relief of joint and muscle pain and improved circulation. While not a full model, it does offer targeted benefits, although the price is high for the size and power.
The Joovv reviews were moderately positive, in that there were quite a few customers who got powerful benefits. There were also customers who found the results disappointing, and said that the panel was not necessarily worth the cost.
The Joovv Solo 3.0 is a safe, FDA cleared class II medical device which should not lead to any side effects. However, if you should experience any unusual symptoms stop using the device and check with a doctor. You should get medical approval before trying any new treatment.
We evaluated recharge health in our article as a clinically proven and risk-free device with impressive results.