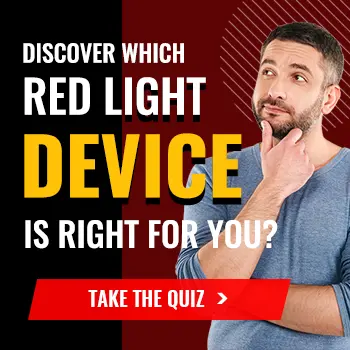 What is Prism Light Pod?
Prism Light Pod is a powerful red light therapy bed with 14,00 red and infrared LEDs and 360 degrees treatment. The manufacturer promises deep penetration with 10 times greater healing than other similar devices, 6 optimized settings, and 3 wavelengths. Suitable for both at-home treatment or for a clinic setting, the Prism Light Pod benefits include reducing pain and inflammation, healing wounds, improving exercise performance and recovery, promoting weight loss, rejuvenating the skin, strengthening the immune system, and more.
In our opinion this award winning red light therapy bed is one of the very best on the market today in terms of power, design, features, and effectiveness. In this review, we'll answer all of your questions about Prism Light Pod and tell you what we honestly think.
Prism Light Pod: How Does It Rate?
Editor's Rating
Prism Light Pod

4.5/5
Quality

4.1/5
User Friendly

4.0/5
Value

4.2/5
Customer Satisfaction
Pros
The Prism Light Pod offers 10x faster healing than most other models on the market.
This LED red light therapy bed can improve exercise performance and recovery.
Prism Light Pod can improve your mood and promote relaxation.
This product can rejuvenate the skin and eliminate signs of age.
The Prism Light Pod can enhance brain health.
Cons
It's a big investment for an individual.
The results may vary for different users.
You have to have enough space for it in your home.
About the Brand
The manufacturer of this LED red light therapy bed is a company called Prism Light Pod, and they have their headquarters in Englewood, Colorado. Founded in 2016, the organization produces high-level red light therapy devices for clinic or at-home use.
Expert Opinion on Prism Light Pod
Board certified dermatologist Kristel Polder discussed some of the many benefits of red light therapy:
Red light therapy has been around for quite some time. Past studies have shown that it can improve wound healing and overall recovery post procedure.

For example, we use red light therapy after lasers, and other treatments we offer at our practice to expedite healing. This kind of therapy has also been utilized for its anti-aging properties [1].
A review of the research published by Maria Emília de Abreu Chaves in the Brazilian Society of Dermatology found support for the wound-healing benefits of both LED and laser light [2].
Quick Facts and Specs
| | |
| --- | --- |
| Safe & Quality | |
| Brand | Prism Light Pod |
| Product | Prism Light Pod |
| Form | Red Light Bed |
| Saftey | FDA Registered, No UV Rays |
| Age | Adults |
| Skin Type | All types |
| Benefit | Reduces pain and inflammation, speeds up exercise recovery, heals wounds and damaged tissue, boosts mood and brain health, improves exercise performance, rejuvenates the skin |
| Price | $78,000 |
| Shipping | Not Stated |
| Return Policy | None Stated on Official Site |
| Purchase | Contact Manufacturer |
What Are the Health Benefits and How Does it Work?
While red and infrared therapy offer a number of health benefits, the Prism Red Light Pod offers specialized optimized settings for: improving performance recovery, reducing chronic pain, speeding up injury and wound healing, relieving joint pain, encouraging weight loss, and promoting skin anti-aging and toning.
A review by Graeme Ewan Glass published in Aesthetic Surgery Journal explored the clinical and therapeutic benefits of best light therapy [3].
The bed offers 14,000 LEDs in 2 red wavelengths (630nm and 660nm) and one infrared wavelength (850nm). As we explained in our TrueLight review, the LED light sends photons into the body, which stimulates the mitochondria of the cells to produce more ATP (adenosine triphosphate).
A review by Jacob Dunn and Michael H. Grider in StatPearls examined the physiology of adenosine triphosphate [4].
The benefits depend on the depth of penetration. Red wavelengths penetrate fairly close to the surface for benefits like skin rejuvenation, anti-aging, and wound healing.
As concluded in a study published in the Journal of the American Academy of Dermatology, red and infrared light combined stimulates collagen, elastin, and hyaluronic acid production to tighten the skin, plump, hydrate, improve elasticity, and smooth wrinkles and lines [5].
As per light therapy reviews, Infrared light delves deeper for more profound healing benefits like the relief of chronic pain and inflammation, improved exercise performance, and repair of damaged muscles or tissue.
A clinical trial on patients suffering from chronic back pain by George Gale, et al in Pain Research and Management concluded that infrared LEDs were safe and effective at reducing symptoms [6].
The Evidence Score
Here is our evaluation, based on scientific research, of the potential effectiveness of Prism Light Pod for its claimed benefits.
Reduces Pain And Inflammation*

4.5/

5

Promotes Weight Loss*

4.3/

5

Speeds Up Exercise Recovery*

4.1/

5

Heals Wounds And Damaged Tissue*

4.2/

5

Rejuvenates The Skin*

4.0/

5
How to Use?
The instructions for setup and use are all included in the user's manual that comes with the product, and are too expansive to outline here. Make sure you read the directions carefully and follow them exactly for safe and optimal Prism Light Pod benefits.
Side Effects and Risks
There's quite a bit of research showing the safety of red light therapy, and the Prism Light Pod is an FDA registered device manufactured under strict safety conditions. In addition, the manufacturer specifies that the device is UV-free.
Quick Comparison Table
| Name | Prism Light Pod | Theralight 360 HD | Mito Red Light Bed | LightStim LED Bed |
| --- | --- | --- | --- | --- |
| Rating | | | | |
| Price | $78,000 | $74,997 + $3500 shipping | $64,9995 | $65,000 |
| LEDs | 14,000 | 45,000 | 41,600 | 18,240 |
| Benefits | Skin Health, Healing, Pain, Exercise Performance and Recovery, etc. | Skin Health, Healing, Pain, Exercise Performance and Recovery, etc. | Skin Health, Healing, Pain, Exercise Performance and Recovery, etc. | Skin Health, Healing, Pain, Exercise Performance and Recovery, etc. |
| Treatment Time | 15 minutes | 10-15 minutes | 10 minutes | 5-30 minutes |
| Safety | FDA Registered | FDA Registered, CE Certified | FDA Cleared | FDA Cleared |
FAQs
Q: Where Can You Buy It? How Much Does a Prism Light Pod Cost?
A: You can purchase Prism Red Light Pod from a few retailers for the cost of $78,000, and from the official site. We definitely recommend that you purchase from the official website, as they offer a 5 year warranty and excellent customer service. You have to request Prism Light Pod price information from the manufacturer.
Q: What is the Return Policy?
A: There is no return policy or guarantee information on the official site, but there may be one. They offer a 5-year warranty on the frame and 2-year warranty on all of the components. As you have to contact the manufacturer for pricing information, also inquire about a return policy.
Q: Is Prism Light Pod Worth It?
A: Whether this red light therapy bed is worth it for an individual depends on their budget and needs, but it certainly is one of the leading devices of its kind on the market today. When it comes to clinics or salons, the website has specific calculations showing the high profitability of the Prism Light Pod.
Q: What Sets It Apart From the Competition?
A: The Prism Red Light Pod sits closer to the body than most other RLT beds, for optimal penetration and mitochondrial stimulation. This could lead to more potent benefits in less time.
What is the Customer Feedback?
While we searched online we did not find any feedback from customers for Prism Light Pod either on the official site or on independent sites. We're not sure why this is, but it's definitely not because users don't like the device. Prism Red Light Pod won the Global Excellence Award for Most Powerful Full-Body Red Light Therapy System of 2020 as well as the Best Red Light Therapy Device of 2021.
Conclusion
In summary, we have a very high opinion of the Prism Light Pod. This powerful red light therapy bed offers 360 degrees of treatment coverage, 3 wavelengths of red and infrared light, and deep penetration for powerful healing and other health and immunity benefits.
Unfortunately, we were unable to find any Prism Light Pod reviews online at the moment, and there are none posted on the official site. This doesn't necessarily mean that people didn't like the product. This device has won awards for best full body pod on the market today, so we know it's a well-loved device.
We also think that Prism Red Light Pod is among the very top red light beds available, and it's FDA registered and manufactured according to strict safety guidelines. Whether you want the bed for personal treatment or for clinic use, We'd highly recommend Prism Red Light Pod.
If you want to compare this product with other competing brands, read through our article on red light therapy beds.