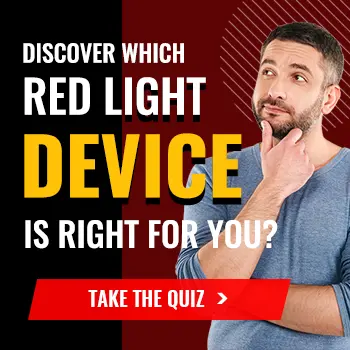 What is Light Relief?
The Light Relief device is a light, portable product which emits infrared light for targeted treatment of joint and muscle discomfort and aches and pains,. It also improves blood circulation for a variety of health benefits, like transporting oxygen and nutrients to the muscles for growth, and healing wounds.
While there is no offical site, you can find it on As Seen on TV and from a few other retailers. Light Relief is reasonably priced, and the reviews on the whole were very positive.
Light Relief: How Does It Rate?
Editor's Rating
Light Relief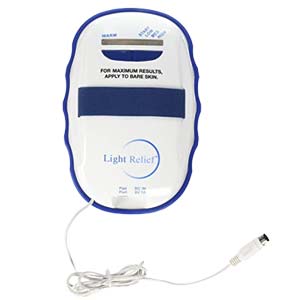 4.0/5
Quality

4.6/5
User Friendly

3.8/5
Value

4.0/5
Customer Satisfaction
Pros and Cons
Pros
Light Relief can ease minor aches and pains.
This device can promote muscle relaxation.
It ease joint stiffness and pain.
Light Relief can improve blood circulation.
This device can decrease inflammation.
Cons
There's no manufacturer's official site.
It's only suitable for localized targeted treatment.
The results may vary from one individual to another.
About the Brand
The manufacturer of Light Relief Infrared Pain Relief Device is the Light Relief company, which has their headquarters in Van Nuys, California. Founded in 2005 by Tony Gottelier, they have almost 20 years of experience producing LED light therapy devices for pain relief and other health benefits.
What Are the Health Benefits and How Does Light Relief Work?
The Light Relief device uses infrared light, which falls at about 750-100nm on the spectrum. This allows the photons of light to penetrate deep into the skin, for advanced healing, repair, inflammation reduction, and pain relief same as the Dpl Flex Pad, it helps in relieving pain and body aches.
A systematic review published in the South Florida Journal of Development by Mamadou Aliou Barry concluded that infrared light had benefits for decreasing pain and inflammation in people with knee osteoarthritis [1].
As we explained in our review of Mito Red Light, the photons of light penetrate the mitochondria of the cells to stimulate the production of higher levels of ATP. This provides cellular energy to the body for health and healing benefits.
A research review published in Purinergic Signalling by Manuel F. Muñoz, Theanne N. Griffith, and Jorge E. Contreras explored mechanisms of ATP release in pain [2].
The added energy promotes healing and repair in the body and reduces inflammation for relief of joint and muscle pain, stiffness, aches, and pains, wound healing, and improved circulation, which are the same benefits as Flex Beam.
A study published in Pain Research and Management by George D Gale, et al concluded that infrared therapy was effective in decreasing chronic back pain [3].
Expert Opinion on Light Relief
According to Praveen Arany, PhD, DDS, associate professor at the University of Buffalo,
Research in my lab shows that PBM (photobiomodulation) can activate a potent growth factor that promotes tissue healing and regeneration [4].
A study published in the International Journal of Oral Science by Jinfeng Peng and Jiajia Zhao, et al concluded the near infrared light may promote bone regeneration [5].
Quick Facts and Specs
| | |
| --- | --- |
| Rating: Safety and Quality | |
| Brand | Light Relief |
| Product | Light Relief Infrared Pain Relief Device |
| Form | Portable LED Light Device |
| Saftey | FDA Cleared |
| Age | Adults |
| Benefit | Decreases joint pain and inflammation, relieves minor aches and pains, improves circulation, promotes muscle relaxation, heals |
| Price | $79.95 |
| Shipping | Free Shipping Deals Available |
| Return Policy | 30-Day Return Policy (Light Relief As Seen on TV) |
| Purchase | Official Made For TV Site |
How to Use Light Relief
The product uses either 6 AA batteries or an AC adapter. The manufacturer recommends that you use the device for a period of 2 weeks daily, for 15 minutes each session.
Turn it on and hold it a few inches over the treatment area for best results. You should also read the Light Relief instructions that come with the device and follow them carefully.
Side Effects and Risks
In general LED light does not pose any risks or side effects – especially from such a compact device, and the product is FDA-cleared for safety. As we explained in our review of Platinum LED Light, research shows the safety of the technology.
The Evidence Score
Here is our evaluation, based on scientific research, of the potential effectiveness of Light Relief for its claimed benefits.
Relieves Minor Pain*

4.3/

5

Increases Blood Circulation*

4.1/

5

Promotes Muscle Relaxation*

4.3/

5

Eases Joint Stiffness and Discomfort*

4.2/

5

Decreases Inflammation *

3.9/

5
FAQs
Q: Where Can You Buy It?
A: You can purchase Light Relief on the As Seen on TV website, and on Amazon and eBay. The price on the As Seen on TV site is $79.95.
Q: What is the Return Policy?
A: There's no manufacturer's offical site, but there is a 30 day return policy on the As Seen on TV site, and any other manufacturer you purchase from should have their own policy. Make sure to read it carefully before you buy.
Q: Does Light Relief Really Work?
A: There has been a fair bit of research showing the benefits of infrared light in healing pain and inflammation, so Light Relief should work well on targeted areas to decrease pain, swelling, and discomfort. Most of the Light Relief reviews were from users who said the product worked as promised.
Q: What Sets It Apart From the Competition?
A: As far as portable infrared light devices go, Light Relief is one of the most reasonably priced products on the market.
What is the Customer Feedback?
The majority of the Light Relief reviews were from customers who were very happy with their results, including relief from aches and pains, muscle tension, and joint discomfort.
Most people said the product was more than worth the very reasonable price. Here are some of the best user comments:
Light Relief Really Works – On People and Animals
I used it when I had sciatic pain – which usually lasts for several days minimum – after doing yard work. After using Light Relief twice in a day, the pain was gone the next day. Our dog has 3 compressed vertebrae in his lower back and was dragging his back legs, barely able to walk…

We bought this Light Relief unit and our dog showed immediate improvement…he is back to at least 95% of his normal ability to walk, pee and poop – and he's much happier and more energetic. A neighbor borrowed it and after only 2 uses, her chronic shoulder pain was gone. – David Tonkin, Amazon customer
I'm Surprised, But It Does Seem to Help!
I was very skeptical when I saw the ads for this on TV, but my wife was having problems with her lower back after a recent fall, and I've had lower back problems for many years, so I thought I'd give it a shot.

Much to my surprise it does seem to help, it certainly doesn't get rid of all the pain and it's not a permanent fix, but it does seem to relieve the pain for periods of time, and we now share the Light Relief while watching TV in the evening. – Gail, Amazon customer
The Light Relief
I have found that the Light Relief is helpful in pain relief process, and I am glad to have it. – BLG, Amazon customer
Quick Comparison Table
| Name | Light Relief | Red Light Man Infrared Mini 830 | Novaalab Extra Strength Laser | Kala Red Light Mini |
| --- | --- | --- | --- | --- |
| Rating | | | | |
| Price | $79.95 | $147 | $299 | $349 |
| LEDs | 59 | 12 | 16 | 12 |
| Benefits | Joint and muscle pain relief, improved circulation, heals minor aches and pains | Joint and muscle pain relief, improved circulation, heals minor aches and pains | Joint and muscle pain relief, improved circulation, heals minor aches and pains | Joint and muscle pain relief, improved circulation, heals minor aches and pains |
| Treatment Time | 15 minutes | 10-20 minutes | 5 minutes | 10 minutes |
| Safety | FDA Cleared | FDA Cleared | FDA Cleared | FDA Cleared |
Conclusion
Light Relief is a light, portable LED device and the best light therapy for pain, which emits infrared light, for targeted treatment of aches, pains, and muscle and joint stiffness and discomfort. The device also improves circulation and may help build up the muscles. This is a very reasonably priced product which is excellent value.
On the whole, most of the Light Relief reviews had very positive comments about this device. The majority of customers found it to be effective at relieving muscle and joint pain, small aches, and healing as same covered in Prism Light Pad Review, and said it was a bargain for the price.
Light Relief is an FDA cleared, safe product which has no associated risks, and there have never been any reported side effects. If you're in the market for a mini light therapy device with powerful healing benefits, give Light Relief a try!