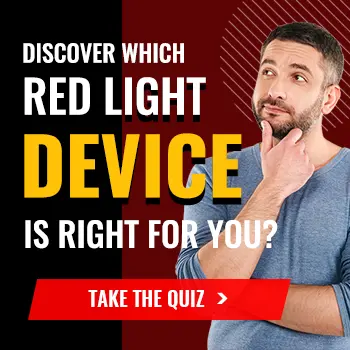 What is Qure LED Mask?
Qure LED Mask is a wireless, portable, hands-free LED facial mask with 5 light colors – red, deep red, amber, blue, and infrared. It has an accompanying iPhone/Android app which allows you to control the device.
As per The Qure skincare reviews, It benefits promised include healing and preventing acne, smoothing signs of age like wrinkles, fine lines, and hyperpigmentation, lifting and firming sagging skin, and promoting a healthy glow.
In this review we'll give you the details about Qure LED Mask and answer all of the questions you have. We'll also tell you what we honestly think of this mask and whether it's worth buying.
Qure LED Mask: How Does It Rate?
Editor's Rating
Qure LED Mask

4.5/5
Quality

4.0/5
User Friendly

4.1/5
Value

4.3/5
Customer Satisfaction
Pros
Qure LED Mask can heal and prevent acne breakouts.
This facial mask can smooth wrinkles and fine lines.
Qure LED Mask can decrease redness and inflammation.
This product can even out skin tone and fade dark spots.
The Qure LED Mask can lift and tighten sagging skin.
Cons
The results could vary for different customers.
This popular mask may run low stock at times.
There are brands which offer more than 30 days for returns.
About the Brand
The manufacturer of this mask is a company called Qure Skincare, which has their headquarters in Sydney, New South Wales. They produce clinical grade skincare products including LED light devices.
Expert Opinion on Qure LED Mask
New York City board-certified dermatologist Joshua Zeichner, M.D. explained the benefits of LED facial masks for the skin:
Most masks used to treat aging skin give off red light, which is thought to have anti-inflammatory effects and encourage production of new collagen. Blue light is thought to have antimicrobial effects and is often used with red light to treat acne [1].
A 12-week study published by the Journal of the American Academy of Dermatology concluded that blue and red light therapy effectively healed mild to moderate acne [2].
Quick Facts and Specs
| | |
| --- | --- |
| Rating: Safety and Quality | |
| Brand | Qure |
| Product | Qure LED Mask |
| Form | LED Face Mask |
| Saftey | FDA Cleared |
| Age | Adults |
| Skin Type | All types |
| Benefit | Heals and prevents acne, smooths fine lines and wrinkles, evens skin tone, fades dark spots, calms redness and inflammation, lifts and firms sagging skin, promotes radiance |
| Price | $329 |
| Shipping | FREE worldwide shipping for orders over $100 |
| Return Policy | 30 Day Money Back Guarantee |
| Purchase | Official website |
How Does it Work and What Are the Health Benefits?
The Qure LED Mask offers 5 light color options, which are blue, amber, red, deep red, and infrared. As we explained in our review of DRx SpectraLite, photons of light penetrates the mitochondria and stimulate the synthesis of adenosine triphosphate (ATP).
A review published in the Journal of Cutaneous and Medical Surgery examined the benefits of ATP in the skin [3].
Each color penetrates the skin at a different depth depending on the wavelengths. The depth determines the specific skin health benefits.
Blue light is at wavelengths of 430-505 nm, and there is evidence to support its benefits in killing bacteria, reducing redness and inflammation, and healing skin conditions like acne and psoriasis.
A review article published in Dermatologic Surgery by Pieper, Collin BS discussed the impact of blue light on the skin and its therapeutic uses in treating common skin diseases [4].
Blue light is the most effective color for reducing dark spots and hyperpigmentation and balancing skin tone, as it blocks the production of the pigment melanin in the skin, which is the same as revive light therapy reviews.
A literature review published in the Archives of Current Research International by Ana Karoline Campos Araújo discussed the led light therapy machine in decreasing skin hyperpigmentation. [5].
Amber light runs in wavelengths from 605 and 620nm, and it offers advantages like detoxifying the skin, smoothing wrinkles and lines, and healing skin conditions.
Red light therapy runs from 630-700nm, with deep red at the high end of that spectrum. Infrared light spans from 700-850nm. These wavelengths stimulate the production of collagen, elastin, and hyaluronic acid.
This lifts and firms sagging skin smooths fine lines and wrinkles improves skin elasticity and profoundly hydrates like Omnilux red light therapy which plums the skin for signs of aging reduction.
A study published in Photomedicine and Laser Surgery by Alexander Wunsch, et al concluded that regular treatment with red and infrared LED light together boosts collagen synthesis and smooths wrinkles and fine lines [6].
Qure LED Mask: How to Use
Qure Skincare LED Mask offers 3 minute treatments which you should carry out daily. You can choose between 5 different color lights and 5 customizable treatment options. Detailed information about how to use this mask are in the directions with the product.
Side Effects and Risks
The Qure Skincare LED Mask is an FDA cleared device manufactured in a facility in the USA following strict safety guidelines. The research shows that at-home red light therapy devices are safe, and not associated with risks or side effects.
The Evidence Score
Here is our evaluation, based on scientific research, of the potential effectiveness of Qure LED Mask for its claimed benefits.
Heals and Prevents Acne*

4.5/

5

Smooths Fine Lines and Wrinkles*

4.4/

5

Fades Dark Spots*

4.2/

5

Promotes Radiance*

4.0/

5

Calms Redness and Inflammation*

3.9/

5
Qure LED Mask Before and After
The Qure Mask has been immensely gaining a positive response from customers, The Qure Face Mask clears fine lines, and wrinkles and also works best for acne and acne breakouts. The users also share their Qure before and after images for satisfactory results. They also shared the Qure mask reviews with us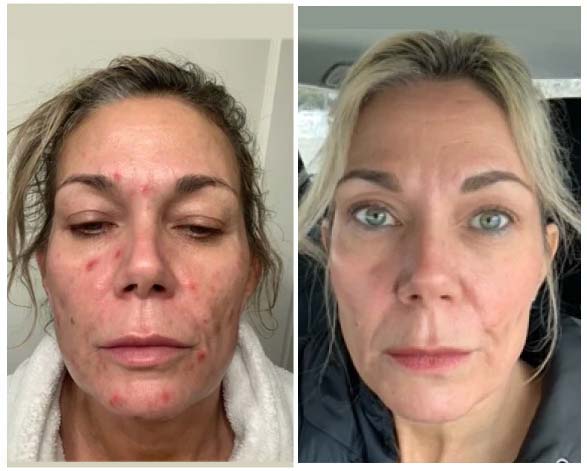 "Absolutely love the Qure LED Mask! It's transformed my skin with its customizable light settings. Fine lines and acne have noticeably improved. A convenient and safe at-home spa experience. Worth every penny for the radiant skin I now have!" ~ Michelle S
"After getting the Qure LED mask reviews from my dear friend, I am totally impressed with the Qure LED Mask! This Qure skincare gem is a game changer. Customizable settings make it a breeze to target skin issues. After consistent use, my complexion has never looked better. A must-have in any skincare routine." ~ BJ N
Quick Comparison Table
| Name | Qure LED Mask | Derma Mask | Ember Wellness Rejuvenating Light Therapy Mask | Dr. Dennis Gross DRx SpectraLite™ FaceWare Pro |
| --- | --- | --- | --- | --- |
| Rating | | | | |
| Price | $329 | $249.95 | $425 | $455 |
| Light Colors or LEDs | Red, Infrared, Blue, Amber, Deep Red | 288 LEDs | 264 LEDs | 162 |
| Benefits | Anti-acne, anti-aging, radiance, fades dark spots | Anti-aging, acne, redness, rejuvenation | Anti-aging, acne, pigmentation, rejuvenation | Reducing wrinkles and acne, cell turnover, rejuvenation |
| Treatment Time | 3 minutes daily | 10 minutes | 10 minutes | 3 minutes |
| Safety | FDA Cleared | FDA Registered | FDA Registered | FDA Cleared |
What is the Customer Feedback?
In our assessment the Qure LED Mask is a high-level best led face mask which delivers the benefits that it promises, and in only 3 minutes each day. Quotes from certified dermatologists on the official site agree with our view, for example, Dr Greeney explains:
Qure's anti-ageing treatment gets down deep into your skin to stimulate collagen & makes a big difference in skin texture, decreasing fine lines & wrinkles.
In addition, the majority of the Qure LED Mask review had very positive comments about their customer experience. Out of the 189 reviews on the official site, users gave the mask a rating of 4.7 out of 5 stars.
Reviewers on Cult Beauty Europe gave a 4.5 star rating, and Google reviewers rated Qure Skincare LED Mask 4 out of 5 stars. One of the top Google reviews comes from Willis, who raved about the Qure LED Mask before and after:
Gamechanger!: Got this for myself for my 40th birthday…Within a few days of use, for 3 mins a day, my breakouts and pigmentation improved quite significantly and my skin started to fill out again. The tone of my skin started to improve which wasn't even a concern I originally thought I even had!
Although not many, there were a few negative reviews. Customer Em gave 1 star because the mask did not fit her well:
Poorly fitting: I bought this to help with pigmentation, but unfortunately this is on the side of my face/jawline and the mask only really covers the middle of my face. Also the charger is super loose and not very effective. Unfortunate waste of money.
FAQs
Q: Where Can You Buy Qure skin care?
A: While it's available from a few other retailers, we think the best place to purchase Qure LED Mask is on the manufacturer's official website. They offer discount prices and other deals like FREE worldwide shipping for purchases over $100.
Q: What is the Return Policy of Qure mask?
A: The manufacturer offers a 30-day money back guarantee on all of their products. If you're not happy with the mask, contact customer service for instructions and send the product back within 30 days of the purchase date. You should get a full refund, excluding any shipping costs.
Q: Is Qure LED Mask Worth It?
A: According to our assessment, the Qure LED Mask is more than worth the cost. While there are cheaper masks, the quality of this device along with the 5 color and treatment options make it one of the leading LED facial masks on the market. The Qure LED Mask reviews confirm that most customers feel the same way.
Q: What Sets Qure LED mask Apart From the Competition?
A: Unlike many other facial masks this device offers 5 different facial treatments and 5 color options, and it delivers powerful skincare benefits in only 3 minutes daily. However, what particularly sets the product apart is that it has an accompanying iPhone/Android app.
Q: Are the lights used in the Qure Mask safe?
A: Yes, the LED lights used in the Qure Mask are non-UV and are safe for at-home use. The device does not emit harmful radiation and is risk-free.
Q: What are the different light options on the Qure Mask?
A: The Qure Mask typically offers different light settings, including red light for anti-aging, blue light for acne treatment, and sometimes other colors like green or yellow for specific skin concerns
Q: How often should I use the Qure LED Mask?
A: For best results, it's recommended to use the Qure LED Mask several times a week. However, the exact frequency might vary based on your skin type and the specific
concerns you're targeting.
Q: Can I use the Qure Mask with my regular skincare routine?
A: Absolutely! You can easily incorporate the Qure LED Mask into your existing skincare routine. It's generally suggested to use the mask on clean, dry skin and then proceed with your regular products.
Q: Are the effects of the Qure Mask permanent?
A: The effects of the Qure Mask are not permanent, but with consistent use, you can achieve long-lasting improvements in your skin's condition. Maintenance sessions are often recommended to sustain the results.
Q: Can I wear the Qure LED Mask comfortably?
A: Yes, the Qure Mask is designed for comfort. It's usually adjustable to fit different face shapes and sizes, ensuring a snug and comfortable experience during your treatment sessions.
Q: Is there a warranty for the Qure LED Mask?
A: As warranty policies are different in several companies, we would suggest going through the product label or the official website to know more about guarantee and warranty policy.
Conclusion
In summary, we think that Qure LED Mask is one of the best facial light therapy on the market. Offering 5 light colors and 5 different skin treatments, it effectives heals acne, smooths wrinkles and lines, fades age spots, and helps treat skin conditions.
In our review of the Qure reviews, we found mostly very positive feedback about this facial mask. Customers both on the official site and on several independent sites said they were getting great skin health and anti-aging benefits and were very happy with the purchase.
Qure LED Mask is an FDA cleared device which the manufacturer produces and tests according to strict safety regulations. It's safe and suitable for all skin types, including sensitive. Highly recommended by dermatologist worldwide, including our own team, in our view Qure LED Mask is worth every penny.
We have also covered the article of Currentbody Reviews, which help to reduce acne, wrinkles, and fine lines and maintains skin health and diseases without any side effects.