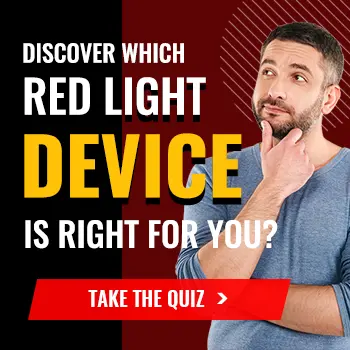 What is DRx SpectraLite?
We have evaluated a number of red light therapy facial masks on the market, and DRx SpectraLite falls towards the top of the list. Developed by dermatologists, the device offers red, infrared, blue, and amber light in 3 modes – Anti-Aging, Anti-Blemish, and Combination Skin.
The device has benefits like healing and preventing acne breakouts, firming the complexion, smoothing wrinkles and fine lines, and boosting cell turnover for clear, youthful-looking skin.
In this review, we'll give you all of the important details about DRx SpectraLite and tell you our honest opinion of this red light therapy face mask.
DRx SpectraLite: How Does It Rate?
Editor's Rating
DRx SpectraLite

4.2/5
Quality

4.0/5
User Friendly

4.0/5
Value

4.3/5
Customer Satisfaction
Pros
DRx SpectraLite can heal and prevent acne.
This facial mask can tighten the complexion.
The device can smooth wrinkles and fine lines.
DRx SpectraLite FaceWear Pro can improve cell turnover.
It can reduce skin inflammation and redness.
Cons
The results may vary for different individuals.
There are masks with more than 4 colors.
High demand could lead to low stock at times.
About the Brand
The brand manufacturer is Dennis Gross Skincare, established by Dr Dennis & Carrie Gross in 2000. Funded by Main Post Partners, this highly reputable company produces a wide range of skincare products and tools.
Expert Opinion on DRx SpectraLite
World renowned facial aesthetics doctor Dr Maryam Zamani described the skin health benefits of red light therapy:
Red light stimulates the production of collagen and elastin to refine and strengthen the skin. It boosts luminosity through improved circulation, calms redness, evens skin tone, and plumps up the complexion [5].
A literature review of studies published in The Journal of Clinical and Aesthetic Dermatology by Glynis Ablon, MD, FAAD found support for the efficacy of red light therapy in treating a range of dermatological conditions [6].
Quick Facts and Specs
| | |
| --- | --- |
| Rating: Safety and Quality | |
| Brand | Dr. Dennis Gross |
| Product | DRx SpectraLite |
| Form | LED Face Mask |
| Saftey | FDA-Cleared |
| Age | Adults |
| Skin Type | All types |
| Benefit | Heals and prevents acne, tightens and improves elasticity, reduces wrinkles and lines, promotes cell turnover, reduces inflammation |
| Price | $455 |
| Shipping | Free For U.S Orders Over $75 |
| Return Policy | 30 Day Return Policy |
| Purchase | Amazon.com |
How Does DRx SpectraLite Work and What Are the Health Benefits?
The DRx SpectraLite facial mask offers wavelengths of blue, amber, red, and infrared light for powerful skin health benefits. As we discussed in our review of ORA LED Light Energy Mask, the photons of light delve into the mitochondria of the cells and stimulate them to produce higher levels of adenosine triphosphate.
A research review in Cell Death and Disease by Annapoorna Sreedhar, et al discussed they key role of the mitochondria in skin aging and health [1].
ATP powers all of the body's cells, for accelerated healing and a range of other benefits. The specific advantages depend on the color and related wavelengths which determine the depth of penetration.
The DRx SpectraLite offers amber, blue, red, and infrared light. Blue light at 430-505 nm delves closest to the surface, and is ideal for killing bacteria, decreasing inflammation, and healing skin conditions and acne same as covered in Dpl red light therapy.
A review of the research published in Life (Basel) by Magdalena Sadowska, Joanna Narbutt, and Aleksandra Lesiak discussed the benefits of blue light in dermatology, including healing chronic inflammatory skin conditions like eczema and atopic dermatitis [2].
Looking at the research on the benefits of blue light for acne, a 8-week study by Michael H Gold, MD, et al published in the Journal of Clinical and Aesthetic Dermatology concluded that regular treatment was effective at healing mild to moderate acne [3].
Amber LED light falls between 605 and 620nm, and is ideal for removing toxins, healing skin conditions such as eczema and rosacea, reducing small blood vessels, and smoothing signs of age like wrinkles.
Red LED light falls from 630-700nm, and infrared includes wavelengths above, but at home devices generally offer no higher than 850nm for safety. Both red and infrared light, and even more so combined, draw fibroblasts which lead to collagen and elastin production.
The added collagen and elastin speed up healing, tighten the skin, improve elasticity, and smooth fine lines and wrinkles, which are also covered in the Celluma light therapy review
A study published in the Journal of Cosmetic and Laser Therapy by B. A. Russell, et al concluded that red and infrared LED light combined was very effective at photo rejuvenation of the skin [4].

The Evidence Score
Here is our evaluation, based on scientific research, of the potential effectiveness of DRx SpectraLite for its claimed benefits.
Heals and Prevents Acne Breakouts*

4.4/

5

Reduces Wrinkles and Fine Lines*

4.3/

5

Promotes Cell Turnover *

4.1/

5

Reduces Inflammation *

4.0/

5

Tightens the Complexion *

4.2/

5
How to Use It?
Prior to treatment, fully charge the DRx SpectraLite device for use. Then cleanse your face and dry it very carefully before putting on the mask. Press and hold down the ON button at the top of the mask for 2 seconds.
Then press the button to choose one of the 3 modes available, Anti-Aging, Anti-Blemish, or Combination Skin. Relax through the 3 minute treatment time until the mask shuts off automatically at the end of the session.
Remove the device after the treatment and wipe it carefully. It should dry fully before the next session. Charge again if required. Generally one charge will last for 8-10 sessions.
Side Effects and Risks
DRx SpectraLite is an FDA-cleared device which is safely manufactured according to strict standards. There's quite a bit of research indicating that red light therapy technology is quite safe and has no associated risks or side effects.
Quick Comparison Table
| Name | DRx SpectraLite | HigherDOSE Face Mask | Derma Mask | Omnilux CLEAR LED Face Mask |
| --- | --- | --- | --- | --- |
| Rating | | | | |
| Price | $455 | $299 | $249.95 | $475 |
| LEDs | 160 | 62 | 288 | 112 |
| Benefits | Anti-aging, acne, cell turnover, rejuvenation | Ant-aging, rejuvenation, healing, radiance | Anti-aging, acne, rejuvenation, cell turnover | Anti-aging, acne, rejuvenation, cell turnover |
| Treatment Time | 3 minutes | 10 or 20 minutes | 10 minutes | 10 minutes |
| Safety | FDA Cleared | FDA Cleared | FDA Cleared | FDA Cleared |
FAQs
Q: DRx SpectraLite Where to Buy?
A: The DRx SpectraLite is for sale from a number of online retailers as well as stores, such as Sephora, Amazon, and Nordstrom.
Naturally it's also for sale on the official site, and we recommend that you purchase it there to take advantage of deals like free shipping for U.S orders over $75 and 2 free samples with your order. In addition, new users get 15% off their first order.
You can even book a one on one-consultation with an expert. On the official site the DRx Spectralite Faceware Pro Led Face Mask costs $455.
Q: What is the Return Policy?
A: The manufacturer has a 30-day return policy for items that are in new or gently used condition. If you're not happy with your order, you can begin the return process by filing out this form and following the instructions: https://returns.drdennisgross.com/ Then send the products back within 30 days of the purchase for a full refund of the purchase price.
Q: Who Should Use DRx SpectraLite?
A: The DRx SpectraLite FaceWear Pro is ideal for people who want optimal treatment for healing and decreasing acne breakouts and reducing fine lines, age spots, and wrinkles.
Q: What Sets It Apart From the Competition?
A: Unlike may of the competing brands, the DRx SpectraLite FaceWear Pro device is specifically dermatologist developed. Other unique features include hands free, cordless treatment and the adjustable head strap which makes the mask suitable for any size.
What is the Customer Feedback?
In our view DRx SpectraLite is one of the best red light therapy masks on the market today, and we saw in our read-through of the Dr Dennis Gross DRx Spectralite reviews that the vast majority of the users agreed.
There are currently 265 reviews on the offical site which have a total rating of 4.3 out of 5 stars. The 828 reviewers on Google gave this mask a score of 4 out of 5 stars. The 46 customers on the Lovely Skin site gave a rating of 4.4 stars out of 5.
One of the best 5 star reviews on the official site comes from Heather H, who raved about the anti-acne and other skin health benefits of the mask:
Zaps Zits And Creates An Instant Glow:
Can't believe how well this mask works. Any zit that's forming I use this mask and it simmers down in a day or two. Way less time than usual. It's also been giving me an amazing glow. This is a quality LED mask that's really improved my skin and even seems to be cutting down on my fine lines as well and my pores seem to be shrinking. Just what I was hoping for!!
While there were few poor reviews, not every customer was happy with the results. One of the top critical reviews is from Kim A, who got a poorly functioning battery:
I get about 5-10 uses until it dies. I can't get the product to hold a charge to save my life!
Conclusion
DRx SpectraLite FaceWear Pro is the best at-home led light therapy facial mask which we find to be highly effective at reducing acne and blemishes, smoothing wrinkles, fine lines, and other signs of age, and rejuvenating the complexion.
On the whole, the DRx SpectraLite FaceWear Pro review feedback about this high-powered mask is very positive. Customers write glowing comments about the great skin benefits like healing of acne, anti-aging, and skin radiance. Most of the customers say it was more than worth the price.
DRx SpectraLite is an FDA cleared device which is safely manufactured according to rigid standards. It has no associated risks or side effects, and can enrich your skin and take years off of your appearance with consistent use.
If you want to learn about the best led mask that may offer both preventing acne and signs of aging, read our article on the Qure LED Mask review to know more.