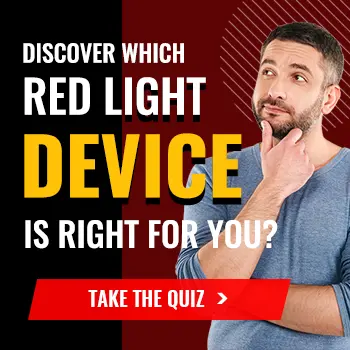 What is Celluma PRO?
Celluma PRO is a hands-free light therapy device which offers full facial coverage, for treatment of acne and anti-aging benefits like smoothing wrinkles and lines. You can also position it over any area of the body for targeted pain reduction benefits.
It does have powerful benefits, but the Celluma price tag is rather high and there are no returns for used devices. The reviews offered mixed opinions, but there were customers who found it beneficial for acne, anti-aging, and pain relief.
Editor's Rating
Celluma PRO

4.5/5
Quality

4.6/5
User Friendly

4.6/5
Value

4.6/5
Customer Satisfaction
Celluma PRO Red Light Therapy Pros and Cons
Pros
Celluma PRO may smooth wrinkles and fine lines.
This device could heal and prevent acne.
Celluma PRO Light Therapy might decrease targeted pain.
The device is lightweight and portable.
You may position Celluma PRO LED Light Therapy over any body part.
Cons
The cost of Celluma PRO Light Therapy is high.
To buy on the official site you have submit a request with your details first and wait for the company to get back to you.
There are no refunds for used products.
How Does it Work?
Celluma PRO LED Light Therapy uses red, blue, and infrared light to penetrate the body and activate the mitochondria of the cells. This leads to the synthesis of additional ATP (adenosine triphosphate) which fuels the body's cells for numerous health benefits.
A review of the research by Ralf Jager published in the Journal of Functional Foods examined the health benefits of supplementation with ATP [1].
The laser sends photons into the body which penetrate at different wavelengths, for varied benefits. The red light wavelengths at the lower end of the spectrum delve more at the surface level, stimulating collagen and elastin in the skin.
An article by Elisabetta Sorbellini, Mariangela Rucco & Fabio Rinaldi in Lasers in Medical Science discussed the effects of LED therapy in treating dermatological conditions [2].
This leads to tighter skin that is more elastic, smoothing lines and wrinkles on the surface. Blue light penetrates a little more deeply, and is ideal for killing bacteria on the skin, reducing inflammation, and healing acne.
A research study by Michael H Gold published in the Journal of Cosmetic and Laser Surgery concluded that blue light therapy decreased lesion size in acne [3].
Infrared light penetrates deeply, which may promote deep healing and a decrease in pain and inflammation. As we referenced in our review Tendlite, this product may be more effective with no side effects.
Expert Opinion on Celluma PRO
Ari Whitten, prominent author of The Ultimate Guide to Red Light Therapy, explained: "If you are using it (RLT) for wrinkle reduction and anti-aging purposes, you will likely notice effects within a few weeks and may even have people complimenting you on how good you look." [4]
Research by Alexander Wunsch and Karsten Matuschka in Photomedicine and Laser Therapy supports Whitten's claim. In a controlled trial, they used full body laser light therapy on participants twice a day for 30 sessions. The results showed an increase in collagen and a decrease in wrinkles, fine lines, and rough skin [5].
We covered best led red light therapy articles while featuring them according to manufacturing reputation, warranty policies, cost, efficacy, and safety.
Health Benefits of Celluma PRO
Reduces Acne
The combined wavelengths, and in particular the blue light, may decrease acne and prevent further breakouts by killing harmful bacteria, reducing inflammation, and alleviating redness. The same is covered in Trophy Skin Reviews which also helps in preventing acne breakouts and also works by stimulating collagen production.
Researchers Susan Pei, et al in the Indian Dermatology Online Journal looked at the studies showing the effect of light-based therapies on the treatment of acne [6].
Smooths Wrinkles and Fine Lines
According to research in the Journal of the American Academy of Dermatology, red light therapy may stimulate higher levels of collagen, elastin, and hyaluronic acid for tighter skin, improved elasticity, hydration, and smoother wrinkles and fine lines same as covered in Omnilux face mask reviews[7].
Decreases Pain and Inflammation
According to Whitten, "Some studies have shown that red/NIR light can dull pain due to blocking conduction." [4] It also decreases inflammation in joints and muscles for relief of discomfort, and repairs existing damage for better functioning.
A study conducted by George D Gale published in Pain Research and Management showed that infrared light therapy was effective in relieving chronic back pain [8].
We covered platinum led reviews that offer health benefits like relieving pain, improving mood, repairing muscle, and supporting brain health.
How to Use It?
The device is easy to use, although you should follow the detailed instructions provided with the product in terms of positioning distance, treatment times, and general usage.
It has a power supply you plug into the wall, and you either lie down and place it over your face or position it over any body part for possible pain relief and skin health benefits. Choose your mode: acne, wrinkles, or pain. After your session, remove the device and turn it off.
The Evidence Score
Here is our evaluation, based on scientific research, of the potential effectiveness of Celluma PRO for its claimed benefits.
Reduces Pain and Inflammation*

4.8/

5

Increases Energy Levels*

4.6/

5

Boosts Mood and Brain Power*

4.7/

5

Enriches Skin and Reduces Aging*

4.2/

5

Heals and Repairs Muscle Damage*

4.3/

5
Side Effects and Risks
The model is FDA cleared and safely manufactured. The research shows that light therapy is not a risky technology and should not cause any harmful side effects.
We covered mito red light review which helps skin rejuvenation, reduces signs of aging, and inflammation, and also repairs muscle as well as supports mental health.
FAQs
Q: Where Can You Buy Celluma PRO?
A: Celluma Pro is for sale on the official website, but you have to send a pricing request with your contact information before you are able to purchase. It's also available from some spas and a few online retailers. The price on the official site is $1795.
Q: What is the Return Policy?
A: The manufacturer does not offer refunds for any used products. If your device is still in the original packaging and you have not had a treatment, contact the manufacturer and send back the product.
They will evaluate its condition and let you know if you'll get a refund. There is a 2 year warranty.
Q: Is Celluma Worth It?
A: Celluma Pro is a powerful device which combines red, light, and infrared light to offer skin benefits and targeted pain treatment.
However, the price is very high for a small sized device, and for the same cost you can get a large panel from some of the other brands. It may be worth it to some users who don't mind the high cost and want skin benefits and pain reduction.
Q: What Sets It Apart From the Competition?
A: Celluma Pro is handsfree and stand free, making it easy to use, and it offers 3 modes in one device – acne, wrinkles, and Celluma Pro for pain. On the negative side, there are less expensive light therapy products such as Biolight on the market which have some of the same benefits.
What is the Customer Feedback?
The Celluma PRO reviews varied somewhat in their product satisfaction. There were a number of users who got great benefits from this device, in terms of skin rejuvenation and anti-aging, acne reduction, and pain relief.
There were also customers who were less satisfied with their results, and found the Celluma PRO price too high. Here is some of the feedback from customers, to give you an idea of what people are saying about Celluma PRO Light Therapy:
Like It, But Costly
Have had terrible acne for years, so I bought Celluma Pro to decrease breakouts. It works really well, and I'm happy with the benefits. However, I'm not really sure it was worth the high price tag. – Justin F.
Somewhat Disappointed
I bought Celluma PRO LED Light Therapy because I have terrible arthritis pain in my knees – as well as some wrinkles on my face. While it has had some impact on smoothing my complexion, it does very little for my knee pain. Barely scratches the surface. – Annie R.
Love Celluma Pro!
I'm 19 and I have had acne for a few years, since my early teens. My parents gifted me this device and it has made a huge, significant difference in my appearance! Sending in my photos to show the change. Thanks!! – Jessica L.
Celluma Pro Before and After: Jessica
It showed some improvement in acne reduction results after 5 weeks of Celluma Pro.
Conclusion
Celluma PRO is a portable light therapy device that offers several wavelengths of blue, red, and infrared light in 3 modes: acne, wrinkles, and pain. It promises to tighten the skin, eliminate breakouts, and decrease inflammation and pain in targeted areas of the body. However, the price is very high for a device of this size compared to other brands like the Current body red light mask it is affordable and results in no side effects.
The Celluma PRO review posts were moderately positive, but offered different viewpoints. There were customers who loved the device and said it offered them great skin health and pain reduction benefits. Others found it less helpful and not worth the high price tag.
Celluma PRO is an FDA cleared device which is safely manufactured, and has little in the way of risks or possible side effects. Nonetheless, you should always check with your physician and get medical approval before starting any new treatment.
There are also a range of LED therapy masks available which offer skin health benefits, as we discussed in our article on the best light therapy masks.