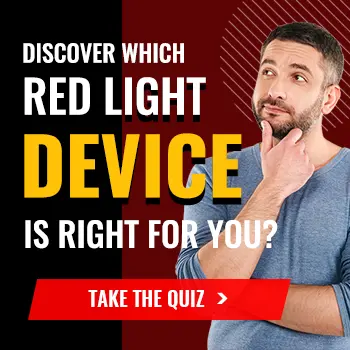 What Are Revive Glō Portable LED Lights?
Revive Glō Portable LED Light consists of 3 lightweight, portable red light therapy devices designed to boost skin health and decrease signs of aging and acne.
The Lux Collection Glō offers both anti-aging and anti-acne benefits, and the line also includes the Glō Anti-Aging and Glō Acne Treatment devices. These are FDA cleared, safe products which got very good customer reviews.
Revive Glō Portable LED Light: How Does It Rate?
Editor's Rating
Revive Glō Portable LED Light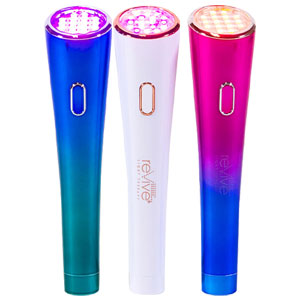 4.3/5
Quality

4.2/5
User Friendly

4.7/5
Value

4.2/5
Customer Satisfaction
Pros and Cons
Pros
These products can decrease wrinkles and fine lines.
Revive Glō Portable LED Light products can reduce acne and prevent breakouts.
These devices can rejuvenate the skin.
Revive Glō Portable LED Light devices can kill damaging bacteria.
These products boost levels of collagen for tighter skin.
Cons
The results may vary for different customers.
These are popular products which may run low stock sometimes.
They only have benefits for skin care, not other issues.
Expert Opinion on Revive Glō Portable LED Light
Board-certified dermatologist Nina Desai confirms some of these red light therapy benefits for the skin:
Because of the way red light therapy improves cellular function, studies show it can increase the production of collagen and elastin in the skin, which helps with tone and texture, as well as fine lines and wrinkles.

But red light therapy is also a great treatment for the blemish-prone. Low-energy red light can help calm redness and inflammation associated with mild to moderate acne [4].
A study conducted by researchers at the Journal of the American Academy of Dermatology showed that red light therapy increases the synthesis of collagen, elastin, and hyaluronic acid [5].
About the Brand
The manufacturer of Revive Glō Portable LED Light and the entire Revive brand is a company called LED Technologies, Inc which has its headquarters in Largo, Florida. Founded in 2004, they have 20 years of experience in producing high quality red light therapy devices.
Quick Facts and Specs
Rating: Safety and Quality
Brand
Revive
Product
Lux Collection Glō
Glō Anti-Aging
Glō Acne Treatment
Form
Portable LED Lights
Saftey
FDA Cleared
Age
Adults
Skin Type
All types
Benefit
Acne, Anti-Aging, Skin Rejuvenation, Healing, Recovery
Price
$29-$79
Shipping
Worldwide Shipping
Free Shipping for U.S Orders Over $75
Return Policy
30-Day Return Policy
Warranty: 6 Months to 1Year
Purchase
Amazon.com
What are the Health Benefits and How Do the Devices Work?
The devices emit LED light which sends photons deep into the mitochondria of the cells, stimulating the release of additional ATP (adenosine triphosphate). As we explained in our review of LightStim, ATP powers all of the cells in the body for a number of health benefits.
A review in the Journal of Cutaneous and Medical Surgery by Aton M Holzer and Richard D Granstein explored the role of ATP in the human skin [1].
The benefits for the skin depend on the wavelength used and its penetration. The Lux Collection Glō uses red and infrared light, while the Glō Anti-Aging and Glō Acne Treatment emit blue and red light.
Red light penetrates close to the surface level for cellular renewal and increases collagen and elastin production; this similarly works as Trophy skin brightenmd which tightens the skin, improves elasticity, and smooths wrinkles and lines. It also elevates hyaluronic acid levels for hydrated skin free of dryness.
A controlled trial published in Photomedicine and Laser Surgery by Karsten Matuschka and Alexander Wunsch showed that red and infrared therapy at home together boosts collagen synthesis and smooths aging signs like wrinkles and fine lines [2].
Blue light also works at the surface level, and it's highly effective at reducing and preventing acne by killing the harmful bacteria that cause the condition. It also decreases any associated swelling and redness same as the Derma mask helps to prevent acne and acne breakouts.
A study carried out by Michael H Gold, MD, et al published in The Journal of Clinical and Aesthetic Dermatology confirmed the efficacy of blue LED light in treating mild to moderate acne [3].
Infrared light penetrates deep into the skin, for profound skin healing benefits, repair and recovery.
The Evidence Score
Here is our evaluation, based on scientific research, of the potential effectiveness of Revive Glō Portable LED Light for its claimed benefits.
Reduces and Prevents Acne*

4.4/

5

Smooths Wrinkles and Fine Lines*

4.2/

5

Rejuvenates the Skin*

4.0/

5

Eliminates Harmful Bacteria *

4.4/

5

Boosts Collagen Levels*

4.3/

5
Revive Light Therapy Glō: How to Use
Begin by cleansing and drying your face of makeup, sunscreen, or anything else that could block the effects of the light. The manufacturer recommends 3 minute treatments per area.
Hold the device over the treatment area for the entire time without moving. The manufacturer will provide any other instructions with the product.
Side Effects and Risks
Red light therapy is a safe technology according to the research, as long as you follow the instructions as to treatment time, frequency, and distance from the device.
Revive Glō Portable LED Light products are FDA cleared and manufactured according to rigid safety standards. They present no risks or potential side effects.
FAQs
Q: Where Can You Buy Them?
A: You can buy Revive Red Light Therapy Glō devices on the manufacturer's official site, as well as from a number of online retailers and stores like Nordstrom and Amazon. On the official site, U.S residents get free shipping for orders over $75. The product prices are as follows:
Lux Collection Glō – $79
Glō Anti-Aging – $39
Glō Acne Treatment – $29
Q: What is the Return Policy?
A: The manufacturer offers a 30 day return policy for products that are new and still in their original packaging. If you want a refund, contact customer service for instructions and send the item back within 30 days of the purchase.
The company offers a 1 year warranty for the Lux Collection Glō and a 6-month warranty for the Glō Anti-Aging and Glō Acne Treatment.
Q: Is It Worth It?
A: The Revive Glō Portable LED Light devices are light and portable, effective, and offered at a bargain price for the market. According to most of the Glō Red Light Therapy reviews, these products are worth it.
Q: What Sets It Apart From the Competition?
A: While there are other portable skin care devices on the market which work well, no doubt the Revive Glō Portable LED Light are products which offer high value for some of the lowest prices available.
What is the Customer Feedback?
On the whole, the Revive red light therapy reviews for these products were very good. The majority of users found them effective at reducing signs of age and acne, and said they were more than worth the low cost. These are a few of the best customer comments:
Great
I have several blue light therapy products and they have all helped my teen's skin so much. This one is great because it is portable, and it can get spots like between the eyebrows where the bigger devices would shine into your eyes. Love all these products. – Tierney Logan, customer on official site
Amazing Anti-Aging Device
Amazing anti-aging device to help with unwanted wrinkles! Great product. – Teresa, customer on official site
Really Helped
I've been using the Revive Light Therapy GLŌ Anti-Aging Light Therapy Device for almost 2 years and it's been a game changer for my skin.

It really helped clear up my COVID mask acne and the red and near-infrared light therapy has reduced the appearance of fine lines and discoloration spots. I highly recommend it to anyone looking to improve their skincare routine. – Chloe P, customer on Influencer
Quick Comparison Table
Conclusion
Revive Glō Portable LED Lights are a set of 3 devices which offer benefits for the skin, in particular reducing and preventing acne breakouts and smoothing fine lines, wrinkles, scars, and other blemishes on the complexion as same covered in Omnilux led reviews. These are light, highly portable devices which are offered at bargain prices on the market.
On the whole, the Glō Portable Red Light Therapy review posts had very enthusiastic, positive remarks about these products. Some users raved about the reduction in acne and signs of age on their complexions, and they overwhelmingly found the Revive light therapy before and after worth it for the low cost.
Glō Portable LED Lights are safe, FDA cleared products and the manufacturer follows rigid safety guidelines in production and testing. There are no associated side effects or risks with these devices. If you're looking for quality, low priced red light therapy skin care, Glō Portable LED Lights are an excellent choice.
If you want to look at some LED light facial masks to compare different types of products, read through our article on the best facial masks of the year.