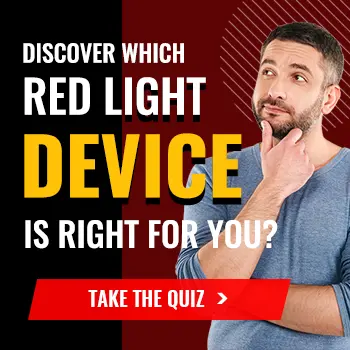 What is HigherDOSE Red Light Face Mask?
The HigherDOSE Red Light Face Mask is a red and infrared light facial mask which promises enriching skin health benefits like healing, smoothing wrinkles and lines, glow, and rejuvenation. It also aims to boost your general mood.
While HigherDOSE Red Light Face Mask may be effective, there are other mask for the same cost which offer added wavelengths and power. However, it got moderately good reviews from customers.
Editor's Rating
HigherDOSE Red Light Face Mask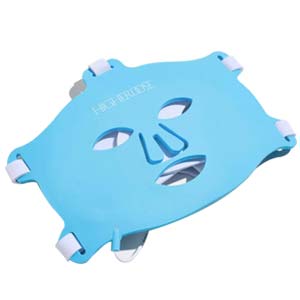 4/5
Quality

3.8/5
User Friendly

3.4/5
Value

3.6/5
Customer Satisfaction
Pros and Cons
Pros
HigherDOSE Red Light Face Mask may promote anti-aging skin benefits,
The mask could rejuvenate the complexion.
It might reduce inflammation and redness.
HigherDOSE Face Mask may make the skin more radiant.
The device could improve mood.
Cons
HigherDOSE Red Light Face Mask only has red and infrared light therapy, no other colors or wavelengths.
The warranty and return policy are not overly lengthy.
The results may vary for different individuals.
Quick Facts and Specs
| | |
| --- | --- |
| Rating: Safety and Quality | |
| Brand | HigherDOSE |
| Product | HigherDOSE Red Light Face Mask |
| Form | LED Light Mask |
| Saftey | FDA Cleared |
| Age | Adults |
| Skin Type | All types |
| Benefit | Ant-aging, glow, rejuvenation, healing |
| Price | $299 |
| Shipping | Free Shipping |
| Return Policy | 30 day returns for unopened products |
| Purchase | Amazon.com |
---
How Does it Work?
The HigherDOSE Red Light Face Mask offers 2 wavelengths of red (630nm) and infrared light therapy (830nm). The laser light delivers photons into the mitochondria of the cells, which helps synthesize higher levels of adenosine triphosphate (ATP).
As ATP provides cellular energy for the entire body, it may offer skin rejuvenation and anti-aging benefits for the skin. A review by Aton M Holzer and Richard D Granstein published in the Journal of Cutanous Medical Surgery examined the research showing the impact of ATP on the skin [1].
Red light penetrates more at the surface level, and it could increase levels of collagen and elastin. This may tighten, lift and smooth wrinkles and lines on the complexion, as we explained in our product review of MZSkin Light-Therapy Mask.
The infrared wavelength penetrates more deeply, offering healing and decreasing inflammation. LED light therapy may also slow melanin production, helping to fade pigmentation and age spots.
A study published in ActaDV by Jeong Mo Kim1, Nan-Hyung Kim, Yu Shun Tian and Ai-Young Lee found that infrared wavelengths of 830 ad 850 am block melanin and help reduce hyperpigmentation on the skin [2]. As we concluded in our article Theralight 360 by our research we examine that it may improve muscle strength and performance.
Expert Opinion
Board certified dermatologist Laura Buford, MD, discussed her perspective on the advantages of red light therapy:
"While more research is needed to understand the full benefits and mechanisms of red light therapy, there is evidence to suggest it may be beneficial in improving certain skin conditions including acne, aging, hair loss, wound care, and sun damage," [3].
In support of Buford's words, a study by BA Russell, et al published in the Journal of Cosmetic and Laser Therapy found that red and infrared laser therapy may promote skin rejuvenation and decrease wrinkles and fine lines [4].
Health Benefits of HigherDOSE Red Light Face Mask
Tighten the Skin and Smooths Wrinkles and Lines
HigherDOSE Red Light Face Mask boosts levels of collagen and elastin which improves skin elasticity, tightens, and smooths wrinkles and fine lines.
It also raises the amount of hyaluronic acid, which hydrates and plumps the complexion for further smoothing of signs of age. As documented in article called Foreo ufo review, which is best in anti-aging skincare.
A study in the Journal of the American Academy of Dermatology confirmed the impact of red and infrared light on heightening levels of collagen, elastin, and HA [5].
Decreases Pigmentation and Improves Tone
LED light, especially at infrared levels, could decrease the production of the pigment melanin in the skin, which helps fade age spots and hyperpigmentation. The HigherDOSE Face Mask may even out skin tone for a more balanced appearance similarly as covered in Trophy skin review.
We also covered professional led light therapy devices which all have been reviewed from exerts and they finalize by considering customer review, benefits, usage, rating, side effects, and many more.
Promotes Glow and Radiance
LED light therapy improves circulation, which watches the flow of nutrients and oxygen to the skin for a more radiant, healthy appearance.
A research review by Glynis Ablon, MD, FAAD in The Journal of Clinical and Aesthetic Dermatology showed the skin rejuvenation benefits of phototherapy with LED lights [6].
Using red and infrared light therapy to support collagen and elasticity, maintaining optimal hydration levels for the skin, as detailed in our article Mitopro 1500. In addition, this treatment smooths fine lines and wrinkles, reduces dryness, and promotes overall skin health
The Evidence Score
Here is our evaluation, based on scientific research, of the potential effectiveness of HigherDOSE Red Light Face Mask for its claimed benefits.
Rejuvenates the Complexion*

4.0/

5

Smooths Wrinkles and Lines*

3.5/

5

Promotes Skin Radiance *

3.7/

5

Improves Mood*

3.2/

5

Reduces Inflammation and Promotes Healing*

3.8/

5
How to Use?
Cleanse your face carefully and dry before placing the mask over your face. The treatment time is a minimum of 10 minutes, 3 times a week. For detailed directions on charging and using the mask, see the user's guide.
Side Effects and Risks
The HigherDOSE Face Mask uses red and infrared light therapy, which research shows is safe, low risk, and should not cause harmful side effects. The product is FDA cleared, and the manufacturing follows strict safety guidelines.
HigherDOSE Red Light Face Mask Before and After
FAQs
Q: Where Can You Buy It?
A: You can purchase HigherDOSE Red Light Face Mask from the official website, and it's also available from a number of other online retailers and stores like Amazon and Nordstrom. On the official site the price of the product is $299, with free shipping.
Q: What is the Return Policy?
A: The manufacturer is offering a 30-day return policy, but only for unopened products. If you want a refund, contact the company for instructions and a shipping label, and send the mask back within 30 days of the purchase.
Q: Who Should Buy It?
A: The HigherDOSE Red Light Face Mask may be suitable for adults of all skin types who want to rejuvenate the health of their complexion and remove signs of age like fine lines and wrinkles.
If you want to learn about this and other LED Face Mask, read our article highlighting the market's best products.
Q: What Sets It Apart From the Competition?
A: There's nothing overly unique about HigherDOSE Red Light Face Mask in terms of wavelengths offered, power, or benefits, but it does have an interesting, funky medical grade silicone design which may be appealing to users and is also cordless.
What is the Customer Feedback?
The HigherDose Mask reviews were fairly good overall, and there were quite a few customers who said they liked the design as well as the results. Not every user got the results they had hoped for, and some said the price was too high.
Here are a few of the customer comments, to give you an impression of what people think of the HigherDOSE Red Light Face Mask.
Like It
Bought the HigherDOSE Mask a couple of months ago and I see a real difference in my skin – wrinkles and lines are much less noticeable, and my complexion is looking really healthy. I give it 4.5 stars.– Lucy F
Lucy F, 59, difference in wrinkles after 2, 4, 6 and 8 weeks using HigherDOSE Face
Cool Design and Works Pretty Well
I like the HigherDOSE LED Mask, and certainly the design is fun. For the price I expected results faster, but after about 7 weeks I finally see a great reduction in my skin tone and reduction of pigmentation. Thanks. – Lily Lucy, 42, improvement in skin tone after 7 weeks using HigherDOSE Red Light Lucy, 42, improvement in skin tone after 7 weeks using HigherDOSE Red Light Face Mask
Not as Effective as Other Mask I've Tried
Skincare is a big passion and hobby of mine, so I have tried a few of the other brands at salons but I chose this one for at home use. I was pretty disappointed as I found some of the others better. Still, it has improved my skin health. – Ashley G.
Quick Comparison Table
Conclusion
The HigherDOSE Red Light Face Mask is a facial treatment device which emits red and infrared wavelengths, promising skin anti-aging, rejuvenation, healing, and radiance. It's a quality product, however, it's a bit pricey considering it only has 2 color wavelengths.
Many of the HigherDOSE Red Light Face Mask reviews were fairly positive, with a number of users quite satisfied with their results. Some sent impressive photos of their before and after, however, there were also customers who preferred other brands or did not get the benefits they expected.
The HigherDOSE Mask is FDA cleared and safely manufactured, and should not lead to any harmful side effects. However, you should check with a dermatologist before beginning any new treatment to make sure it's suitable for you.
We have evaluated and rated Omnilux review in our article on the Leading Market RLT Devices if you want to look at a range of options.