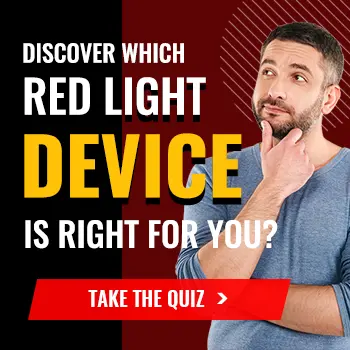 What is Foreo UFO 2?
Foreo UFO 2 is a small, portable device which promises to rejuvenate the skin, smooth wrinkles and lines, shrink the pores, and promote radiance. We highlighted this product in our review of the best at home red light therapy.
It employs several technologies including LED light in 8 possible wavelengths, cooling cryotherapy, heating hyper-infusion technology, and massage.
In addition, you can use the device with one of their enriching masks which promise rich hydration. The Foreo UFO 2 includes a Bluetooth app, and the Foreo app download comes with the purchase of the device.
We covered an article on red light therapy for stretch marks, which benefits in removing marks as well as saggy skin in the body with no side effects and painless treatment.
Editor's Rating
Foreo UFO 2

4.7/5
Quality

4.6/5
User Friendly

4.8/5
Value

4.5/5
Customer Satisfaction
Pros and Cons
Pros
Foreo UFO 2 may smooth wrinkles and fine lines.
This device could revitalize the skin and promote radiance.
The device and masks might hydrate the complexion.
Foreo UFO 2 may shrink the size of the pores.
The device could massage the face to decrease muscle tension.
Cons
The treatment area of the device is very small.
The product packing includes unsustainable plastic.
Except for LED light therapy, there's little scientific support for the technologies in dermatology.
Quick Facts and Specs
| | |
| --- | --- |
| Rating: Safety and Quality | |
| Brand | Foreo Sweden |
| Product | Foreo UFO 2, Masks |
| Form | LED light device with hydrating masks |
| Saftey | FDA Cleared |
| Age | Adults |
| Skin Type | All types |
| Benefit | Hydration, radiance, rejuvenation, anti-aging |
| Ingredients (Masks) | Acai Berry, Green Tea, Honey, Rose Water, Coconut Oil, Oenothera Biennis Flower Extract, Pueraria Lobata Root Extract |
| Price | $299.00 |
| Shipping | Worldwide shipping with cost |
| Return Policy | 14 days for unopened products |
| Purchase | Official Website |
How Does It Work?
The device uses several technologies, including LED laser light in 8 different wavelengths. This works by sending a laser with photons into the mitochondria, increasing levels of adenosine triphosphate (ATP).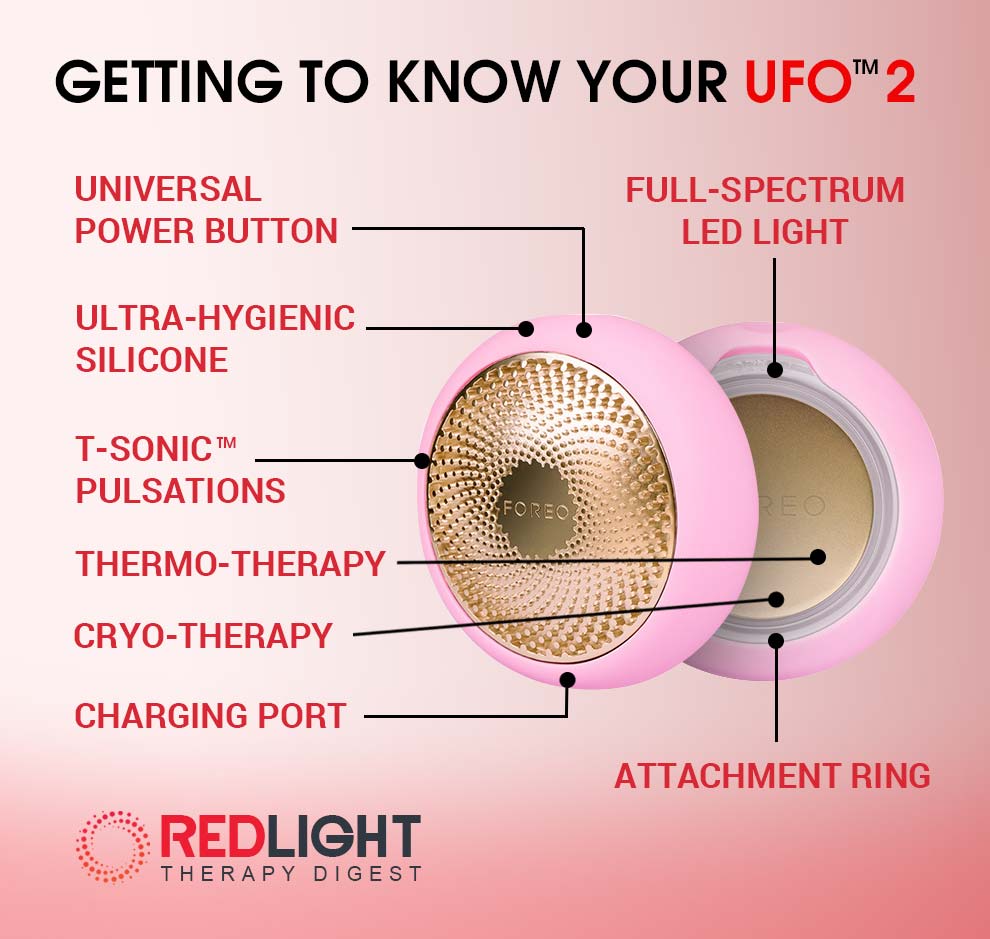 ATP provides the cellular energy for the entire body, and can offer rich skin benefits. Laser light boosts levels of collagen and elastin for tighter skin, better elasticity, and wrinkles and lines with less depth.
A review by Glynis Ablon published in the Journal of Clinical and Aesthetic Dermatology discussed the benefits of LED light therapy for treating dermatological conditions [1].
It may also increase levels of hyaluronic acid, moisturizing the complexion and plumping the further smooth wrinkles, as we described in our product review of Trophyskin.
In more simpler terms, LED light therapy "uses infrared light to achieve different effects on the skin," explains Michele Farber, MD, a board-certified dermatologist based in Philadelphia, PA.
Foreo UFO 2 also uses cryotherapy to cool down the skin, which purportedly helps to firm, reduce signs of age, decrease the size of the pores, and reduce puffiness.
A review of the literature by Adrianna Dzidek and Anna Piotrowska and published in Cosmetics explored the use of cryotherapy in dermatology [2].
The device also has T-Sonic massage, which may stimulate circulation it the skin for improved health, radiance, and detoxing. You can combine massage with hyper-infusion technology, which heats the skin to help absorb the mask ingredients.
The Foreo UFO 2 masks contain hydrating organic ingredients which help plump the complexion, smooth signs of age, refresh, and rejuvenate, as covered in life pro reviews that also work to rejuvenate skin and maintain skin health.
We reviewed bio light therapy which helps to rejuvenate the skin and improves exercise performance as well as heart health. it is safe and doesn't have side effects but this product doesn't FDA approved.
Expert Opinion on Foreo UFO 2
Facialist Teresa Tarmey, who has famous clints like Kate Moss and Sienna Miller, gave her opinion about the benefits of LED light therapy for the complexion:
"A course of treatments offers corrective and long-lasting results, although you'll be able to see a difference after the first session. Light therapy is also particularly calming, so you'll leave feeling refreshed," [3]
A review of the literature by Graeme Ewan Glass, BSc, MB, PhD, FRCS published in Aesthetic Surgery Journal discussed the clinical applications of low-level light therapy [4].
Ingredients in Foreo UFO 2 Masks
Some of the primary active ingredients in the Foreo UFO 2 masks include:
Acai Berry
This is a berry which is rich in antioxidants like vitamins A and C and anti-inflammatory agents, helping to repair skin damage, promote anti-aging benefits, and decrease swelling and redness.
Acai berry is also deeply hydrating and can moisturize, and it gives the skin more volume to help smooth fine lines and wrinkles.
A study by Mi Hyun Kang, Seunghye Choi, and Bae-Hwan Kim published in Toxicology Research concluded that acai berry may have skin wound healing benefits [5].
Green Tea
Green tea has polyphenols, which are powerful antioxidants that repair damage to the skin barrier and boost its immunity. It also improves skin circulation, bringing nutrients and oxygen to the complexion for improved health.
A review by S K Katiyar and N Ahmad, H Mukhtar published in Archives of Dermatology showed that green tea had anti-inflammatory and skin healing benefits [6].
Coconut Oil
This is a rich hydrating oil which moisturizes and plumps the skin for anti-wrinkle benefits. It has anti-inflammatory properties, and may help reduce redness and heal skin conditions.
Coconut oil is also high in antioxidants, which can repair damage to the skin barrier and protect from environmental agents like UV rays.
A study by Sandeep R. Varma published in the Journal of Traditional and Complementary Medicine showed that virgin coconut oil had skin protective and anti-inflammatory benefits [7].
Highlighted Products
The Foreo LUNA 3 is an advanced face-washing cleansing tool that thoroughly cleanses the skin using T-Sonic pulsations and soft silicone bristles. It provides an innovative approach to skincare, leaving you with a fresh and beautiful complexion thanks to its personalized skincare app, long-lasting battery, and gentle yet efficient cleaning action.
The Foreo LUNA 3 puts an end to the practice of cleansing your skin with harsh chemicals and harsh scrubbing. Instead of using harsh, intrusive cleaning techniques, this advanced technology provides a soft, non-invasive, and efficient solution. Your skin will be healthier and more bright if you include the LUNA 3 in your regular skincare routine.
Quick Facts and Specs
| | |
| --- | --- |
| Rating: Safety and Quality | |
| Brand | Foreo Sweden |
| Product | Foreo LUNA 3 |
| Form | Facial Cleansing Device |
| Saftey | FDA Cleared |
| Age | Adults |
| Skin Type | All types |
| Benefit | Pain-Free, Fights Acne, Pimples, Blemishes, Inflammation, Dark Spots, and Clogged Pores. |
| Price | $ 279 |
| Shipping | Worldwide Shipping with Cost |
| Return Policy | 14 Days for Unopened Products |
| Purchase | Official Website |
---
The Foreo ESPADA is an innovative acne treatment tool that combines T-Sonic pulsations with blue LED light therapy to target and eliminate acne-causing germs at their source. The T-Sonic pulsations help to unclog and cleanse the skin while the blue LED light penetrates deeply into the pores, minimizing the visibility of breakouts and preventing future ones. This non-invasive, chemical-free treatment offers a kind but powerful means of achieving brighter, healthier skin.
It combines mobility and simplicity of use with Foreo ESPADA's clever design. The portable, rechargeable device is useful for treating acne anywhere. It also has an integrated timer that ensures the accuracy and effectiveness of every treatment.
Quick Facts and Specs
| | |
| --- | --- |
| Rating: Safety and Quality | |
| Brand | Foreo Sweden |
| Product | Foreo ESPADA |
| Form | Acne Treatment Device |
| Saftey | FDA Cleared |
| Age | Adults |
| Skin Type | Acne-Prone Skin. |
| Benefit | Eliminate Existing Spots, Redness, Blemishes & Inflammation. |
| Price | $ 169 |
| Shipping | Worldwide Shipping with Cost |
| Return Policy | 14 Days for Unopened Products |
| Purchase | Official Website |
---
How to Use Foreo UFO 2?
When your device arrives, unlock it and then download the Bluetooth app from the website. Before using the product, cleanse your face and dry thoroughly. Clip the UFO activated mask onto the product using the attachment ring.
If you are using a sheet mask place it carefully over your face first and smooth it carefully. Choose your treatment time, which is either 90 seconds or 2 minutes. You can reset and use on all the treatment areas you want to rejuvenate.
After your session, remove the mask and throw it away. Pat your complexion gently to remove any excess product. You may use other skincare like moisturizer after the treatment.
GP Dr Raj Arora from The Face Bible Clinic says: "T-Sonic™ pulsations create gentle movement on the surface of the skin. This allows for efficient yet gentle exfoliation which means that the skin's most outer layer responds better to any serums or skincare products applied," she also adds "The pulsations themselves help distribute serums consistently across the skin surface too. They may also help with deeper penetration of skincare products into the epidermis (top layer of the skin) – ensuring that you get the best out of your skincare products!"
We also covered the tendlite review which helps in revealing joint as well as muscle pain and also helps in improving workout energy and the best part is it is very easy to use and it has no side effects.
Side Effects and Risks
The technologies the Foreo UFO 2 employs are all safe and do not have significant risks associated with them in this type of product. While there should not be side effects, if you do experience symptoms stop using the product.
The Foreo UFO 2 is FDA cleared and the manufacturer follows strict safety guidelines in manufacturing and testing the devices. As we discussed in our review of another red light therapy called light stim reviews, there have been several research studies made to find the best device for rejuvenating skin and bone health.
FAQs
Q: Where Can You Buy It?
A: Foreo UFO 2 is for sale on the official website, and you can also buy it from a number of other online and offline retailers like Amazon, Sephora, and Nordstrom.
The price of the device itself is $217, and you can download the Bluetooth app for free. You have to purchase the masks separately, and the price is $15.
Q: What is the Return Policy?
A: The manufacturer is offering a 14-day return policy for Foreo UFO 2, but only unopened items are eligible.
If you want a refund, contact the company for instructions and then send the order back within 14 days of the delivery date. There is also a 2 year warranty on this product.
Q: Is Foreo UFO 2 Worth It?
A: Whether the Foreo UFO 2 device is worth it varies for individual users, according to the customer reviews. Some may find it expensive with the use of the masks as an added cost.
As for the technology, LED light therapy has a lot of research support for its skin benefits while the heat and cryotherapy have somewhat less.
Q: What Sets It Apart From the Competition?
A: The Foreo UFO 2 is quite unique in the market as it combines several technologies in one device, as well as a hydrating facemask. It's also attractive and lightweight.
However, the added technologies do not necessary mean it is more effective than other LED devices on the market.
What is the Customer Feedback?
The Foreo UFO 2 review feedback varied from user to user, but there were a number of customers who said they enjoyed the device and got effective skin rejuvenation and anti-aging results.
There were others who said the results were not powerful enough, or that it was too costly having to reorder masks all the time. These are some of the users comments, to give you an impression of the general feedback for Foreo UFO 2.
Love This
I love my Foreo UFO 2, and the masks are so refreshing and rejuvenating. My skin looks so much clearer and smoother after a couple of months of use, and it really got rid of most of the lines around my eyes. Thanks!– Yael
Yael, 62, significant reduction in eye wrinkles after 8 weeks with Foreo UFO 2
Treatment Area is Too Small
The device is annoying in that you have to reset it over and over again to get results for your whole face. The treatment area is too small, and I don't really have the patience for this. – Genny D.
Pretty Good, Love The Masks
I am enjoying Foreo UFO 2 and the hydrating mask selection. I have been using it for about 6 weeks now, and my skin is clear, tone is much better, and it looks generally healthier. Good product. – Lin K.
Lin K, 32, skin clarity after 6 weeks of using Foreo UFO 2
Quick Comparison Table
| Name | Foreo UFO 2 | Solawave Advanced Skincare Wand | Red Light Man Red Light Device Mini | Novaalab Extra Strength Laser |
| --- | --- | --- | --- | --- |
| Rating | | | | |
| Price | $217 + $15 each for sheet masks | $149 | $149; $181 with Renew Serum | $299 |
| Technology | LED light therapy, cryotherapy, facial massage, hyper-infusion technology | Red light therapy, microcurrents, facial massage, therapeutic heat | Red light therapy | Red and infrared light therapy |
| Benefits | Anti-aging, hydration, soothing, radiance, rejuvenation | Anti-aging, rejuvenation, dark circles, hyperpigmentation | Anti-aging, rejuvenation, healing wounds | Anti-aging, rejuvenation, healing wounds and acne |
| Treatment Time | 90 seconds – 2 minutes per area | 5 minutes minimum | 10 minutes | 5 minutes |
| Safety | FDA Cleared | FDA-Cleared and Esthetician Approved | FDA-Cleared | FDA-Cleared |
The Evidence Score
Here is our evaluation, based on scientific research, of the potential effectiveness of Foreo UFO 2 for its claimed benefits.
Smooths Wrinkles and Fine Lines*

4.3/

5

Promotes Radiant Skin *

4.8/

5

Shrinks the Pores*

4.2/

5

Hydrates the Complexion*

4.9/

5

Reduces Muscle Tension*

4.6/

5
Conclusion
Foreo UFO 2 is a light, portable device which includes LED laser therapy, cryotherapy, hyper-infusion technology, facial massage, and hydrating masks all in one product. It promises anti-aging, healing, and skin rejuvenation benefits, but it does have a very small treatment area. We covered Revive light therapy which tightens the skin, improves elasticity, and smooths wrinkles and lines.
The Foreo UFO 2 review posts offered different opinions about the device. Some users loved the product, and said it really improved their skin health and took years off of their appearance. Others found it costly, or did not get the results that they anticipated.
Foreo UFO 2 is an FDA cleared product which is safely manufactured and should not lead to serious side effects. However, make sure all of the mask ingredients are suitable for you, and if you experience any unpleasant symptoms stop using the device immediately.
Have a look at some of the other LED light therapy facial devices in our article about the light therapy mask on the market today.