Overview: Red Light Therapy For Cellulite and Stretch Marks
Red light therapy benefits the skin in numerous ways, including the reduction of cellulite on key areas of the body like the arms, legs, thighs, and buttocks, and fading the appearance of stretch marks due to weight loss or pregnancy.
Light therapy can repair skin damage, decrease inflammation, and break down fat cells under the skin to eliminate cellulite. In addition, board certified dermatologist Nina Desai explains:
Because of the way red light therapy improves cellular function, studies show it can increase the production of collagen and elastin in the skin, which helps with tone and texture, as well as fine lines and wrinkles [1].

The proteins also help to smooth stretch marks, as well as dimples and pocket markets linked to cellulite. Let's look at how red light therapy for cellulite and stretch marks works to achieve these benefits in more detail.
How Does Red Light Therapy for Stretch Marks & Cellulite Work?
1. Promotes Cellular Energy
Red light therapy sends photons deep into the mitochondria of the cells to stimulate higher levels of ATP, as we explained in our review of Vital Red Light.. ATP provides energy to all of the cells, which promotes healing and repair to areas with cellulite and stretch marks.
A review published in the Journal of Cutaneous Medical Surgery by Aton M Holzer and Richard D Granstein found that the research supports the benefits of ATP in reducing inflammation, repairing, and regenerating skin tissue [2].
2. Boosts Collagen and Elastin Levels
On a surface level, the laser light stimulates the production of collagen and elastin to tighten the skin, improve elasticity, and smooth the dimples and pocket marks associated with cellulite. It also boosts moisture levels by increasing levels of hyaluronic acid, which plumps the skin to further smooth the surface.
When it comes to red light therapy and stretch marks, the process is similar. The newly tightened and plumped skin helps to decrease the appearance of these lines for a smoother, surface.
A review by Uwe Wollina, MD and Alberto Goldman published in the Journal of Cutaneous and Aesthetic Surgery found that treatment with red light therapy improved the appearance of stretch marks [3].
3. Improves Circulation and Fat Breakdown
When it comes to cellulite, infrared or combined red and infrared light improves blood flow, which helps to break down the fat cells that led to the issue. The light also repairs the damage deep under the skin.
According to nushape lipo wrap results, it has been claimed that it benefits stubborn belly fat, improves cellulite, also promotes muscle recovery, performance, and muscle growth.
A controlled clinical trial published in the Journal of Cosmetic Laser Therapy by Fernanda Rossi Paolillo, et al showed that infrared light administered during treadmill training had a positive impact on decreasing cellulite [4].
4. Reduces Inflammation
In particular stretch marks can lead to inflammation related to the process of tissue regeneration. As we discussed in our article on Red Light Therapy and Rosacea, light treatment for stretch marks can effectively reduce swelling and redness. While this may not eliminate the stretch marks, it can greatly improve their appearance and help the healing process.
We also covered one article called hooga health which focuses on hair growth, signs of aging, pain, and swelling, and improves mood and brain health.
5. Draws Stem Cells
Evidence suggests that red light therapy has the ability to draw stem cells to the area where the cellulite or stretch marks appear, helping to repair damaged tissue and rejuvenate the cells. By replacing damaged cells with new ones, they help fade the marks on the skin for a renewed, smoother appearance.
LED Colors: Does Red Light Therapy Help Cellulite?
When it comes to primarily surface level issues like stretch marks and the dimples and blemishes associated with cellulite, red light is best. It stimulates collagen and elastin production to firm the skin, improve elasticity, and reduce the appearance of cellulite.
It also boosts hydration to plump the skin, further decreasing cellulite, stretch marks, wrinkles, and fine lines. A study in the Journal of the American Academy of Dermatology confirmed these benefits [5].
With the cellulite under the skin, red light may not penetrate deeply enough on its own to break down the fat cells. NIR Infrared wavelengths up to 830nm are likely more effective, and ideally you should use a combination of red and infrared light.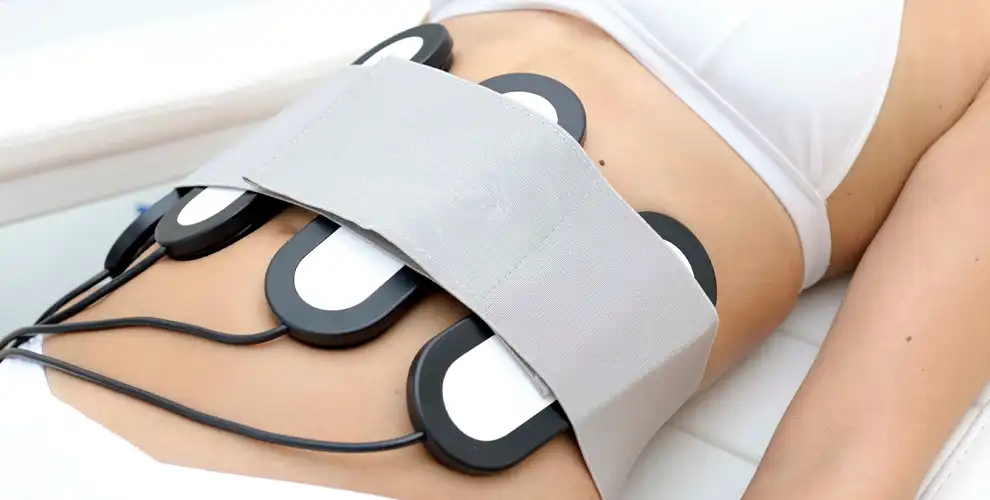 Is Red Light Therapy Safe for the Skin?
Red light therapy is a safe technology as demonstrated by a number of studies, if you follow the proper guidelines for treatment time, frequency, and distance from the panel.
While infrared light above 830nm is not ideal for the skin and could cause burns, other color wavelengths are well-tolerated and have few associated risks or side effects.
Dermatologist and professor Deanne Mraz Robinson, MD, FAAD discussed the devices and their potential risks, saying, "the light does not contain any UV rays, so they are safe [6]."
FAQs
Q: How Long Does it Take For Red Light Therapy to Reduce Stretch Marks and Cellulite?
A: Red light therapy will not decrease cellulite and stretch marks immediately, as it takes time and multiple treatments over a few weeks or possibly longer. There's no set answer to this question, because the results will vary for different individuals depending on skin type and the seriousness of the issues.
Q: How Much Is Red Light Therapy For Stretch Marks and Cellulite?
A: There are a wide range of devices on the market which deliver LED light therapy, at different prices. The best product is a full body panel for even treatment all over the body.
If you want to reduce your costs, you can also use a smaller panel for targeted treatment of stretch marks and cellulite, although total treatment time may be longer if you use the device in multiple areas.
Q: Does Infrared Light Help With Cellulite?
A: NIR infrared light up to about 830nm is very effective at penetrating deep into the skin, destroying the fat cells that are at the root of cellulite development.
It's an ideal treatment when combined with red light, which is best at stimulating collagen and elastin production, helping to tighten the skin and smooth the cellulite dimples and pocket marks on the surface.
Q: Can LED Light Get Rid of Stretch Marks?
A: Does red light therapy improve stretch marks? Yes, it does. The best LED light for stretch marks is red, as it boosts collagen and elastin production to tighten the skin, improve elasticity, and smooth the surface to decrease their appearance.
The LED light can increase hydration, which plumps the skin to further smooth the lines. It also draws stem cells, which can replace existing cells and repair damage to the marks. In addition, red light can also reduce inflammation in the area.
Q: What is the Best Device for Reducing Stretch Marks and Cellulite?
A: When it comes to devices, the best LED light for stretch marks and cellulite is a full body panel, or you may opt for a smaller panel which provides targeted treatments to the relevant areas. This may require multiple sessions if the issues span several parts of your body.
Conclusion
LED light therapy has a lot to offer in terms of skin benefits, including fading stretch marks and reducing cellulite in different areas of the body. It effectively boosts collagen production to tighten and smooth the skin, regenerates skin cells, decreases inflammation, breaks down the fat cells under cellulite, and repairs damage to the skin barrier.
Reading through the reviews for some of the leading red light therapy manufacturers, numerous customers described highly effective results in just a few weeks with cellulite and stretch marks rapidly fading. In particular to users who had tried many other methods unsuccessfully were very happy with the red light therapy before and after.
If you have cellulite you want to get rid of, or are left with stretch marks after a pregnancy or weight loss, consider purchasing one of our top devices to treat the problem. It may be one of the best investments you've ever made!
We reviewed the best professional led light therapy machine, which is examined and researched by our top experts with their performance and efficiency they introduce the best devices for skincare for stretch marks and cellulite.