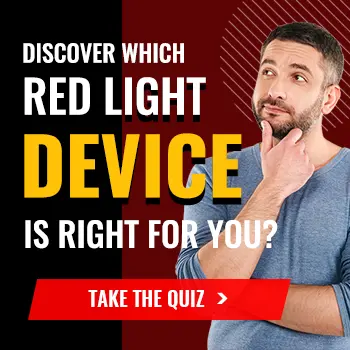 Light therapy is an emerging, non-invasive, innovative treatment that offers alternative options for treating and managing pain skin conditions and supporting healing and recovery. With the light therapy trend attracting the attention of many, brands have made it their job to flood the markets with light therapy products. Hence, one needs clarification about what product or brand to choose.
In a Havard Health article, Dr. Schwartz explains the benefits of light therapy, saying, "Beyond setting our circadian clock, light exposure also seems to affect higher-functioning areas of the brain,"
This review dives deep into one of the light therapy brands, USUIE. We shall take you through all the brand offers and whether it is worth your coins. We will also get into the brand's products and customer reviews to help you gauge if this is the brand for you.
Overview
USUIE is a brand dedicated to helping you live your best life and be your best self through light therapy devices. Their devices have specific wavelengths that deal with stubborn body issues such as pain and discomfort.
It prides itself in offering you medical grade and FDA-approved devices that are safe for home treatment plans, saving you both time and money that you'd have otherwise spent on clinic or spa treatments to achieve the same results.

How Does It Rate?
Editor's Rating
USUIE Devices

4.5/5
Effectiveness

4.5/5
Return Policy

4.3/5
Value For Cost

4.4/5
Safety
Pros
USUIE devices are portable and can be used in the comfort of your home.
The brand utilizes simple and ergonomic designs to give customers maximum comfort.
The devices are cheaper compared to other light therapy devices in the market.
USUIE products are tailored to meet specific needs and fit particular body parts.
Their devices offer safe and non-invasive treatment for various conditions.
Cons
USUIE may not be available in countries outside the US and Canada.
Brand Highlights
USUIE is a brand that promotes health and wellness through its light therapy technology.
It uses FDA Class II verified and clinically proven wavelengths for safety purposes.
Their devices are safe for home use and can be used without expert supervision.
USUIE offers a 60-day return policy for all their devices.
Key Features
Near Infrared light.
Red light.
Medical grade LED lights.
Portable design.
Input and output power channels.
About USUIE Brand
USUIE is a light therapy brand based in Hong Kong with vast markets in the USA, Canada, and Hong Kong. Allen and Gim are the founders of USUIE, who envisioned a better world through innovative therapeutic light technology.
USUIE offers light therapy solutions for various conditions such as anti-inflammatory, pain, and skin issues. The brand works with experts and doctors with extensive knowledge of health and wellness matters to ensure that the products meet individual needs.
USUIE has a team of around 40 R&D experts that ensures the products are designed and produced with the user in mind. Therefore, customizing products according to unique customer needs. The brand has also partnered with Dr. Judson Wall, who specializes in dental care and designs products that are great for oral hygiene.
USUIE Devices And How They Work
The brand has a range of light therapy devices that deal with various health and wellness issues. The brand has devices under several categories:
We've compiled the bestselling light devices under the categories mentioned above as follows:
This portable near-infrared red light therapy flashlight suits individuals seeking deeper and faster healing experiences. The device offers targeted treatment by emitting red light penetrating the skin up to 2 inches deep. The deep treatment supports the recovery of muscles, tissues, joints, and skin within the shortest time possible.
The beauty of the USUIE Handheld Redlight Therapy device is it can be used within five minutes maximum and still delivers excellent results. A study shows that infrared light therapy effectively manages and treats pain by helping the cells regenerate themselves.
Features: 181m/w cm, output up to 2 inches, 66onm red, and 850 near-infrared wavelengths.
Cost: $159.00
---
This ergonomic traction pillow combines the power of red light therapy and a dual treatment plan design that stretches and aligns the neck, improving blood circulation and supporting neck health. The device emits red light wavelengths, which helps repair and neck recovery.
This device also helps improve posture by aligning the neck and suppressing stiffness. The traction pillow also stimulates the Dazhui acupoint, which supports and enhances spine function and stability. The device can be used for 10 to 20 minutes daily, so you don't need to use the device for long.
Features: Medical grade LED, ergonomic body, three-level temperature control.
Cost: $99.00
---
This portable, wearable light therapy pad relieves joint pain, muscle aches, and stiffness associated with arthritis and body inflammation. The pad is flexible and comfortable enough for anyone. It also offers heat therapy and deep tissue penetration, stimulating cells, muscles, and tissues and promoting quick recovery and healing.
You can use the device anywhere at any time for a maximum of twenty minutes daily to see effective results. Research shows effective light therapy for about 20 minutes daily can improve osteoarthritis and other knee and joint-related pain.
We found a Havard Health article that focused on the effects of light therapy in cell stimulation and other benefits like deep tissue penetration, which is ideal for quick recovery.
---
Benefits
USUIE light therapy devices have several health and wellness benefits, including:
Relieving neck, hand, joint, and knee pains.
Managing arthritis and osteoarthritis pain and stiffness.
Minimizing signs of aging such as wrinkles and fine lines.
Promoting good posture.
Improving skin texture.
How To Use USUIE Devices
We found that different devices have different instructions for use. Therefore, checking out the product manual before purchasing any device is crucial. You can also head to the official site to check out specific instructions on devices of your choice.
Side Effects of USUIE Devices
According to the manufacturer, you won't experience any adverse side effects if you wear protective gear with the devices. However, there have been claims that long-term use of light devices may cause skin sensitivity, eye problems, and burns.
"The long-term safety of these light therapies remains uncertain," says Dr. Marissa Heller, an assistant professor of dermatology at Harvard Medical School.
Review By Customers
USUIE has received mixed customer feedback. Some customers have a positive experience, while some have a negative experience with the brand's devices. We have highlighted a few for you:
I had heard so much about the USUIE infrared therapy device. I was skeptical at first, but as I used the device, it proved to be a good product, except when you fasten the strap to hold it in place. The wrap is definitely smaller than what I would have liked, but it works well. Bree
The USUIE Hand Pain Relief Glove device is an incredible product that has helped relieve hand pain and stiffness. It has also minimized signs of aging on my hands, such as shrinkage and wrinkles. I feel and look much better. I'll keep using the device to see the long-term results. Gael
I've been using USUIE for a month and haven't seen any improvement in my joint pains. I thought the red light therapy device would give me some relief and comfort, but I haven't gotten any of that. I am disappointed because the brand promises to deliver the best results. I don't think I would purchase any other light therapy device from this brand. Jeff
Frequently Asked Questions
Is USUIE Legit?
A: reputation with its customers. Most of them have a good experience with the brand, with only a few cases of dissatisfied customers. Also, USUIE devices use clinically proven wavelengths and are FDA-verified. Therefore, the brand is legit.
Where To Buy USUIE Devices?
Is USUIE Safe?
A: We checked out USUIE's safety by going through customer reviews and online ratings, which revealed that USUIE is safe and their products don't cause any damage if used according to the manufacturer's instructions.
Does USUIE Offer a Refund And Return Policy?
A: The brand has a 60-day return policy and allows refunds after verification and approval. For more information, kindly check out the full details regarding refunds and returns.
When Will I See The Results?
A: Results vary from person to person. However, the manufacturer claims you may start seeing results between two weeks and a month of device use, depending on your condition.
Conclusion
There's been a surge of light therapy devices marketed by different brands daily. That may have left many confused about what brand to pick and whether or not its devices are effective. The best advice anyone can give you when sourcing for a light therapy device is to take your time and compare brands thoroughly.
Luckily, this review has made your work easier by diving into one of the brands. After reviewing the customer feedback and ratings, we are skeptical about USUIE's effectiveness. Some customers are satisfied with their purchases, while others are disappointed. Hence, we can't fully vouch for the brand. We'd recommend you do your due diligence before investing in their light therapy devices.
We also cover the Healthy Wave Review, Its products effectively work on muscle stiffness, pain, inflammation, and overall health.