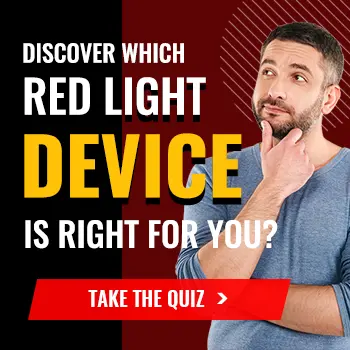 What is The Light Salon Boost LED Mask?
The Light Salon Boost LED Mask is one of your options if you're looking for a red-infrared laser light facial device which promises to boost skin health, remove signs of age like wrinkles, rejuvenate the cells, and heal skin conditions. This FDA cleared device got moderately good reviews, but is somewhat expensive for the market.
Editor's Rating
Light Salon Boost LED Mask

4.8/5
Quality

4.7/5
User Friendly

4.5/5
Value

4.6/5
Customer Satisfaction
Pros and Cons
Pros
The Light Salon Boost LED Mask may smooth wrinkles and fine lines.
This mask could speed up healing after surgery.
It might promote the rejuvenation of skin cells.
The Light Salon Mask might heal skin conditions like rosacea.
The manufacturer promises visible results in 4 weeks.
Cons
It's more expensive than some similar brands.
The manufacturer only has a limited 14-day return policy.
It's not suitable for children under 16 years old.
Expert Opinion on The Light Salon Boost LED Mask
According to esthetician Angela Caglia, "Light therapy was originally developed by NASA for healing wounds in space.
US Navy Seals in the 1990s began using it, and shortly thereafter aestheticians brought it to their treatment rooms, inspired by the clinical data that proved LED to help with not just skin repair, but to stimulate collagen, fade age spots, and decrease inflammation and acne too." [3].
Research published in the Journal of the American Academy of Dermatology confirmed that a combination of red and near-infrared light boosts production of collagen, elastin, and hyaluronic acid [4].
How Does it Work?
The Light Salon Boost LED Mask offers 2 wavelengths, which are 633nm (red light) and 830m (infrared light). The laser penetrates the skin, activating the mitochondria in the cells to produce more ATP (adenosine triphosphate). This provides energy to all of the body's cells.
A review by Aton M Holzer and Richard D Granstein in the Journal of Cutaneous Medical Surgery discussed the role and impact of ATP in the human skin [1].
Red light penetrates on a more surface level, and the infrared light goes deeper for richer healing benefits. The result may be rejuvenation of the skin cells, as well as the production of added collagen and elastin to tighten the skin, improve elasticity, and smooth wrinkles and lines.
These wavelengths may repair damage, decrease inflammation and redness, and heal skin conditions. A review by Lajos Kemény et al published in Expert Review of Clinical Immunology examined the effects of phototherapy for psoriasis and atopic dermatitis [2].
As the derma mask reviews have positive responses for reducing wrinkles and lines, also healds skin conditions, and rejuvenates skin cells. it also does not have side effects and is risk-free.
Health Benefits of The Light Salon Boost LED Mask
Smoothing Wrinkles and Lines
Laser light therapy, especially combined red and infrared light, enhances collagen and elastin production for tighter, more elastic skin. This may reduce the depth of wrinkles and fine lines. LED light also increases hydration in the skin, making it plumper and eliminating signs of age.
Research conducted by Alexander Wunsch and Karsten Matuschka in Photomedicine and Laser Surgery found that regular red and infrared light therapy helps smooth wrinkles and fine lines. As per skin gym wrinklit led mask reviews help to improve anti-aging skin issues and also acne and acne breakouts [5].
Healing Skin Conditions
Red and infrared light can reduce inflammation in the skin, decreasing redness and helping to heal skin conditions. LED light therapy for eczema, particularly utilizing the infrared wavelength, has the capability to penetrate deep beneath the skin's surface. The red light for psoriasis holds the potential to repair the damage without any side effects and also helps to alleviate symptoms associated with eczema.
Infrared therapy can help to relieve pain by increasing blood flow to the affected area, as we have the best red light therapy, which can help to reduce inflammation and promote healing.
A review by Ping Zhang2 and Mei X. Wu published in Lasers in Medical Science discussed the impact of phototherapy in treating psoriasis [6].
Rejuvenates the Skin Cells
Besides its deep healing and anti-aging benefits, red and infrared light promotes the regeneration of new, fresh skin cells for a revitalized complexion. In addition, it improves circulation, for glowing, healthy skin.
An article by Pinar Avci et al in Seminars in Cutaneous Medicine and Surgery discussed the healing, stimulating, and restorative benefits of low level laser therapy for the skin [7].
We reviewed foreo ufo light therapy, the red light therapy benefits skin aging, swelling, and redness and has protective and anti-inflammatory benefits that help in improving skin circulation.
The Evidence Score
Here is our evaluation, based on scientific research, of the potential effectiveness of The Light Salon Boost LED Mask for its claimed benefits.
Smooth wrinkles and lines*

4.8/

5

Prevents Acne*

4.6/

5

Boosts Mood and Brain Power*

4.7/

5

Enriches Skin and Reduces Aging*

4.2/

5

Reduces scarring*

4.3/

5
How to Use It?
The manufacturer recommends that you use the device 3-5 days a week for 10 minutes each time. Cleanse and dry your skin and place the mask over your face. Use the adjustable straps to properly secure the device. Then attach the controller and relax for 10 minutes. At the end of the treatment time, the device automatically shuts off.
Side Effects and Risks
This is an FDA-cleared device which undergoes a rigid manufacturing process and significant testing. The devices are safe, and generally speaking the research shows that they're low in risk and potential side effects.
We covered Nuface dermatologist review which helps reduce wrinkles and fine lines, inflammation, and smoothing skin.
FAQs
Q: Where Can You Buy It?
A: You can purchase The Light Salon Boost LED Mask from the manufacturer's Official Website, and it's also for sale from several other online retailers and some department stores and spas. On the Official Website, the price is $475, and they offer free shipping for purchases over $250.
Q: What is the Return Policy?
A: The manufacturer has a 14 day return policy, but only for unused products. If you regret your purchase, contact the manufacturer and send it back in the original packaging for inspection within 2 weeks of the purchase.
If the product is in new condition, you should get a full refund. In addition, the company has a 2 year warranty on the device.
Q: Is It Worth It?
A: The Light Salon Boost LED Mask offers red and infrared light treatment for the skin, and it should have anti-aging and skin rejuvenation benefits which will vary depending on the user.
There are less costly brands on the market which have more wavelengths and color options available, however. Based on The Light Salon Led Mask reviews, some found it worth the cost while others did not.
Q: What Sets It Apart From the Competition?
A: The Light Salon Mask is a quality red and infrared facial mask, however, there's nothing particular about it which makes it unique from other masks – except for maybe the funky, fun design.
What is the Customer Feedback?
The Light Salon LED Mask reviews were moderately positive, but offered different opinions on their experience. For some users, the mask revitalized their skin health and eliminated signs of age like wrinkles in only a few weeks.
Others said it took much longer than promised to see real results, and they expected more for the price. Here are a selection of comments, to give you a general impression of the customer experience:
Not Bad, But Expected Results Sooner
After about 6 weeks of use I can certainly see that my skin is in better shape, but I was expecting my wrinkles and fine lines to be less prominent by now. There is some difference, but it's still minimal. Will keep using and see what happens. – Lauren K.
The Light Salon Boost LED Mask: Overrated
While it's a good mask, I do feel that it's overpriced and somewhat overrated. There are less expensive brands which offer more color options and benefits. I do see a difference in my skin and the wrinkles have less depth. But I expected more for the price. – Yara F.
Love This Mask!
The Light Salon Boost LED Mask was a great purchase! Have been using it regularly for a few weeks and I love the improvement in my skin health, the reduction in wrinkles and fine lines, and the enhancement in tone and texture. – Violet G.
Violet G: Image After The Light Salon Boost LED Mask
Violet G, 67, after 4 weeks of regular treatment with The Light Salon Mask
Conclusion
The Light Salon Mask is a facial mask employing wavelengths of red and infrared light which promise to rejuvenate the skin, fade signs of age like wrinkles and lines, heal wounds and skin conditions, and promote a more youthful appearance. On the down side, the device is costly and has a poor return policy.
The Light Salon Boost Led Face Mask reviews varied in their experience with this product. There were a number of customers who said it worked very well for them, giving them visible benefits within a few weeks. Others said they expected more, and questioned whether it was worth the high price.
The Light Salon Boost LED Mask is an FDA cleared device which is safely manufactured and undergoes rigorous
testing. You should not experience side effects, but if you have any symptoms stop using the product and see a physician. You should get medical approval from a dermatologist before beginning treatment.
Check out the reviews of solawave, it also gives effective results with no side effects and is risk-free and promotes skin healing.