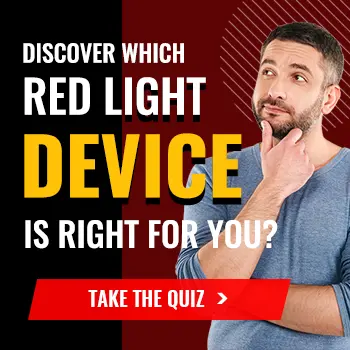 Winter season and winter blues always seem to go hand in hand, and you or someone you know must have most likely gone through this condition. It is a common condition that results in a shift of mood, circadian rhythm, sleep pattern, and other changes.
If you continue feeling these changes for an extended period, you should consult your doctor, who will most likely determine the condition as Seasonal Affective Disorder (SAD).
Once a doctor ascertains the symptoms you have to be similar to those of SAD, they will prescribe a course of treatment, which will most likely include light therapy. These treatment sessions are possible through light therapy devices emitting rays similar to the sun.
In this article, we shall get into the world of light therapy by looking at the Verilux light therapy devices, which are said to help you regain your happiness through their "HappyLights" devices that emit sun-like rays.
About The Brand
Verilux was founded five decades ago in Waitsfield, Vermont, to manufacture and produce light therapy devices. Through their devices, the company claims to provide its customers with healthy and happy lighting solutions that mimic the sun's rays.
They have an array of LED light therapy devices and table/floor lamps that will positively impact your life. Through their light box therapy devices, they believe they can bring sunlight into your home, helping you manage SAD and winter blues.

Editor's Rating
Verilux Happy Light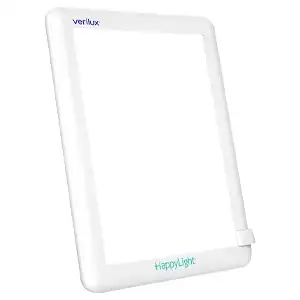 4.9/5
Quality

4.8/5
User Friendly

4.5/5
Value

4.8/5
Customer Satisfaction
Pros
Their light therapy devices are UV-free
Verilux HappyLight devices are compact, hence not taking up much space once they are set up
The devices have long-lasting LED technology
Devices provide full spectrum
Their devices are easy to use
All their devices are portable
Cons
Some of the Verilux HappyLight devices have two settings only (on/off)
Compared to other light therapy devices, they might not be powerful
How it Rates
| | |
| --- | --- |
| Overall rating | |
| Ease of use | |
| Weight | |
| Brightness | |
| Power output | |
| Portability | |
| Cost | |
| Comfort | |
Benefits
Verilux believes that natural sunlight is essential and crucial to your overall well-being. Due to seasonal changes or other circumstances, getting sunlight throughout might be impossible, but their HappyLight devices can provide alternative sources of healthy light.
Using the Verilux device, you can enjoy and expose yourself to sun-like rays, contributing to a healthier, happier life without exposure to UV rays. These benefits are:
It improves your circadian rhythm
It improves your sleep cycle
It helps boost your mood
It positively affects your productivity and energy levels
Side Effects
With a light intensity of 10,000 lux and full spectrum LED lights, Verilux light therapy devices are safe. The rays they produce are not harmful, and the treatment sessions are non-invasive but still effective.
During the first days of using the light therapy devices, you might experience mild headaches, nausea, or tiredness, but as you get used to the treatment sessions, these side effects disappear within a few days.
Verilux Happy Light Devices
Overview of the product: It is a portable light therapy device with harmless rays to boost your mood and improve your sleep cycle. The therapy lamp has 10,000 lux lights and 72 LED lights.
How does it work: with a lux intensity of 10,000, which is touted as popular due to its effectiveness, the HappyLight device produces rays similar to those produced by the sun.
These lights will trigger your brain to produce serotonin and melatonin, making you feel and sleep better.
How to use: Before you start using the light therapy device, you should undergo a diagnosis to determine if you are suffering from SAD; once you get the confirmation from your doctor, you can go ahead and use the device.
The VT22 has a power cord and adapter that needs to be connected to an outlet to power it. Once connected, you switch it on with the on/off button and place it on the stand in your preferred position.
The recommended duration of the therapy sessions is 30 minutes, preferably in the morning. When using the unit, you should avoid looking directly into it but instead sit next to it, allowing your skin to absorb the rays.
Additionally, this device has a 3-year warranty and a 100% satisfaction guarantee.
Benefits: The HappyLight helps improve your circadian rhythm and mood by emitting rays similar to the rising sun. It also helps boost energy levels and productivity.
Price: $39.99
---
Overview of the product: It is a small light therapy device with a sunrise-inspired shape with 4 brightness and 3 temperature settings. With this, you can use a timer that counts down for one hour and set it to ring or signal after every 10 minutes within that hour.
How does it work: Once the VT52 is plugged into a power source, it brings "sunlight" into your home with its 10,000 lux light and full spectrum LED.
Size: 6.7 inches tall, 7.4 inches wide, and 3.2 inches deep.
Weight: 11 pounds.
It has a built-in stand with a timer.
It comes with a power adapter that works with 120 volts AC.
How to use: Sessions with this particular device should ideally last 30 minutes, and with different settings, you can readjust it to your preferred temperature and brightness level.
Benefits: It is known to help with things like making you sleep better, making you feel happier, giving you more energy and helping you concentrate better.
Price: $49.99
---
Overview of the product: It is an affordable light therapy device, making it an excellent option for someone new to light therapy. The VT10 has few buttons to change settings or a timer but only has one control to switch it on/off.
How does it work?: It comes with a 26-watt bulb, providing full-spectrum light combined with a 10,000 lux intensity, helping elevate your mood and alleviate symptoms of SAD.
How to use: Once the device is switched on, you position it on a flat surface without facing it directly with your eyes. The treatment sessions should be done at a distance of 6 inches from the device, with each session lasting 30 minutes.
Benefits: The VT10 light therapy lamp helps you go through the motions of winter blues and manage SAD symptoms.
Price: $29.99
Most of the HappyLight devices perform similar functions but have different specifications and retail at different prices. In the table below, we shall look at a few of them and compare them:
DEVICE
PRICE
SPECS AND FEATURES
HappyLight Luxe VT43
$69.99

It has 3 control buttons
It has 4 levels of brightness
It has 3 color temperature settings
Available in the colors White marble and Champagne Gold

HappyLight Lucent VT22
$39.99
HappyLight Touch Plus VT42
$49.99

It has 3 control buttons
It has 3 levels of brightness
---
Where to Buy Verilux Devices
Verilux devices can be purchased from the company website or online platforms like Amazon.
What is the Customer Feedback?
To get an idea of what first-hand users experienced while using Verilux devices and understand if they are worth the hype, we went through some reviews on Amazon, which we sampled below.
Let's look at them starting with a customer known as Sparksmom, who said,
I bought this after a friend suggested it; I love it. It helps me enjoy quiet time in the morning, and I was thinking of getting one for when I travel as I travel a lot.
Another, Vlc, said,
I like that it is light and easy to use. With two settings, I prefer the brightest setting, which improves my mood and dreary apartment. My only issue with it is that it has a screw that jingles inside.
A customer, Steve Y., said,
It's a good quality device, sturdy, well made, and produces a bright light, though I haven't used it.
A user known as Kira said,
I like that the light has different brightness settings and that it does its job well. The stand however is frustrating as it detaches itself when I move the device.
Frequently Asked Questions
Is light therapy effective?
A: While light therapy is not considered the cure for SAD or depression, it reduces the symptoms associated with these conditions.
Can the light from Verilux devices hurt my eyes?
A: When using the device, you are advised to place it either on your left or right side but not directly in front of you, where you can glare directly into the lights. Just as you are advised not to look directly at the sun, looking directly into the devices is discouraged as they emit sun-like rays.
Are Verilux light therapy devices worth the investment?
A: Treatment sessions with light therapy are known to be effective to some degree, and another plus is that this form of treatment is affordable and non-invasive.
What is the recommended duration of using Verilux light therapy?
A: Light therapy sessions with Verilux devices should take 20 minutes up to 1 hour.
What do Verilux light therapy devices do?
A: Verilux devices emit rays that mimic the sun's rays during the day, providing a bright light and making you feel like you are in the sun minus the harmful UV rays.
Conclusion
While the Verilux light therapy devices are affordable and claim to help manage winter blues, they can't help alleviate all the symptoms associated with this condition or SAD. They should not be considered a cure for SAD either. You might be forced to look for other solutions to help tackle symptoms like weight gain or feeling antisocial.
As an option for a beginner getting started in light therapy, we recommend trying out Verilux devices because of their affordability and ease of use. But if you are looking for other devices that might be more powerful, this Circadian Optics Review helps you for right decision.