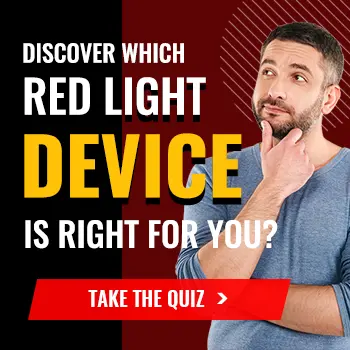 Overview
We have all experienced a certain degree of pain; for some, it can be in the joints from intense workouts/an active lifestyle or diseases like arthritis. While the pain we experience might range from mild to severe or caused by various reasons, we can all agree that the feeling is uncomfortable and needs to be treated or managed.
The need for pain-relieving options has led to the adoption of various forms of technology like red light therapy, micro-current, and other latest and modern healing technologies. These technologies have been known to be effective and provide convenience.
One that has seen considerable growth in popularity is red light therapy (LED) therapy due to its convenience and non-invasive nature. In this article, we shall review the DNA Vibe brand, which is a company that manufactures RLT devices.
Editor's Rating
DNA Vibe

4.7/5
Ease of use

4.7/5
Weight

4/5
Power output

4.7/5
Portability
Pros
Their devices are easy to use
DNA Vibe devices reduce pain and inflammation
You can also use their devices on dogs
The company provides a 60-day return policy
Their devices have a 1-year warranty
They ship their device globally
Cons
Some of their devices are expensive
The portability of the devices is limited
Brand Highlights
It is a USA-based company
It provides free shipping in the US
The company has a 60-day hassle-free return policy
It is certified by HAS and FSA
About the Brand
DNA Vibe is a USA-based company founded by Perry Kamel; it manufactures at-home therapy devices that employ LED light, micro-vibration, and magnetic technology. Their devices help you manage pain in areas like your neck and joints and also help with skin issues.
Their devices are popular amongst athletes, clinical therapists, and individuals looking for ways to help them achieve top-notch health and wellness. They strive to empower many individuals across the globe to live healthier, longer lives.
The company was founded by a veteran who believes your body's DNA will respond to signaling when triggered by different safe medical-grade technologies. It is through this belief that this company's devices are DNA-focused
DNA Vibe Devices
DNA Vibe units are the Jazz Band wearable therapy devices that all come fitted with four technologies but are priced differently. They all have the same powering options and additional accessories like the carrier pouch and car charger.
To understand more about these silicone wearable therapy bands, we shall highlight the specifics of one of the devices, the DNA Vibe Jazz Band. It is one of the most popular DNA devices that will help us get a vibe of its "siblings", as the company refers to other similar devices.
Overview of the product: It is a multi-functional therapy device that can be used on several body parts, relieving pain and inflammation. It has 2 Velcro straps, a power package, and a rechargeable battery to allow its flexibility and attachment to various parts.
How does it work?: Besides red(650nm-675 nm) and near-infrared light(825 nm – 850 nm), this device has magnetic and micro-vibration technology. The red light helps your body heal faster by activating and stimulating energy-giving cells that help with tissue healing and other bodily functions.
On the other hand, near-infrared helps increase blood flow and circulation where you apply the device. The increased blood flow helps reduce pain or inflammation in the targeted area.
Like the near-infrared function, the magnetic signals help increase blood circulation and provide a calming effect to inflamed body areas, accelerating the healing process. It is further supported by the micro-vibration currents, which reduce pain.
How to use: The Vibe Band has an elliptical shape, which works to its advantage by making it flexible to wear on different body parts that need treatment. To help it stay securely in place, the device comes with additional elastic bands that you can use to fasten it.
The device has several powering options: the wall adapter (which comes with the device package), car adapter, and cordless power pack (these two are optional and are purchased separately as they don't come with the device).
Though optional, the cordless power back would be a great addition to the original package as it allows one to move around when using the therapy device freely. Each treatment session should be at most 30 minutes.
Benefits: The Jazz Vibe Band helps accelerate the healing process of inflamed or painful areas of your body.
Price: $379.00
As a plus, DNA Vibe provides an installment payment plan split into four parts per each device's price. All the installments attract no interest.
What we've covered above are the basics that apply to each DNA Vibe device; they all work the same way and can be used on different body parts to provide relief and treatment. The table below will highlight the similarities and differences of the devices:

DNA DEVICE
PRICE
SIMILARITIES WITH OTHER UNITS
MAIN DIFFERENCE WITH OTHER UNITS
Jazz Band Light
$159.00
Four Technologies
Performs similar functions to the others
Similar powering options
Comes with additional accessories
Two Modes
Jazz Band Live
$279.00
All of the above similarities apply to this device
Jazz Band Splash
$369.00
All the similarities of the 1st device apply to this one as well
Fully submersible in water
Benefits of DNA Vibe Devices
DNA Vibe strongly believes and banks on the efficiency of its devices backed by satisfactory customer experience in addition to a combination of four different technologies, which, according to them, make their devices more advanced than the majority in the market.
DNA Vibe devices produce wavelengths and signals that help your body heal and recover faster, reduce pain and inflammation, and contribute to a healthier, comfortable life. Other benefits are:
It helps with quicker muscle recovery and improved performance
It makes the skin appear healthier and better
Improve sleep cycle and overall wellbeing
Side Effects of DNA Vibe Devices
LED light therapy devices do not have any side effects, more so if you use the devices as instructed. Stick to each device's indicated time frame and preferably start with 10-20-minute sessions and increase the duration after you get used to the device.
Where to Buy DNA Vibe Devices
To get genuine and original DNA Vibe devices, purchasing them from the official company website or Amazon is advisable.
Steps and Directions for Using DNA Vibe Devices
You are strongly advised to use each device as per the manual and instructions it comes with
You should not fold the device but instead, gently wrap and curve it on the area of treatment, as folding it might damage the electrical
You should place the device on the skin; if placed on clothing, it will not work
The short straps are ideal for securing the device on areas like the knee/elbow, while the longer straps are for the back or shoulders
Before using a DNA Vibe device, you should charge it
Reviews from DNA Vibe Devices Users
Being in the market for over 30 years has seen DNA Vibe amass a large customer base of customers referred to as "Vibers." It means they have an equal share of happy and dissatisfied customers contributing to their varied product reviews.
We shall sample a few of them that we picked from Amazon to help you decide if DNA Vibe is the brand to go with for pain treatment therapy options.
Anthony Trapini said,
Looks aesthetically pleasing but it did not relieve my pain, it might work for others.
Shannon Taylor chimed in positively, saying the device helped relieve the pain she was experiencing in her lower back, leading her to seek the exact solution for her ankle problems. She added,
I had a fantastic experience; the device relieved my back and ankle pain.
Another known L&RP said,
Once you place the device on the area that needs treatment it works, however the attachment strap is not easy to figure out.
Sheri Miwa said,
I had multiple injuries after being involved in an accident which resulted in painful arthritis and poor blood flow but with this device I have noticed a difference.
Frequently Asked Questions
Has FDA-approved DNA Vibe
A: Yes, they are approved. The signaling technologies featured in their devices are considered safe and effective, hence the approval by the FDA.
What is the function of DNA Vibe devices?
A: DNA Vibe devices employ four technologies to help relieve pain and inflammation and hasten healing and muscle recovery.
Can you verify if the FDA has approved a device?
A: To verify a device's approval by the FDA, you can check the database on their website.
Conclusion
While there's enough information and evidence to validate the efficacy of red light devices and their benefits , there is little to no information and a lack of research backing how effective DNA devices are with the inclusion of their proprietary technology. It is advisable to hold off on buying DNA Vibe devices.
We know that the wavelengths produced by the LED light technology in their devices are safe and have already been proven to be effective in pain management not only in DNA Vibe devices but also in others, as you can see in this Tommie Copper Review this device is also helpful for pain and muscle inflammation.