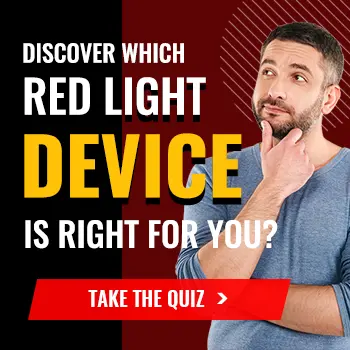 We know everyone strives for optimum well-being and overall perfect health. Who wouldn't? It determines how your body functions as it is a process that is directly linked to the cells of your body, and you need to have them in top shape.
The need for our bodies to function properly and have strong immunity is something we all aim for despite the hustle and bustle of modern-day lifestyle. At times, this goal can be hard to attain, leaving your body unable to perform the majority of some critical functions.
Is there a solution to getting your body back to functioning optimally? The answer is yes; thanks to red light therapy devices, you can achieve cellular health, leading to improved overall well-being.
iRED USA is a company that crafts and manufactures red light devices that are meant to help you achieve optimum cellular health. Do their devices work? Do they have any side effects? In this article, we shall answer these and get a better understanding of red light therapy and how it helps you maintain a healthy body.
Overview of iRED USA
iRED USA is a company based in California that experts in the medical field started. The company crafts and manufactures devices that are powered by red and infrared lights to help improve your overall well-being.
They claim that their innovative products will change your daily life by making you happier and healthier, and increase your productivity levels. iRED believes that devices are meant to help improve cellular health don't have to be expensive but relatively affordable and easily accessible to many people.
How Does It Rate?
Editor's Rating
iRED USA

4.7/5
Wavelength Strength

4.7/5
Benefits

4.8/5
Cost

4.8/5
Customer Reviews
Pros
iRED USA products are affordable compared to other similar products
Their devices improve your mood, health, and overall well-being
Their devices are easy to use in the comfort of your home
The devices are light-weight and portable
iRED devices provide deep tissue penetration from adequate wavelength strength
Cons
You might need an adaptor or converter to use the devices if you are not in the USA
Brand Highlights
iRED USA provides customers with affordable at-home red light devices
iRED USA devices help improve the overall health and well-being of individuals by targeting cellular health
Their products have a two-year warranty
They are an independently certified company
About The Brand
iRED USA believes in creating and maintaining relationships with their customers, which pushes them every day to provide them with innovative products that will change their lives. Their mission is to impact your body's health at a cellular using red light.
Through their products, they believe you will be able to see and feel the benefits of red light therapy. The purpose is to inform and educate people on these benefits and how they can become a better version of themselves.
iRED hopes to be a treasure trove of information on all matters concerning red light while still providing individuals with affordable, efficient devices.
iRED USA Products
Through our research and from the company website, we found that iRED has three main products:
Bullet handheld torch
Nano 20-bulb panel
Max 60-bulb panel
Below, we shall take a look at the devices and how they shift your cellular health for the better.
It is a battery-operated handheld device designed to target specific areas of the body where you are experiencing inflammation or pain. It treats areas of concern by emitting red and infrared wavelengths.
The wavelengths are within the clinical grade, powerful, and still safe enough to provide effective results at strengths of 630nm, 660nm, and 850nm. The torch is easy to use; you only need to ensure it is charged before use; hold it with one of your hands at a distance of 1-3 inches from the area of treatment.
The time for treatment varies from 1-3 minutes, depending on the intensity of pain or discomfort. For mild pain, using the torch once a day for 1 minute should suffice; for average pain, 2 minutes of treatment sessions twice a day will be enough. For severe pain, you can go for 3-minute sessions thrice a day per area of concern.
---
It is an affordable red light device that has 660nm and 850nm red and infrared wavelengths, respectively, that can help with skin issues, pain, and inflammation.
Despite its affordable price point, this panel is powerful and can be used daily for 10-minute sessions in areas of treatment. To use it, you will need to plug a power cord into a power source and securely hang it on a wall or position it upright on a surface. When using the device, you should maintain a distance of 3-8 inches.
Due to its portable and lightweight nature, you can set it up and use it anywhere, anytime.
---
it has similar wavelengths to the 60-bulb panel; the only difference is in the number of bulbs placed on it. As a slightly smaller version of the 60-bulb panel, this 20-bulb red light device is an excellent option for beginners getting started and introducing themselves to red light therapy treatment.
It is affordable, powerful, and easy to use and set up and ideal for targeted treatment of specific areas of your body. The 20-bulb panel has a hanging kit that allows you to use it wherever you prefer, either by mounting or placing it on a flat surface.
The recommended time per session is 10 minutes per day. As you get used to red light therapy, you can graduate to the 6o bulb panel device.
For best results with all the above devices, you are advised to be consistent so as to achieve optimum results. Changes and improvements will vary from one person to another but can take a period of up to 8 weeks to be evident.
If you are looking for options on red light therapy panels, you can take a look at Platinum LED Therapy Lights Review where we analyzed different types of body panels.
---
Benefits of using iRED USA Devices
Over the traction of several years, red light therapy has become popular, with many people opting for it due to its convenience, benefits, non-invasive, and low-risk nature. As opposed to the costly nature of similar procedures provided by estheticians and dermatologists, at-home red light therapy sessions are preferred.
iRED USA has gone a step further by providing these devices at a much cheaper cost, ensuring red light therapy is accessible to many who get to enjoy its benefits. Below, we shall look at the benefits of using iRED USA devices:
Side Effects of iRED USA Devices
iRED USA products are created to help improve your overall health through the application of red light therapy technology. All the devices pose no side effects to you if used correctly and as per the manufacturer guidelines, which we also covered in the Does Red Light Therapy Have Any Side Effects article.
That being said, some individuals are advised against using red light therapy; the ones who are pregnant or breastfeeding or the ones with underlying skin conditions like lupus or are predisposed to suffering from migraines.
Reviews from iRED USA Devices Users
Like many devices or products in the market, iRED USA devices have mixed reviews. After going through the reviews on Amazon, it was clear that the positive reviews outweighed the others. Let's take a look at what some of the customers had to say.
One customer, Jenine Alftin, who bought the iRED 60 bulb panel, said,
After using it for two days on my Achilles I feel relief. The device works and I hope it continues to.
A negative review was given by a user known as Julie, who said,
Despite it being a great size for using on the legs it fails to turn on some times. I feel disappointed as I wanted it to work.
Another customer said that despite its price and size, the panel is robust and reliable. This customer added that the inclusion of an in-built timer would be great.
If you are looking for red light therapy devices that will not dent your pocket, we highly recommend iRED USA devices. Affordable or cheap doesn't always equate to faulty or ineffective; if the positive reviews are anything to go, they seem to be devices worth the investment.
FAQS about Red Light Therapy
Q: Are red light therapy devices safe?
A: Yes, they are. If used correctly and as per the manufacturer's guidelines, these devices are safe and non-invasive. To further ensure your safety, opt for FDA-approved devices.
Q: How many times can you use red light therapy?
A: It is easy to get tempted to use red light therapy devices several times in a day, but using them multiple daily is unnecessary and does not hasten the healing
process. It is always advisable to follow the instructions provided with your preferred device. If, for instance, the guidelines indicate sessions should be 10 minutes long, once a day, adhere to that.
Q: Are there any disadvantages of infrared and red light therapy?
A: Overexposure to infrared can lead to redness and swelling. At the same time, one might also experience hyperpigmentation or cases where the skin becomes sensitive due to improper use of red light therapy devices. It is strongly recommended to use these devices responsibly and follow guidelines provided by the manufacturer.
Q: Can individuals of all skin types use red light therapy devices?
A: Yes, they can. Red light therapy devices are safe and can be used on all types of skin. For people with sensitive skin, the devices are also safe as they don't have to be used with chemicals during the sessions. If you have an underlying skin issue, it is recommended you talk with a doctor to get an all-clear to use red light therapy devices.
Final Thoughts
One thing that stands out and is also evident from the reviews regarding iRED USA devices is that they are affordable, and we all love a good bargain. Additionally, the devices are effective, convenient, and easy to use. If you are still on the fence about red light therapy and which devices to use, we recommend you give iRED USA devices a try. Also, you can check out the Best Red Light Therapy Torch, the devices are portable and easy to use, travel-friendly without any high risk.
Things to remember before you start using any red light therapy devices:
Always consult a doctor to alleviate any doubts or worries.
Choose a device suited to your specific needs.
Make sure the device is FDA-approved.
Take care of and protect your eyes, and lastly, like with many types of treatment, it also requires consistency and patience.