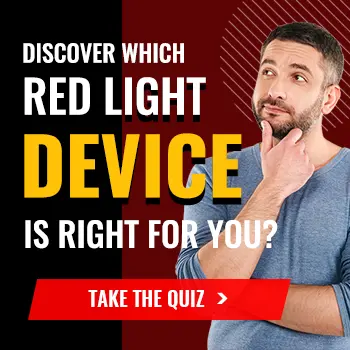 Overview
On the other hand, healthy, glowing skin is not a trend; instead, it is a necessity and something we should all strive to have. Adopting a simple skincare routine does a lot in getting you started on the right foot, and you can also incorporate LED masks.
LED masks will help you elevate your beauty regimen by providing you with at-home treatment of skin issues, much like procedures you would get at a dermatologist's. So, are they worth the hype and investment? Let's get into it.
Due to the overwhelming number of LED masks available in the market, this article will provide information about the Ember Red Light Therapy Mask; we will also touch on things to consider before settling on a specific mask to help you make a more guided choice.
How Does Rate?
Editor's Rating
Ember Red Light Therapy Mask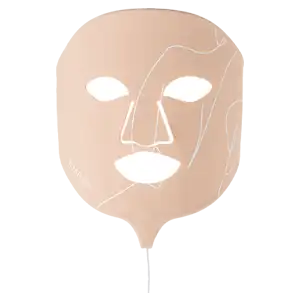 4.9/5
Quality

4.8/5
User Friendly

4.5/5
Value

4.8/5
Customer Satisfaction
Pros and Cons
Pros
Flexible and provides a comfortable fit
It has three modes that can perform different functions
Has several lights
It is easy to use
It is hands-free, allowing you to multitask
About Ember Red Light Therapy Mask
The Ember Therapy Mask combines near-infrared, red, and blue LEDs that contribute to its three unique modes, which perform different functions:
rejuvenation, acne control, and mood-boosting. With other brands, you'd be forced to buy three different masks to tackle these issues.
LEDs penetrate the skin's deeper layers, influencing cell renewal and contributing to healthier, wrinkle-free, and rejuvenated skin. Below are the wavelength strengths produced by each LED
Red light – 630nm – 660nm
Blue light – 415nm – 460nm
Near-infrared light – 810nm – 850nm
LED light therapy is safe and ideal for all skin types. People discouraged from using the LED mask are those allergic to silicone, as the mask is made from silicone material, making it flexible and easy to wear. The mask comes pre-packed with a USB charger, protective eye goggles (one pair), and a travel pouch.
In the table below, we shall look at the functions of the three modes in the Ember mask.
Mode
LED Light
Wavelength Strength
Functions
Acne Control
Red light and Blue light
630nm and 415nm
Reduces acne bacteria
Soothes and calms the skin
Promotes collagen production
Reduces hyperpigmentation and evens out skin
Boosts oxygen production within your skin cells
Rejuvenation
Red light and Infrared
630nm and 830nm
Promotes collagen production
Boosts oxygen production
Speeds up the skin cell regeneration process
Reduces hyperpigmentation
Minimizes fine lines and wrinkles
Mood Boost
Red, Blue, and Green light
630nm, 415nm and 525nm
Helps manage seasonal affective disorder (SAD)
Uplifts your mood
Targets and acts on chemicals in your brain associated
with your mood and sleep
About The Brand
Ember Wellness is a self-care company with skin care products manufactured from a combination of the best technology and nature. Their product line is formulated with fewer ingredients to be part of your skin care regimen without much effort.
All their products and devices are created to be sustainable, inclusive, and be used by women of any age.
How to Use the Ember Light Therapy Mask
To ensure your safety and that the LED mask performs efficiently, it is advisable to follow instructions as provided by the manufacturer. Below are some steps you can follow when using the at-home device:
Always start by cleansing your face well
Re-adjust and secure the LED mask, making sure it sits comfortably on your face and head
Switch on the mask and select your preferred mode from the three available depending on your treatment needs
Find a place to sit comfortably and let your face bathe in warm light rays for a 10-minute session. After the time-lapse, the mask will turn off automatically
Once you are done with the session, apply a moisturizer of your choice or one of the Ember oils and massage it gently with a gua sha or fingertips.
Things to Consider When Purchasing an LED Mask
With many brands creating and selling LED masks, you can easily get confused about which is the best for you, as they all claim to be revolutionary and effective. We have compiled a few essential pointers to help you in your selection process for an LED mask:
Design – Even though the design of the LED mask comes down to personal preference, some design features should be worth noting. Something like the number of LED lights and where they are placed on the mask. The more the lights and the closer they are together, the better the performance and result.
Light colors – Depending on your treatment need, you will want to choose a mask that carries an LED light with a color meant explicitly for your needs. All the red, blue, and green LED lights perform different functions and wavelength strengths.
For instance, to deal with signs of aging like fine lines and wrinkles, you would be better off with a red light LED mask, and if you want to clear blemishes and control acne, your ideal LED mask would be a blue light mask.
One of the most unique features of the Ember Light Therapy Mask is its three different LED and infrared lights. It makes it a great versatile mask as you can use it on different skin conditions by changing the settings.
Efficacy – most at-home LED masks are not as powerful devices and machines dermatologists use. You can still get a mask that provides relevant and efficient wavelength strength and intensity to get results.
FDA Approval – An LED mask with FDA approval is ideally the best as you will be sure it's safe for you to use but also effective.
Don'ts Associated With the Ember Light Therapy Mask
As is the norm with any device, there are certain precautions and contraindications that you should be aware of to ensure your safety. Below are some that should be adhered to concerning the LED mask:
Don't use it if
You are pregnant or lactating
Don't use it if you are under the age of 12 years
Don't use if you are pre-disposed to migraines and seizures
Don't use if under steroids and photosensitive medication
Don't use if you suspect or have any underlying skin conditions
Don't let the LED mask come into contact with water
Seek and consult a doctor to alleviate any doubts or worries
Reviews from Ember Red Light Therapy Mask Users
Ember Light Therapy Mask users are generally happy and satisfied with the product's efficiency and convenience. We looked through some of their company website reviews, and most of them had positive things to say about the device.
Below is a brief sample of some of them
A verified customer known as Taylor said,
The mask is portable and easy to use, I love it. The mood boost setting helped take away my winter blues and is fun to use. One thing that stands out and is my favorite feature is the mask's portability it allows me to do stuff in the house or be on the go and still use the mask. It's now a staple in my self-care routine.
Natalia Romania said,
Owning the mask and treating myself with light therapy in my own home is a dream come true. I can now have several light therapy sessions in a week as opposed to a one-off session which is had to assess the benefits. People have been complimenting me about my youthful appearance and I attribute it to the Ember mask. I also use hydrosol and facial oil, which are all divine. I would recommend the Ember mask in helping with anti-aging.
After reviewing the reviews and gathering the information, we recommend getting an Ember Light Therapy Mask. It would be a worthy investment in an at-home device that claims to take your daily skin care regimen level and help improve your mood.
FAQS about Ember Red Light Therapy Masks
Q: Do LED masks work?
A: Yes, they do. LED masks emit light in different wavelengths that penetrate the skin's dermis, promoting cell regeneration and rejuvenation.
Q: Are LED masks safe?
A: Yes, they are. If you have any underlying skin conditions like lupus or photosensitivity, it's advisable to consult your doctor before using an LED mask. Following the guidelines provided by the manufacturer when using the device ensures your safety.
Q: What is the estimated duration before you start seeing results?
A: The outcome and results will vary from individual to individual and might take different time frames before being visible. Consistency with sessions is encouraged to achieve long-term effects.
Q: How many times a week can I use an LED mask?
A: Using the mask 3 to 5 times a week is recommended. Using it daily does not accelerate the treatment process.
Q: When should you not use LED face masks?
A: LED masks can be used by individuals with any of the known skin types; however, if you suffer from conditions such as seizures, eye conditions or migraines, you should avoid using them. LED masks are also not recommended for individuals who are pregnant, breastfeeding or under medication unless given the go-ahead by a doctor
Q: Do LED masks work for wrinkles?
A: There are claims that LED masks reduce and minimise wrinkles' appearance by triggering collagen production. This compound is known to give you a youthful appearance but reduces as you age.
Final Thoughts
With three different modes, the Ember Therapy mask gives the user the perfect combination of LEDs to deal with various skin issues. We can never fail to mention how red light therapy is safe, non-invasive, and can be used in the comfort of your home.
Not to mention that there is scientific proof to back up claims of the benefits of red light therapy for your skin. Getting an Ember Therapy Mask will be a worthy investment towards nourishing and making your skin healthy.
We reviewed 21 Best LED Light Therapy Masks 2023; it might be worth checking out to help you compare if you are looking for more options.