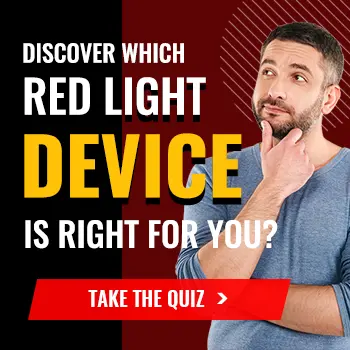 Overview
We have so many ways of treating skin conditions, managing pain, and speeding up recovery, but if one doesn't involve swallowing pills or painful, invasive means, then I guess most of us would like to sign up for that.
Red light therapy is an emerging and innovative way of treating pain, eliminating skin conditions, and speeding up recovery through light wavelengths. Light therapy is painless and non-invasive, so it's gaining popularity daily.
"With red light therapy, you expose an area of your body to a specific wavelength of red light emitted by a device that can range in size from handheld to whole-body," says Casey Kelley, M.D., founder and medical director of Case Integrative Health.
She adds, "Essentially, the red light stimulates your cells to work at a higher level."
But how do you choose your light therapy device? Which brand can you trust? Most brands are selling you the idea of having a spa experience at home, but are their devices effective?
Scienlodic is one of the brands that offer at-home light therapy solutions. We've heard positive and negative customer reviews of the brand and its products. Therefore, we've decided to take you through the brand to show you both the good and the ugly.
This review will help you understand more about the brand and whether or not its devices are effective and worth your coins.
Editor's Rating
Scienlodic Brand

4.3/5
Effectiveness

4.4/5
Return Policy

4.2/5
Value

4.3/5
Safety
Pros
Scienlodic devices promote health and well-being.
They use FDA-registered and class II medical-grade devices.
The devices help with pain management, skin conditions, recovery, and healing.
Scienlodic devices are affordable compared to other brands.
The brand has a wide range of devices to choose from.
Cons
Some devices may require charging while using, which may not appeal to some individuals.
Brand Highlight
Scienlodic is a light therapy brand that aims to offer health and wellness benefits through its light devices.
The brand was established in 2018.
It offers a 60-day money back and a 2 to 3-year guarantee for their devices.
It offers free shipping around the USA.
Key Features
Near Infrared light.
Red light.
Medical grade LED lights.
Multiple wavelengths
About Scienlodic Brand
Scienlodic was established in 2018 with the sole goal of changing lives through red light therapy devices. The brand's innovation has evolved, including redlight nursing caps, flashlights, therapy pads, and other proton devices.
The brand has established a tremendous at-home light device for various uses. The brand takes pride in its FDA-approved, medical-grade light therapy devices that are easy to use and elevate your health and wellness in the comfort of your home.
Scienlodic has devices that cater to various individual needs ranging from skincare, hair care, weight loss, pain management, and total body recovery. The literary brand has something for everyone. The devices come in different forms, such as panels, wearables, and handheld devices that serve unique purposes for the customers. We have done a similar review expounding more on red light therapy. We'd like you to have a look.
Benefits of Scienlodic Devices
Scienlodic devices offer several health and wellness benefits to the body. Have a look at some of them:
Scienlodic light therapy hair devices boost blood circulation, which promotes scalp health. They also nourish hair roots, improving hair thickness and treating hair loss. The devices also boost brain power and health by increasing cell viability.
The weight loss devices increase cellular energy, balance hormones, burn fat and cellulite, and reduce appetite, all of which play a vital role in weight loss and balancing the body.
Scienlodic pain and skin therapy devices help manage pain and promote muscle, joint, and skin recovery. They also eliminate acne-causing bacteria and acne scars and promote wound healing. They are ideal for individuals suffering from arthritis and tendonitis.
Side Effects
The manufacturer warns against using light devices without proper eye protective gear, which may cause eye strains or damage. Reviewing the user manual and understanding the user guidelines before using any device is essential for safety.

Products
Scienlodic has various at-home red light devices that address different needs. We've compiled them as follows:
This is a simple yet powerful device for regaining hair strength and volume. It's ideal for anyone who wants to restore thinning hair.
It's designed with 120 LEDs, 660nm, and 850nm wavelengths that penetrate deep into the scalp to trigger hair growth and nourish hair follicles and cells responsible for hair growth.
A recent study reveals how red light stimulates hair growth and density. It slows down breakage by delaying the transition of the hair cycle from anagen to catagen.
Key Features: 120 LEDs, 10 Hz, and 40 Hz double-pulse modes, and 660nm and 850nm wavelengths.
How To Use: Clean your scalp and dry it thoroughly before use. Then, part your hair into sections to expose areas of your scalp that need the red light treatment.
Price: $199.00
---
This device promotes weight loss through painless and non-invasive methods. It utilizes the power of red light 660nm and 850nm wavelengths and 210 LEDs to penetrate deep into skin tissues and burn the layers of fat underneath.
The red light belt works by increasing cellular energy, which increases the breakdown of fats.
"Light can speed up the respiration process in cells and increase ATP and other mechanistic factors," says Elaine F. Kung, M.D., founder of Future Bright Dermatology in New York and assistant clinical professor at Weill-Cornell Medical College
It also balances hormones and insulin levels to prevent you from feeling hungry all the time, thus managing your appetite. All these support weight loss without even breaking a sweat.
Key Features: 980w/㎡ irradiance, 660nm & 850nm wavelengths, waterproof and oil-resistant layer, adjustable timer, Low EMF.
How To Use: Connect the belt to the controller, then connect the controller to a USB chagrin port, wear the belt to the desired area for treatment, and press the power button and your preferred intensity mode.
Price: $199.99
---
This is a handheld multi-wavelength device ideal for various spot treatments. It combines blue and red light for face therapy, pain treatment, and body recovery.
Blue light eliminates acne-causing bacteria and clears the pores by reducing sebum production. Another study also shows that blue light has anti-inflammatory and protective properties, which are great for treating skin conditions such as eczema, psoriasis, and atopic dermatitis.
Red light is also crucial in stimulating fibroblasts that maintain skin elasticity and firmness through protein production. It also boosts collagen production, ideal for minimizing visible signs of aging.
Key Features: 200mw/cm 2 irradiance, multi-wavelengths (460nm, 660nm, 850nm, 950nm), Low EMF
How To Use: Place the wand on the targeted area, wear protective goggles, turn it on, and adjust it according to your preference.
Price: $119.00
---
Review By Customers
We scouted around the internet to get you authentic ratings and customer reviews. We've found the brand has an average rating of 4.2/5 on Amazon and Trust Pilot. We compiled a few to give you in-depth insight into the Scienlodic devices and the brand. Here are some of them:
One customer was utterly disappointed and gave the brand a 3.9/5 star rating.
I was very disappointed that the 850 nm lights weren't working on my red light therapy belt. The belt is also too small and can't fit anywhere on my body. It's useless, and I am super disappointed with my purchase. –Ella.
Another one was happy with their purchase.
This is my first time trying a light therapy device, and I am pleased with my purchase. I've been using my device when doing exercises in the morning, and I can already feel the difference. I no longer get muscle aches and pains that I often had after working out. I also have less back strain, and that makes me super happy. –Gift
Another customer is yet to know their results.
I ordered my red light therapy lights off Amazon, and the service was great. However, I am yet to see results as I have been using the device for three days, so I can't really give sound feedback regarding its effectiveness. –Sam.
According to the customer reviews, we can't say that Scienlodic's devices are effective. The ratings are also not satisfactory, and some feedback leaves us with a bitter taste.
Frequently Asked Questions
Is Scienlodic Legit?
Where To Buy Scienlodic Devices?
Is Scienlodic Safe?
A: Customer feedback and testimonies reveal that the devices are safe. The brand has also gone the extra mile to have its devices FDA-registered and use medical-grade devices.
Does Scienlodic Offer a Refund And Return Policy?
A: The brand offers a 60-day return policy for all devices purchased directly from their official site.
When Will I See The Results?
A: The manufacturer claims you may notice visible results after 16 weeks of consistent use. However, please remember that results vary from person to person.
Conclusion
We've done our best to capture all you need to make an informed decision regarding the brand. We have taken time to show you what the brand is about, from its top products customer reviews, and ratings. All of which play an important role in influencing your decision.
As much as Scienlodic has positioned itself as a great brand and the leading expert in the light therapy industry, we can't help but disagree with the image they have portrayed in the light therapy scene. That's after carefully reviewing customer feedback and ratings that don't match the brand's promises and claims.
Therefore, we'd advise you to proceed with caution should you decide to give Scienlodic a try. As much as the brand has a diverse range of light therapy devices, they are not as effective as the brand markets them.