Overview
The best Foot Massagers are great for both men and women who look forward to experiencing relaxation and comfort after a long day.
One research study in the Complementary Therapies in Clinical Practice noted that foot massage can be effective in reducing anxiety, pain, and fatigue. It has also been shown to increase self-efficiency as well as quality of life.
Dr. Bradley Schaeffer, a Board Certified Podiatrist, Foot Surgeon in one of the casts in the TLC series "My Feet Are Killing Me," noted that the best electric foot massagers provide various health benefits including increased circulation, pain relief, reduced muscular tension, and pressure and stress as well as recovery. The devices can help manage conditions such as tendinitis, plantar fasciitis, overall stress, and heel pain, says Dr. Schaeffer.
In this article, we cover everything about foot massagers. What they do and how they work. We also help answer common questions like, how do you know the best foot massagers? More so, we share the products that we consider as best based on our tests, assessment, and recommendations from the experts we work with.
Best Foot Massagers
Our Choices For The Best Foot Massagers
We found the below product worth and fitting to take the best-rated tag based on various tests and assessments that our experts subjected them. Read to find more…
Best For: Maximum comfort and relaxation
Features: Touch button panel and remote, washable foot liners, non-slip rubber pad, bottom heat dissipation, soothing heat therapy, 3 air pressure intensity.
Price: $44 – $299.99
Renpho foot massagers are designed to help you experience maximum foot comfort and relaxation throughout the day. The Shiatsu Calf & Foot Massager Pro 2 series for instance offers a deep-kneading and heated massage to improve blood circulation, and improve neuropathic foot numbness.
The Mini Foot Massager series comes with super portability while at the same time helping relieve your foot from chronic discomforts. It has removable easy-to-wash foot liners to ensure hygiene and a touch button and remote for easy control. It also features 3 kneading intensities adjustable to the individual's soothing heat function preference
Pros & Cons
Pros
It touch buttons and remote for easy control
Optional heating.
Offer foot relaxation and comfort after a long day.
Cons
Requires fixing cords and wires
Results vary depending on individual pain relief needs
More to Know
Target Areas: Foot
User D J. explains:
I like the Shiatsu Foot Massager Premium because it works great to give my feet the relaxation and comfort they deserve. The aspect that stands out for me is the compression mechanism and pressure as this makes me feel well catered. The remote control makes things easier and even more soothing.
Best For: Deep kneading and relaxation at home
Features: 4 rotational heads, 12 massage nodes, soothing heat, and toe touch controls.
Price: $50-298.93
Homedics is a Shiatsu elite foot massager line with heat designed to give your feet the rejuvenating feel they need. While the deep kneading shiatsu invigorates and soothes your tired feet, the 12 massage nodes and 4 rotational heads allow you to experience an enjoyable spa-quality massage from the comfort of your home. The soothing heat warms your feel as it gets rid of the build-up tension. The easy-to-use toe touch control ensures less interruption.
Pros & Cons
Pros
It easy-to-use toe-touch control
2-year protection plan.
Invigorates and soothes tired feet and reduces tension.
Cons
Results likely to vary
It has no tilt stand
More to Know
Target Areas: Feet
User Ben explains:
Though it takes time to heat up it gives me a good feeling after a long day. However, how I wish it was a companied with a tilt stand. It would be comfortable and hassle-free to press the whole foot down instead of maneuvering the feet to adjust the part I want to be massaged.
Best For: Managing plantar fasciitis disorder
Features: 2-foot beds with 18 nodes, 6 massage heads, heated foot, large center power button, and adjustable stability feet.
Price: $104.99
Belmint foot massager is a vibrating device that effectively relieves you from pain, aches, knots, tension, and plantar fasciitis-related foot pain. This less than 8-pound Shiatsu foot massager is portable and can easily fit in the closet or under the bed. The device has a black matter design that blends well into the environment and lets you enjoy foot percussion, vibration, and infrared stimulation anytime and anywhere.
Pros & Cons
Pros
Light and portable and excellent value for money
Deep kneading massage motions with 2 years warranty.
Adjustable stability bottom for customizing height and better balance.
Cons
Results may vary depending on the user's needs
Highly priced
More to Know
Target Areas: Feet
User Joy explains:
My mom had extremely painful plantar fasciitis. She had tried every medication and nothing worked for her. The pain has significantly subsided since she started using this device.
Best For: Tendinitis, plantar fasciitis, relieve pain and overall stress
Features: 15-minute timer, detachable calf air cushion, 3 levels of intensity, 2-foot rollers under each foot, messaging heal nodules, 3 message nodes
Price: $220.00
If you live a fast passed life, you will love the touch of this reflexology foot massager. It helps in relieving foot pain by soothing tired and weary legs. The luxury calf air cushion lets you sit back and enjoy optimal health benefits and total relaxation with a press of a button. The adjustable calf air cushion also enables you to soothe tension in the calf muscles, reduce swelling, and improved circulation.
Pros & Cons
Pros
It reduces stress, anxiety, and pressure
It improves blood circulation, and skin tone, and reduces body pain.
Proper digestion functioning.
Cons
It can cause bruises and pain to people with fragile skin or sensitivity to touch
Results likely to vary
More to Know
Target Areas: Feet
User Eunice explains:
The device is a good foot massager but requires a little bit of modification. It seemed a bit heavy to me and felt that the electric cord is short.
Best For: Relaxation, relieving plantar fasciitis pain, and heat therapy.
Features: 5 massage modes, a rolling massage, 3 intensity levels, an adjustable base position, and a sway function.
Price: $200-239
Cloud massage shiatsu massager machine works to give the user the desired results from the comfort of his or her home. Its multitude of setting options enables you to adjust your desired massage intensity and move. The device is large to cater to people who require daily relief from chronic pain and aches. It is also great for managing other conditions such as arthritis and plantar fasciitis.
Pros & Cons
Pros
Easy to use
Adjustable.
1-year warranty.
Cons
May be heavy to lift
Require practicing to find the best setting and mode
More to Know
Target Areas: Feet
User Anny explains:
It works well on the annoying tingling on my foot. I like that it comes with a remote with a good movement set. I am also able to adjust the intensity of sway pressure, vibration, and heat to suit my individual needs. The only thing is that it is too heavy to carry around.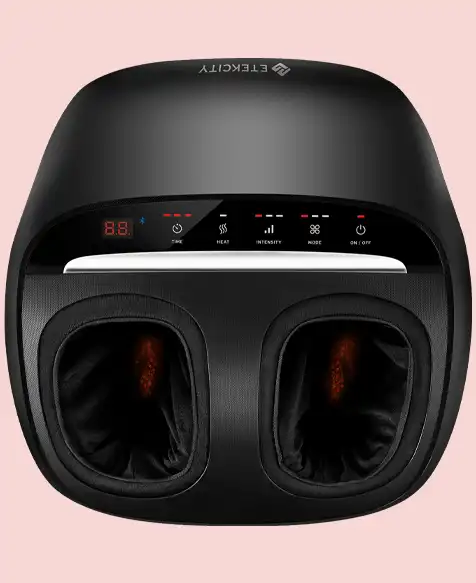 Best For: Resting and Relaxation and fighting plantar fasciitis
Features: Customizable setting, built-in timer, heating function, detachable foot sleeves, connects to VeSync App
Price: $119.99
Eleckcity foot massager Shiatsu enables you to enjoy a customized massage experience. Its 3 air pressure levels, the 3 massaging speed plus the convenient heating feature makes this foot massager a perfect device to help you relax and rest after a hectic day.
Pros & Cons
Pros
Long-lasting battery
Great soothing hit
Reduces pain and tension and provides relaxation
Cons
Not suitable for people with neuropathy and expectant mothers
Results may differ
More to Know
Target Areas: Feet
User Anny explains:
I have been looking for this kind of wireless neck and shoulder massager. It works great on my sore neck muscles. However, I wish the manufacturer could increase the pressure on TAD.
Best For: Circulation and muscle flexes
Features: Multiple preset massage modes, 2 adjustable intensity levels, deep kneading nodes, detachable foot cover, and soothing heat function.
Price: $89.99
The Necteck foot massager series comes with an awesome versatile design. It has 6 massage heads plus 54 rotating massage noses to help you relax your muscles, regulate blood circulation, and ease tension. Its heating function helps reduce muscle fatigue and improve wellness. The device is generally easy and safe to use. The detachable foot cover makes cleaning of the device easy.
Pros & Cons
Pros
Easy to carry around
Quite a device
Customizable according to match personal preference
Cons
Small foot slots
A little aggressive
More to Know
Target Areas: Calf and Foot area
User Denis explains:
I have had excellent experience with the device. It is effective and gentle. It also has a good design.
Best For: Plantar fasciitis, diabetics, neuropathy, relieving tough knots, muscle tension, recovery, chronic pain, and other pain.
Features: Standard plag-in power, removable and washable cloth cover, independent foot chambers.
Price: $129.99
Miko Shiatsu Foot Massager provides a deep kneading technique that works to improve circulation, increase muscle recovery, and reduce pain in the legs, feet, calves, and ankles. It is fitted with rotational balls, heat therapy, rolling stock, and air compression that ensure total recovery and relaxation. The adjustable bar allows for full feet, ankle, leg arch, heel, and calves massage. Also, the adjustable intensity levels on the device with a wireless remote make it easy for you to choose your desired pressure setting levels.
Pros & Cons
Pros
Comes with a protection plan
Easy to use, convenient, and comfortable
Relieves tired legs and improves circulation
Cons
A bit pricy compared to other alternatives
Likely to make you more tired though the feeling vanishes after a while
More to Know
Target Areas: Bottom and sides of the feet
User Jenny explains:
I have never owned anything of this sort before. However, I didn't look else and decided to focus on this. And I am glad I did because the intense on-foot massage is great.
How Do Foot Massagers Work?
Best shiatsu foot massagers have been designed to improve circulation using oscillating, kneading, or vibrating technology. They work by applying pressure and massaging foot ache, which as we documented in our InvoSpa Shiatsu Foot Massager Review, a good massage enhances circulation and promote the healing process on the damaged or inflamed plantar fascia or even heal chronic heal pain.
Dr. Chanel Perkins, DMP, and a board of certified podiatrists says,
Foot massagers are great at improving stretching and circulation, easing discomfort, stress, inflammation, and fatigue that people often experience with their feet.
Another research published in PLOS ONE Journal, by Ariane Park et al., shows that foot massage and heat therapy is a feasible and effective treatment options for improving restless legs syndrome symptoms.
There is also evidence pointing to the fact that massagers can help boost immune function. Assem AI Refaei et al, noted in their study, that there was an improvement in the immune response to respiratory infections in the participants.
There are varieties of foot massagers devices like foot massagers for plantar fasciitis, osim foot massagers, foot and ankle massagers, best foot and calf massagers, and relative foot massagers that work to ease stress, pain, aches, and soreness and help you relax.
What Benefits Do Foot Massagers Offer?
Best electric foot massagers have been associated with reduced stress and can also help perk you up. This is great because stress reduction has been linked to boosted energy and enables you to make healthy choices such as exercising and eating right. The foot massage usually activates your nervous system, which in turn increases endorphins (the feel-good brain chemical).
Foot massagers are great for those with aching feet. Such people require massaging to relieve them from pain and ache so that they can feel relaxed and prepare for another long day.
Best foot massagers with heat can also help boost blood circulation crucial for muscle and tissue healing and keeping them healthy. Heat-based massagers in particular may work great for those with health problems like diabetes or nerve damage as they usually experience poor circulation.
By giving your foot massage you will able to also check other problems you may have like ingrown toenails, corns, and sores. For those with poor blood flow, checking their feet for sores may be a good idea.
Quick Comparison Table
| Product Name: | Renpho Foot Massager | HoMedics Foot Massager | Belmint Foot Massager | Reflexology Foot Massager |
| --- | --- | --- | --- | --- |
| Price | $44 – $299.99 | $50-298.93 | $104.99 | $220.00 USD |
| Safety | Professional Foot Massage | Guarantee | Guaranteed | Ergonomic Design |
| Guarantee/Warranty | 30 days money-back guarantee | 1-year limited warranty | 90 days return policy | 30 days money-back guarantee |
| Customer Reviews | 4.8 official website | 4.5 on Amazon | 4.9 official website | 4.9 on Amazon |
| Rating | | | | |
How We Selected Our List of the Best Foot Massagers
Price:
When selecting our top picks foot massagers, we considered the price. There are foot massagers specifically for managing chronic pain and are more expensive as they are designed to last. There are also devices designed for relaxation and comfort which are affordable. On our top picks above, we have included those that target chronic pain and those meant to help you just relax and feel comfortable.
When to buy:
Most foot massagers are usually bought during holiday shopping. So we considered those that are usually on offer during shopping holidays like Black Friday, Amazon Prime Day, Cyber Monday, and Big-box retailers such as Walmart and Amazon. However, you might not find sales usually don't include popular brands. In the list of our top picks, we have brands that you can find on these holiday sales and others from popular brands.
Features:
We also considered models when selecting our top picks above. There are foot massagers with great features like vibration settings, different levels of pressure, as well as heat therapy to offer you a deep-tissue massage. There are also foot massagers without many features designed for those that just require a device for pampering themselves. Our top picks above have factored in both deep tissue massage and relaxation.
Size:
We also factored in size in our selection because some foot massages are bulky and heavy and, therefore, require big storage space. Our top picks above are not bulky and can be convenient both for those with space and low on space.
What To Look for When Deciding on a Foot Massager?
Type [Methods]-
Foot massagers make use of different methods and modes to soothe sore feet including manual massage, air compression, shiatsu massage, electric massage rollers, and water jets. Some devices may also use a combination of these methods but shiatsu is considered the best as it matches the massage experience from human hands. It also offers a variety of intensities and patterns to suit individual preferences.
Heat –
Most foot massagers make use of heat to increase relaxation and effectiveness. Some devices usually take a few minutes to heat up in order to provide a soothing and warm feeling experience. It is, therefore, important that you look for a heat setting that you can easily adjust to enable you to experience comfort and relaxation throughout regardless of the season or level of temperature.
Controls –
Some devices have a control pad mounted on the machine, meaning that the user has to lean forward in order to adjust intensity and speed. This may be inconvenient to someone who simply wants to relax and enjoy the massage routine without interruption. Some devices, however, come with a remote control to enable you to adjust settings without moving an inch.
Frequently Asked Questions
Q: Do Foot Massagers Work?
Q: How Often Should You Use a Foot Massager?
A: How often one should use electric foot massagers depends on the individual's needs. If you want to use it just for relaxation, you can use it once a week. For those who are on their feet, a lot can use it more frequently to provide them with the much need relief. However, overusing foot massager can lead to overstimulation of muscles causing pain and cramping says Dr. Marcela Correa, the owner of Medi Pedi NYC. Also according to a podiatrist and the owner of Northern Illinois Foot and Ankle Specialist Dr. Patrick McEneaney, says that foot massagers should not be used on acute injuries. In case of a sprained ankle or severe muscle injury, use some ice on it and let it rest for a while. After three or five days, you can then be able to use a foot massager.
Q: Is there a Difference Between a Foot Massager and a Foot Spa?
A: Both devices are aimed at helping you soothe your tired feet and help you accomplish cosmetic goals such as smoother skin. However, foot massaging devices compared to foot spas can offer different massage nodes and heat settings without necessarily getting your feet wet.
Q: Can a Foot Massager Improve Neuropathy?
A: Research conducted and published in the Science of Health and Healing notes that best foot massagers for neuropathy do improve neuropathy. This 2020 research found out that exposure to foot massagers for 20 minutes thrice a week can help lessen peripheral neuropathic pain.
Q: Do Foot Massagers Improve Arthritis?
A: According to Dr. Gray Feldman DPM, of The Centers for Advanced Orthopedics, foot massagers do not cure arthritis but the devices can help alleviate some arthritis related-symptoms including inflammation.
Conclusion
Our feet get pressured every time we wear uncomfortable shoes, during workouts, and even more when we get held up during work shifts. A rubdown each evening is, therefore, necessary which makes investing in a foot massager important.
Foot massage works great for both men and women after a long day. However, to be able to experience the relaxation of your overworked feet, you need a well-equipped foot massager. We have varieties of top-rated foot massagers and the best cheap foot massagers that can effectively meet your desired results.
Whether you are looking for a foot massager to manage chronic pain in your foot or simply want to relax and feel good after a long hectic day is work, you will get it in our top picks above. These devices have been selected after factoring in many crucial details to help you find it easy to make an educated purchase decision.
**This is a subjective assessment based on the strength of the available information and our estimation of efficacy.
*Result may vary. The information contained in this website is provided for general informational purposes only. No medical claims are implied in this content, and the information herein is not intended be used for self diagnosis or self treatment of any condition.
Disclosure of Material connection: Some of the links in the post above are "associate sales links." This means if you click on the link and purchase an item, we will receive commission. Regardless, we only recommend products or services which we use personally and/or believe will add value to our readers. We are disclosing this in accordance with the Federal Trade Commission's 16 CFR, Part 255: "Guides Concerning the Use of Endorsements and Testimonials."